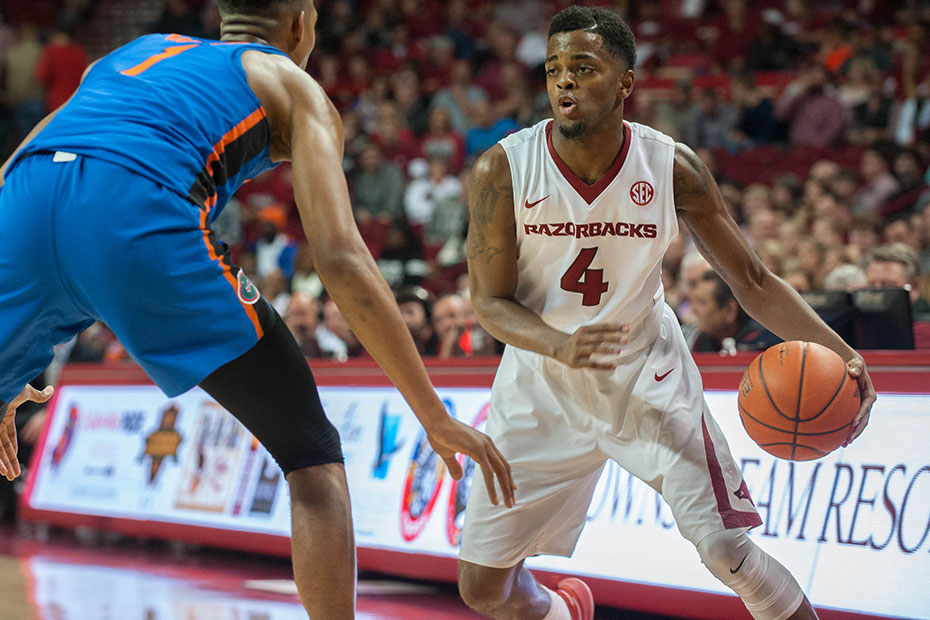 Arkansas Takes Aim At Florida Wednesday
FAYETTEVILLE, Ark. – Looking for its fourth victory away from Bud Walton Arena this year, the Arkansas men's basketball team travels to Florida Wednesday evening for a 6 p.m. tip-off on ESPN2.
The Rundown
Opponent: Florida (12-5, 4-1 SEC)
Date: Wednesday, Jan. 17
Site: Exactech Arena (Gainesville, Fla.)
Tip-off: 6 p.m. CT
TV: ESPN2 | WatchESPN
Live Stats: Click Here
SiriusXM Radio: 137/190
The #Fastest40 Facts
• The Razorbacks are looking for their first conference road win of the year after tying the program record for SEC road wins in a season last year with six.
• During the last four seasons, Arkansas is second in the SEC in league wins with 36, while Florida is third with 35.
• Following Saturday's victory over Missouri, Arkansas' RPI went from No. 25 to No. 21 according to the NCAA, while its strength of schedule is up from No. 13 to No. 7.
• Arkansas has won 31 consecutive games in which it has led at halftime. During Mike Anderson era, the Razorbacks are 116-7 when leading at the intermission.
• Daniel Gafford's game-winning dunk against Missouri was his 39th slam of the year, more than six SEC teams, including Florida with 35 as a program this season.
• Daryl Macon is one of two players in the SEC with four games of 8+ assists this season. In those four contests, he has totaled 32 assists and just six turnovers.
• Jaylen Barford is the only player in the SEC to rank in the top three in points per game (3rd) and field goal percentage (3rd).
A Win Would…
• Give the Razorbacks their first true road win of the season and the fourth victory away from Bud Walton Arena this year.
• Be Arkansas' first win Gainesville in 23 years, dating back to a 94-85 victory during the 1994-95 season when Corliss Williamson led the way with 20 points.
• Snap a seven-game losing streak to Florida, including 12 straight losses in Gainesville.
Ticket Packages
Single-game tickets for the 2017-18 season are available now at the Razorback Ticket Center by calling at 1-800-982-HOGS (4647) and online by clicking here.

For more information on Arkansas men's basketball, follow @RazorbackMBB on Twitter.