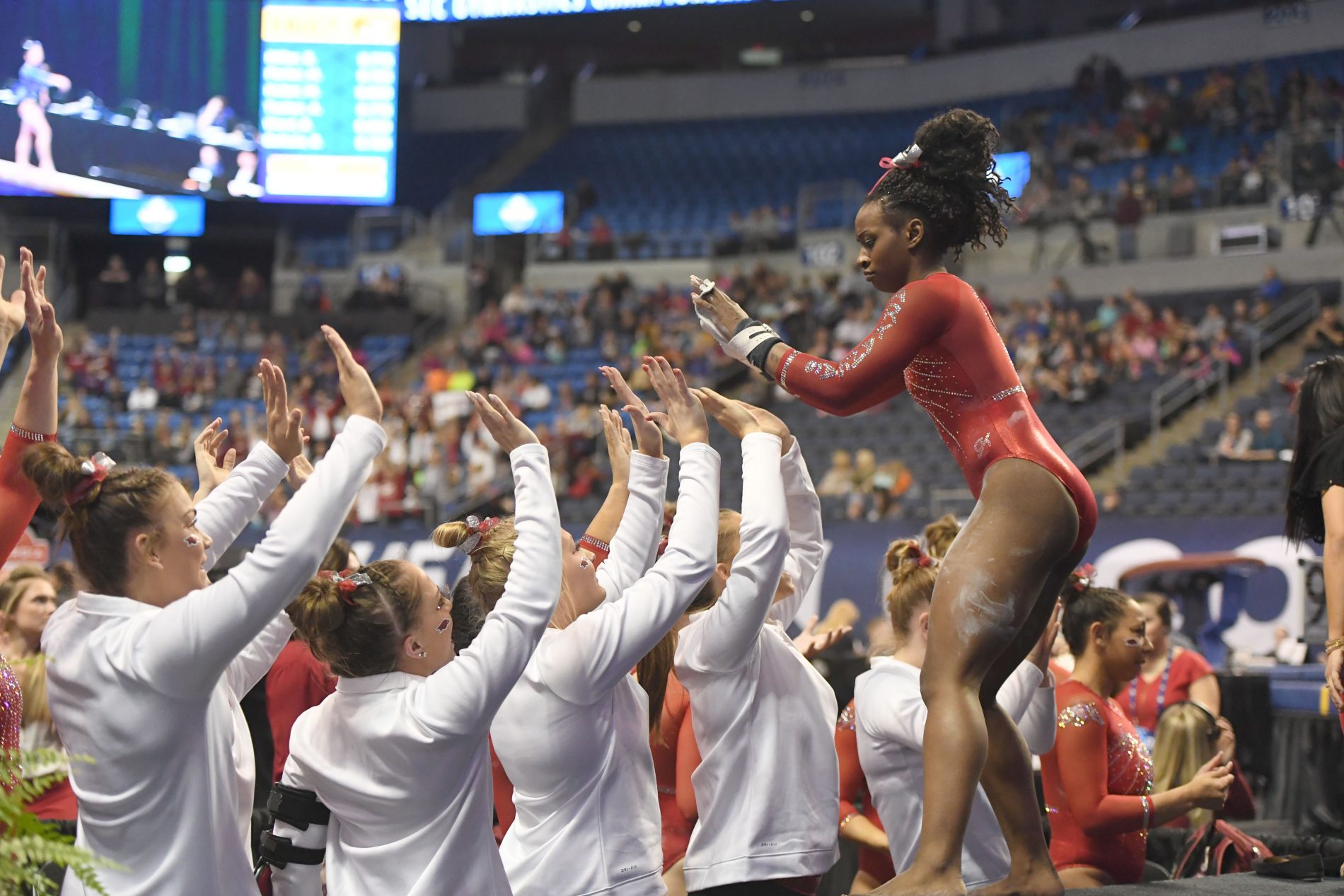 Arkansas Tops First Session Behind 10 All-SEC Performances
ST. LOUIS, Mo. – The 11th-ranked Arkansas gymnastics team placed first in the first session scoring a 196.425, and finished fifth overall at the SEC Championship inside Chaifetz Arena on Saturday.
It marks just the third time in school history the Razorbacks have posted a 196 or higher at the event. The Finish is Arkansas' highest since finishing fourth in 2011.
The Razorbacks, competing in Olympic order for the first time at the Championship, finished with the second highest score in program history at the meet. The score allowed Arkansas to drop a lower road score and propelled its RQS (Regional Qualifying Score) to another program record 196.820.
First Rotation: Arkansas Vault: 48.975
After a couple of low scores to start the rotation, the Razorbacks three anchors all recorded scores of 9.800 or higher, inlcuding 9.850's from seniors Amanda Wellick and Braie Speed. Speed, who has not scored below a 9.850 on vault all season, continues to be stellar on the event, as she has posted scores of 9.800 or higher in 34-of-38 vault appearances. Arkansas would trail in the first session for the only time after the first rotation.
Second Rotation: Arkansas Bars: 49.150
The Razorbacks posted a 49 on bars at the Championship for just the fourth time in program history and tied their best score on bars at the event with a 49.150. Arkansas' final three competitors on the event all posted scores of 9.850, the highest scores given out at the meet during the first session. Wellick and Speed   tallied a 9.850 each, as did sophomore Hailey Garner in the anchor position.
Third Rotation: Arkansas Beam: 49.225
Led by a 9.925 from Garner, the Razorbacks scored the highest beam score by an Arkansas team at the SEC Championship. Garner joined Razorback great Katherine Grable as the only Arkansas gymnasts to post a 9.925 at the Championship, as Grable recorded a 9.925 on floor in 2013. In total, the Razorbacks posted five scores over 9.800 on the event, as sophomore Jessica Yamzon and freshman Sophia Carter recorded 9.850's while Wellick and sophomore Michaela Burton tallied 9.800's to round out Arkansas' scoring.
"Our main theme this year has been to have each other's back," said Garner. "I think we brought a lot today, but I know that as a whole we can bring so much more. We're really excited to go to regionals and show everyone what we have worked so hard for this season. This team is capable of so much more and we're not done yet."
Fourth Rotation: Arkansas Floor: 49.075
Arkansas began the final rotation with scores of 9.725 and 9.750 from senior Mia Bargiacchi and Wellick, and needed a strong finish from its final four competitors to finish ahead of Georgia in the first session. They got just that with four scores over 9.800 led by Carter who anchored the rotation and posted a 9.875, the highest score on floor in the rotation.
All-SEC Razorbacks
Vault: Braie Speed, Amanda Wellick- 9.850
Bars: Amanda Wellick, Braie Speed, Hailey Garner- 9.850, Sydney Laird- 9.825
Beam: Hailey Garner- 9.925
Floor: Sophia Carter- 9.875, Sarah Shaffer- 9.850
All Around: Amanda Wellick- 39.250
All Freshman Team
All-Around: Sarah Shaffer
Floor and Bars: Sophia Carter
Bars: Sydney Laird
Up Next
The Razorbacks await their NCAA Regional selection. The NCAA Selection Show will air on NCAA.com Monday at 3 p.m. CT.