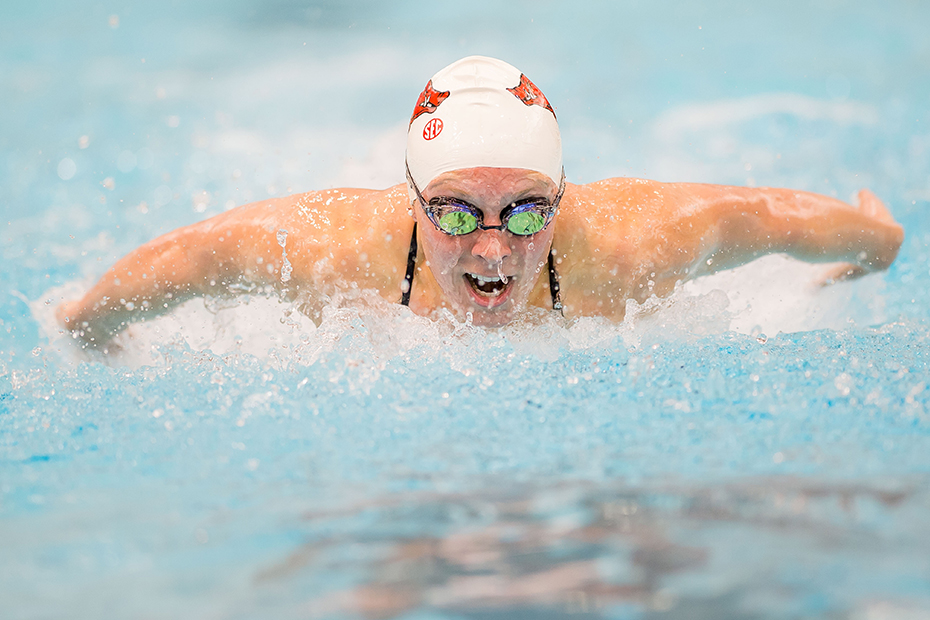 Arkansas Travels To Houston For Tri-Meet
FAYETTEVILLE, Ark. – The Arkansas swimming and diving team continues its spring portion of the 2018 schedule this weekend, as the Razorbacks compete Thursday and Friday against the Houston Cougars and the Vanderbilt Commodores in Houston.
The tri-meet marks the third straight year that Arkansas has met up with both Houston and Vanderbilt for the same meet. In those three meetings, Arkansas swept the Cougars and Commodores each time.
Vanderbilt is 3-2 this season, with its only two losses coming in SEC action against Kentucky and Arkansas. The Razorbacks knocked off the Commodores earlier this season 133-67 in Nashville to improve to 10-0 all-time in the series.
Arkansas is 13-4 all-time against Houston, winning 10 of the last 12 meetings, including three straight. This season, Houston is undefeated at 6-0 and won the Phil Hansel Invitational in convincing fashion.
Overall, Arkansas is 6-3 this season, 2-2 in conference action, after falling to No. 7 Tennessee 199-101 in their last outing.
In the last eight-plus seasons, Arkansas is 32-12 overall in meets away from home, holding a 4-2 mark this season. Under head coach Neil Harper, Arkansas has a 7-3 mark in road and neutral meets.
Friday's events will begin at 4 p.m. at the CRWC Natatorium, while Saturday's events will begin at 10 a.m.
EVENT SCHEDULE
Friday, January 18 – 4 p.m.
1. 400 Medley Relay
2. 1000 Freestyle
3. 200 Freestyle
4. 100 Backstroke
5. 100 Breaststroke
6. 200 Butterfly
7. 50 Freestyle
8. Three-Meter Diving
9. 200 Individual Medley
10. 200 Free Relay
Saturday, January 19 – 10 a.m.
1. 200 Medley Relay
2. 400 Individual Medley
3. 100 Freestyle
4. 200 Backstroke
5. 100 Butterfly
6. 500 Freestyle
7. One-Meter Diving
8. 200 Breaststroke
9. 400 Freestyle Relay
For more information on Arkansas Swimming and Diving, follow @RazorbackSD on Twitter.