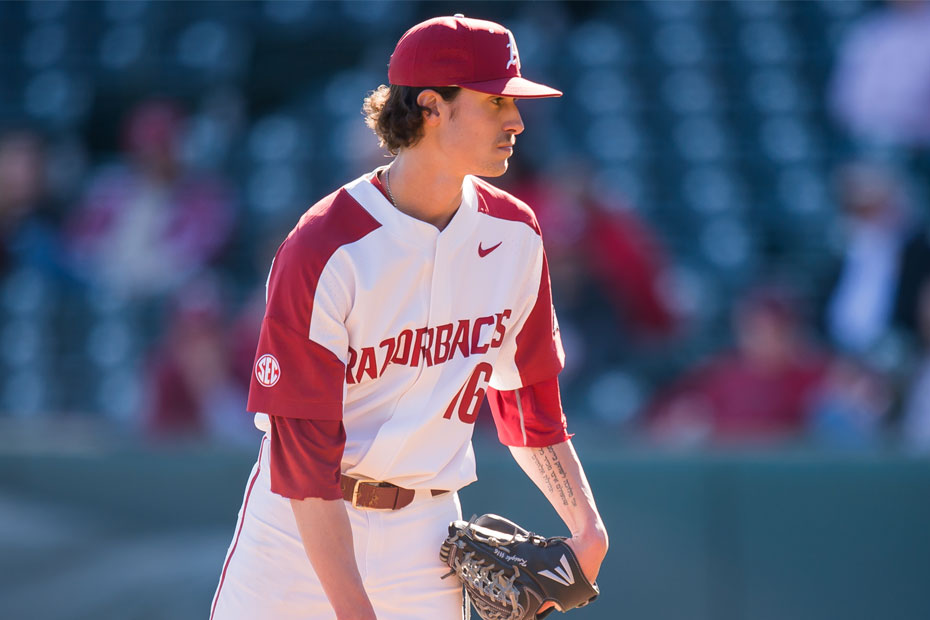 Arkansas Welcomes In Auburn For Key Series
FAYETTEVILLE, Ark. – Coming off a two-game midweek sweep of ULM earlier this week, the fifth-ranked Arkansas baseball team will hope to continue its good play at home when it faces No. 13 Auburn this weekend for a key three-game series at Baum Stadium.
Auburn will be the fourth-consecutive top-15 team that Arkansas has had to face to open Southeastern Conference play. The Razorbacks are 5-4 in league play through the first three weekends and sit just one game back of SEC Western Division leader Ole Miss.
Friday night's matchup is expected to be one of the best pitching duels in the nation this year as Arkansas' Blaine Knight will face off against Auburn's Casey Mize. Knight has two consecutive victories under his belt for the Razorbacks, winning at No. 2 Florida and No. 4 Ole Miss. In seven starts this year, Knight has garnered a 2.01 ERA with just nine earned runs allowed in 40.1 innings. His ERA is the fourth lowest in the SEC and his earned run total is the fifth lowest.
On the opposing side, Mize comes in as one of the best pitchers in the nation. With a 2.11 ERA, Mize has struck out a conference-best 70 batters and leads the nation in strikeout-to-walk ratio (23.33).
Mize will have to face one of the hottest hitters in the league in Razorback freshman Heston Kjerstad. Kjerstad is currently on a team-best 14 game hitting streak and is hitting an even .400 this season, good for a tie for second among all SEC players. Since the streak started on March 14 against Texas, Kjerstad has hit .439 with 25 hits, 15 RBIs, five doubles, six home runs, and only 11 strikeouts.
FOLLOW LIVE
Games one and two will be streamed via SEC Network+, the online-only arm of the SEC Network on WatchESPN.com and the Watch ESPN app. Brett Dolan (PxP) and Troy Eklund (Analyst) will have the call. Sunday's series finale will be broadcast on the SEC Network with Jason Benetti (PxP) and Todd Walker (Analyst) calling the game.
As always, Arkansas' Sportscaster of the Year Phil Elson will call all three games on the radio for the Razorback Sports Network from IMG and he'll be joined by former Razorback Bubba Carpenter. That radio broadcasts are also available on the Razorback Gameday app.
IMPORTANT LINKS (ALL TIMES CENTRAL)
Fri, April 6 – Arkansas vs. Auburn – 6:30 p.m. – LIVE STATS | WATCH (SECN+)
Sat, April 7 – Arkansas vs. Auburn – 6 p.m. – LIVE STATS | WATCH (SECN+)
Sun, April 8 – Arkansas vs. Auburn – 4 p.m. – LIVE STATS | WATCH (SEC Network)
PROBABLE STARTERS
FRI: ARK RHP Blaine Knight (2.01 ERA, 5-0, 43 K, 10 BB) vs. AU RHP Casey Mize (2.11 ERA, 6-0, 70 K, 3 BB)
SAT: ARK LHP Kacey Murphy (2.25 ERA, 3-2, 26 K, 6 BB) vs. AU RHP Davis Daniel (3.34 ERA, 2-1, 30 K, 15 BB)
SUN: ARK TBA vs. AU TBA
RAZORBACK PRIME 9
>> Arkansas hosts its first home SEC series in three weeks as the 13th-ranked Auburn Tigers visit Baum Stadium for a three-game series. Auburn will be Arkansas' fourth-consecutive top-15 conference opponent.
>> The Hogs picked up their fourth shutout of the season Wednesday against ULM after utilizing a seven-inning scoreless performance from freshman pitcher Caleb Bolden.
>> Freshman Heston Kjerstad is on a team-best 14-game hitting streak going into Friday's game against Auburn. During the streak. Kjerstad is hitting .439 with an .842 slugging percentage and six home runs.
>> Kjerstad's second-inning home run Wednesday against ULM was a tape-measure shot, traveling 430 feet well over the right-centerfield scoreboard at Baum Stadium.
>> Arkansas still leads the SEC and ranks second in the nation with 55 home runs, 15 ahead of its SEC-leading pace last year.
>> The Razorbacks have played nine one-run games this season, winning four of them. Most recently, Arkansas won its first extra-inning affair against ULM, 10-9, on Tuesday.
>> Blaine Knight won his second-consecutive start last week against No. 4 Ole Miss, moving to 6-0. In five of his seven starts, Knight has thrown six or more innings and struck out four or more.
>> Arkansas is 16-2 in games played at Baum Stadium this year. As a team, the Hogs are hitting .351 inside the friendly confines with 38 home runs hit. The pitching staff has a combined 2.61 ERA and a .229 opposing batting average.
>> In 18 games this year, Arkansas has totaled 10 or more hits. In those games, the Hogs are 15-3 with 13 of those wins coming at Baum Stadium.