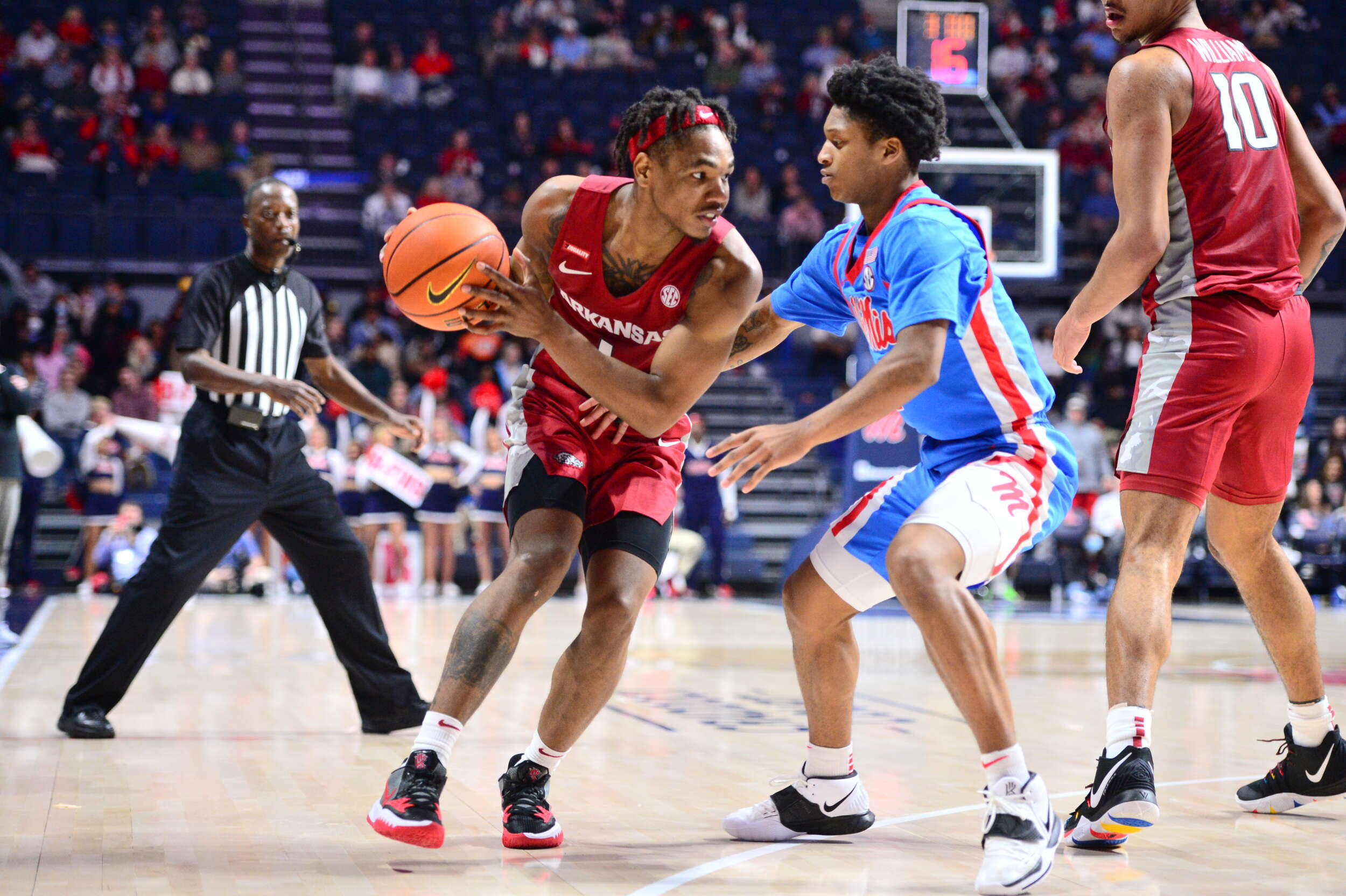 Arkansas Wins Fifth Straight
FAYETTEVILLE – Arkansas used a 13-0 run midway through the second half en route to a 64-55 victory at Ole Miss Wednesday night.
The win was the fifth straight for the Razorbacks and the fifth-straight game Arkansas held its opponent below 40% shooting for the game – a program first since joining the SEC.
In addition to holding its opponents below 40% shooting in five straight games, Arkansas has held four of its last five opponents under 60 points (the lone exception was Texas A&M scoring 73 points in a game that went to overtime). Also, for the first time ever since Arkansas joined the SEC, Arkansas held opponents below 60 in back-to-back road games as LSU only scored 58 and Ole Miss was held to 55 tonight.
JD Notae led Arkansas with 25 points and five assists. Jaylin Williams added 18 points and eight rebounds while Trey Wade scored 12 points with five rebounds, five assists and zero turnovers.
Arkansas will play three of its next four at home, including a Jan. 29 (Saturday) meeting with West Virginia as part of the SEC-Big 12 Challenge. Tip off is set for 1 pm on ESPN2.
FIRST HALF: Arkansas: 30 – Ole Miss: 23
Ole Miss missed its first 7 3-point attempts and Arkansas led 11-6 at 11:55.
Ole Miss' only lead was at 14-13 but the Razorbacks answered with a 5-0 run and did not relinquish the lead the rest of the half.
Arkansas had eight assists on 13 made baskets.
JD Notae led the Hogs with 14 first half points, including a long 3-pointer as the buzzer sounded to end the first half.
Trey Wade and Jaylin Williams each added seven points.
SECOND HALF: Arkansas: 34 – Ole Miss: 32
The NCAA leader in free throws made, Arkansas did not attempt a free throw until 17:27 in the second half.
Up three (43-40) with 9:53 left, Trey Wade hit a 3-pointer to start a 13-0 run. Arkansas held Ole Miss scoreless for 5:48 until the Rebels made two free throws with 4:05 left.
Arkansas was up 16 (58-42) with 3:41 left. The Razorbacks led by 10 (60-50) but were just 4-of-8 at the line over the final 1:15 to allow it to be just a single-digit win.
Arkansas only committed five second-half turnovers and had eight assists on 11 made baskets.
JD Notae, Au'Diese Toney and Trey Wade each played the full 20 minutes in the second half.
GAME NOTES
Arkansas' starting lineup was JD Notae – Au'Diese Toney – Stanley Umude – Trey Wade –Jaylin Williams for the fourth straight game.
Arkansas won the opening tip. Arkansas is 11-5 when controlling the tip this season and 39-12 in the Musselman era.
JD Notae scored the game's first points, a jumper in the lane at 19:47. Arkansas is 13-1 this season when scoring first and 38-9 in the Musselman era.
Davonte Davis was the first Razorback sub.
Razorbacks own a 51-33 advantage in the series versus Ole Miss and a 29-27 advantage since Arkansas joined the SEC. Ole Miss leads in games played in Oxford, 20-10 and 18-10 in SEC matchups. The Hogs have won 10 of the last 13 meetings overall.
Arkansas was out-rebounded 33-31 and grabbed a season-low four offensive rebounds. Arkansas is now 1-4 this season when being outrebounded and 22-2o in such games in the Musselman era.
It marks the first time in the current winning streak that Arkansas was outrebounded.
Ole Miss only had nine second-chance points. Arkansas has held opponents to nine or fewer second chance points in 16 of 20 games this season.
Arkansas only forced 14 turnovers. It marks the first time in the current winning streak that Arkansas did not force at least 16.
While it marked the first time Arkansas has ever held SEC opponents to below 60 pints in back-to-back road games. It is the first time the program has accomplished the feat in league action since the Razorbacks did so at TCU (51) and at Baylor (58) in 1989 while members of the Southwest Conference. Arkansas lost at TCU 51-45 on Jan. 11 and won at Baylor 88-59 pm Jan. 21.
Arkansas only made eight free throws (8-of-12). It was the fewest since making four (4-of-7) at Oklahoma State last season.
Arkansas had only 12 free throw attempts, the fewest for the Razorbacks this season and fewest in an SEC win since having 11 against LSU on Feb. 2, 2019. It also was the fewest attempts against the Rebels since having 12 on Jan. 19, 2013.
Ole Miss was 13-of-13 at the line. It was the best performance by an opponent since Florida went 14-of-14 on Feb. 16, 2021 … a game Arkansas won as well. (HogStats.com)
For more­­ information on Arkansas Men's Basketball, follow @RazorbackMBB on Twitter.