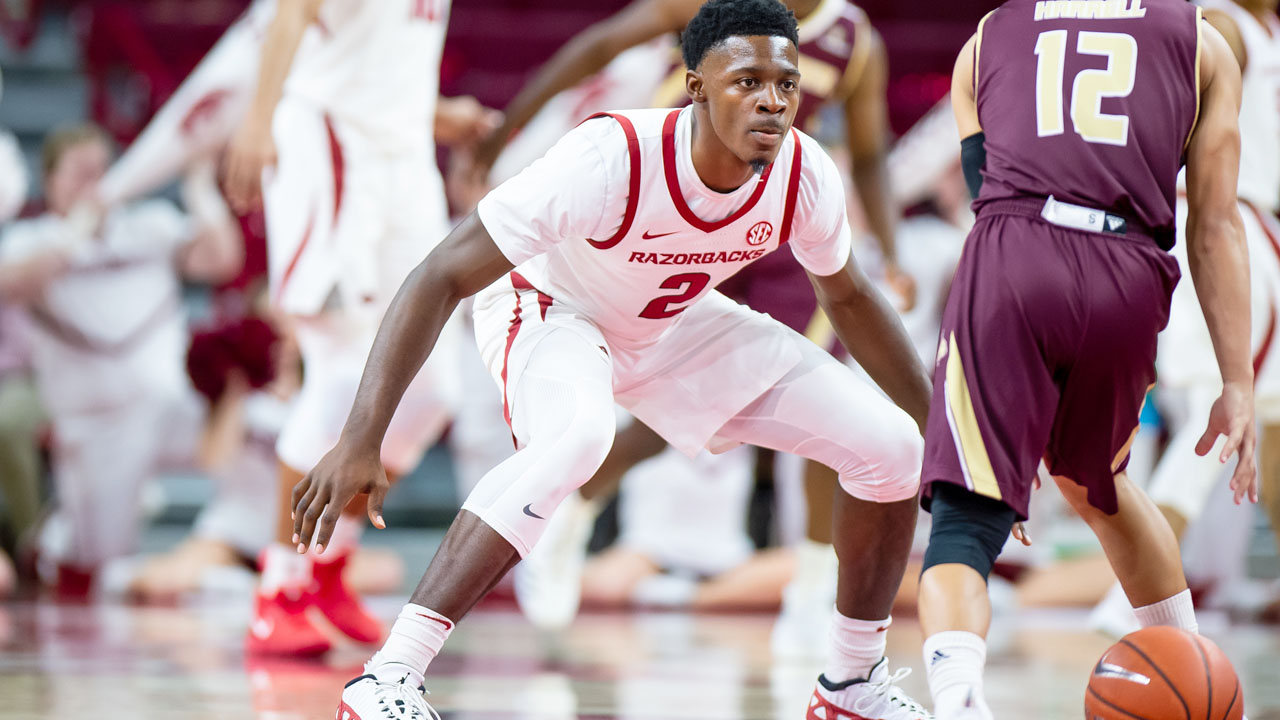 Bailey Named to SEC Community Service Team
BIRMINGHAM, Ala. – Arkansas junior Adrio Bailey was named to the 2019 SEC Community Service Team in a continuing effort to recognize the accomplishments of student-athletes beyond the field of competition by the conference office.
This marks the 21st year for the SEC Community Service Team for men's basketball.
Bailey has participated in a number of community service projects sponsored through the University's student-athlete development office, as well as a number of projects specific to the men's basketball team. His service includes, Full Circle Food Pantry donation event, Sweathogs (an elementary program focusing on health and wellness), NWA Arkansas Children's Hospital visit, Arkansas Children's Hospital visit (Little Rock), Shopping with the Razorbacks (raised $100 from team to take low income family shopping during holidays), Samaritans Feet Shoe distribution event, Fort Bliss basketball clinic for soldiers families, Hoops for Hope (providing food to local families), Martin Luther King Kr. Day of Service project and donation events for flood victims. He also speaks to various groups and individuals that are on campus for a wide variety of reasons, such as junior high groups that are trying to generate interest in higher education and the importance of education.
Bailey is also a leader on the team as well as in the community. He was voted a captain this year, is a member of Arkansas' Student-Athletic Advisory Committee and serves SEC Men's Basketball Leadership Council.
2019 SEC MEN'S BASKETBALL COMMUNITY SERVICE TEAM
Galin Smith, Alabama
Adrio Bailey, Arkansas
Horace Spencer, Auburn
Kevarrius Hayes, Florida
William "Turtle" Jackson II, Georgia
Jonny David, Kentucky
Skylar Mays, LSU
Terence Davis, Ole Miss
Aric Holman, Mississippi State
Jordan Geist, Missouri
Hassani Gravett, South Carolina
Grant Williams, Tennessee
Chris Collins, Texas A&
Isaiah Rice, Vanderbilt