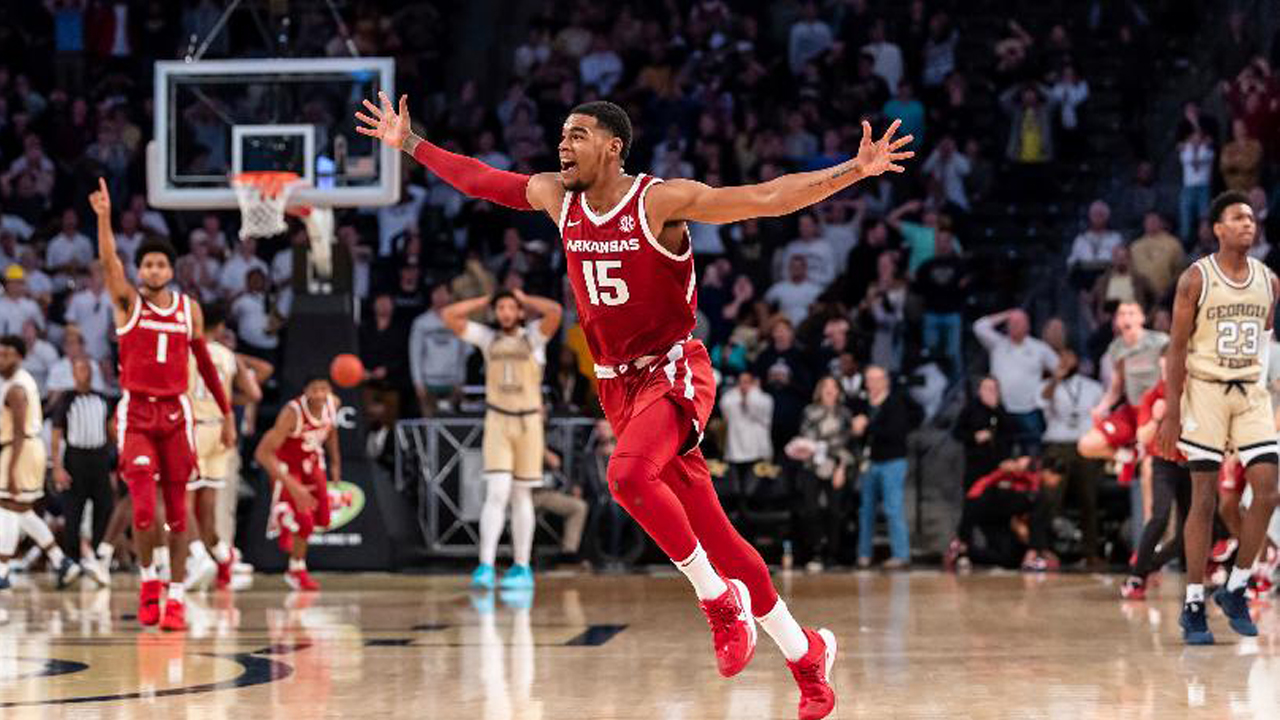 Bank Is Open for Jones in OT Win at Georgia Tech
ATLANTA – Mason Jones banked in a step-back 3-pointer from about 25 feet with 0.1 seconds left on the clock in overtime to lift Arkansas to a 62-61 victory at Georgia Tech Monday night.
Jones scored 24 on the night while adding six rebounds, four steals and three assists. Isaiah Joe just missed his first career double-double as he had 13 points and a career-high nine rebounds with five steals, one shy of his career high.
Arkansas took a one-point lead, 8-7, at the 16:12 mark of the first half and did not surrender it until Tech's James Banks made a jumper with 21 seconds left in overtime, putting the Yellow Jackets up 61-59. Tech's defense was tough on the perimeter after Banks' jumper. After crossing half court, Jones passed the ball to Joe who made a few dribbles to his right and threw the ball back to Jones. Jones made a couple of hard dribbles to his right, stopped, stepped back to allow the defender to clear him and launched the ball off the backboard for the win.
The game-winner was Jones' third game-winner in the closing seconds of his career. (Last year, he made a free throw with two seconds left to secure a 73-72 win over Indiana and later he made a jumper in the lane for a 90-89 win at #19 LSU.)
Arkansas returns home to play Northern Kentucky in the final game of the Collegiate Hoops Roadshow on Saturday (Nov. 30). Tipoff is set for 4 pm.
FIRST HALF: Arkansas 33 – Georgia Tech 30
Georgia Tech scored first and led 7-5 early.
Mason Jones drilled a 3-pointer at 16:12 to put the Razorbacks up 8-7 and did not give up the lead the rest of the half.
Tech tied the game twice – 16-16 at 9:35 and 18-18 at 8:37.
Adrio Bailey hit a layup at 8:16 for a 20-18 lead.
Isaiah Joe gave Arkansas its largest lead of the first half, eight points (27-19), with a 5:57 left.
Joe led the Razorbacks with 13 first-half points and Jones added 10.
SECOND HALF: Arkansas 26 – Georgia Tech 29.
Desi Sills opened the second half with a 3-pointer.
A Mason Jones' free throw at 16:07 to cap an 8-2 run for a nine-point lead (41-32), which was the largest of the game by ether team.
Tech tied the game three times in the second half (48-48 at 8:42, 50-50 at 7:17 and 59-59 at 1:14).
After the second tie, Arkansas led by as many as seven (57-50 at 5:57) thanks to a 5-point play by Mason Jones. He made a fastbreak layup, was fouled, hit two free throws on a technical foul on Tech's head coach and completed the old-fashion 3-point play by making a free throw.
Arkansas suffered a 3:22 second scoring drought late in the second half but maintained a lead. Jones snapped the dry spell with two free throws for a 59-55 lead at 2:35. That would be Arkansas' last points until Jones' game-winner in overtime.
Tech got within two on a James Banks dunk at 2:22. Banks was 1-of-2 at the line at 1:46 to make it a one-point game and Michael Devoe was 1-of-2 at the line at 1:14 to tie the game at 59-59.
OVERTIME: Arkansas 3 – Georgia Tech 2
Arkansas missed its first four shots from the field and one free throw in overtime and Tech missed its first four shots from the field in overtime.
Banks broke the tie with a jumper in the paint with 21 seconds left for a two-point Tech lead (61-59).
Jones banked home the winning 3-pointer with 0.1 seconds left for the 62-61win.
GAME NOTES
Arkansas' starting lineup was Jimmy Whitt (G) – Isaiah Joe (G) – Desi Sills (G) – Mason Jones (G) – Adrio Bailey (F) for the sixth consecutive game.
Arkansas lost the tip for the second time this season and for the first time, Arkansas did not score first. However, for the fourth time, Jimmy Whitt Jr., scored the Razorbacks' first points.
Arkansas is now 2-5 all-time versus Georgia Tech in a series that dates back to 1965. Arkansas is now 3-7 in true road games played at ACC schools. Arkansas snaps a five-game losing skid to the Yellow Jackets, including a 65-62 loss in Fayetteville last season.
This was Arkansas' first overtime win since defeating Georgia 80-77 in double OT in Athens on Jan. 23, 2018. It was the Hogs' first win in one overtime period since defeating #9 Tennessee 95-93 in Fayetteville on Dec. 30, 2017.
Arkansas is 6-0 for the first time since 2014-15.
Eric Musselman is 6-0 and joins Eugene Lambert as the only other first-year Razorback head coach to start 6-0. Lambert was 10-0 to start his tenure in 1942-43.
Mason Jones missed his only free throw attempt in the first half, snapping a streak of 36 straight dating back to last season. He was 27-of-27 at the line this season coming into the game.
For the fifth time in six games, Arkansas' defense held its opponent to making just two 3-pointers. (South Dakota made three.). Arkansas entered the game leading the NCAA in 3-point field goal percentage defense and after holding Tech to 2-of-11, opponents are a combined 13-of-92 for 14.1 percent.
Georgia Tech entered the game leading the nation in blocked shots, but only had one versus the Hogs. Arkansas blocked three shots including two by Jimmy Whitt.
Arkansas entered the game 11th in the NCAA in turnovers forced (21.0 per game). Tech committed 23.
One of Joe's five steals came in overtime. He missed a 3-pointer from the right corner at 3:39, sprinted the length of the court and stole a pass at the basket at 3:33 to spoil a would-be fastbreak layup.
Desi Sills finished with 11 points, his second double-figure scoring game in the last three.
Mason Jones led the team in scoring for the 14th time in his career and the team is 11-3 in such games. He has led the team in scoring in four of the six games this season.
For more­­ information on Arkansas Men's Basketball, follow @RazorbackMBB on Twitter.