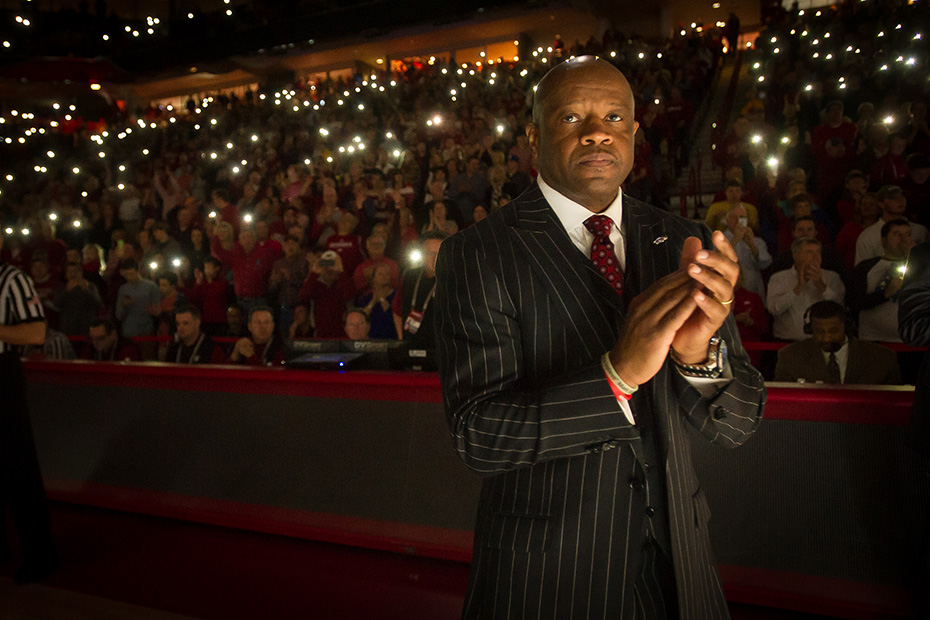 Men's Basketball Season Tickets Now Available
Purchase Season Tickets  |  800-982-4647
FAYETTEVILLE, Ark. – As the Arkansas men's basketball team closes in on the 2015-16 campaign, the Razorback ticket office is now accepting season ticket orders to watch the #Fastest40 minutes in college basketball at Bud Walton Arena.
Fans will find a brand new and unmatched environment at the Basketball Palace of Mid-America, as a $4 million investment has been made to the arena to maximize fan experience.
Fans will immediately notice a new center hung video board with four LED displays that will give Bud Walton Arena the largest video display of any basketball facility in the country. To go along with the visual enhancements, a brand new sound system has also been installed to enhance volume and clarity for every seat in the arena.
In four years at the helm at Arkansas, Coach Anderson has posted a 67-8 (.893) record inside Bud Walton Arena, making it one of the most difficult places for opponents to play and giving the Razorbacks the ultimate home court advantage. Arkansas is coming off a 27-9 record last season that marked the sixth-most wins in program history as the Razorbacks made its 30th NCAA Tournament appearance.
Lower level and upper level donor locations are still available. For information on those locations, please contact the Razorback Ticket Center at 800-982-4647. To purchase online click here.
For more information on Arkansas basketball, follow @RazorbackMBB on Twitter.