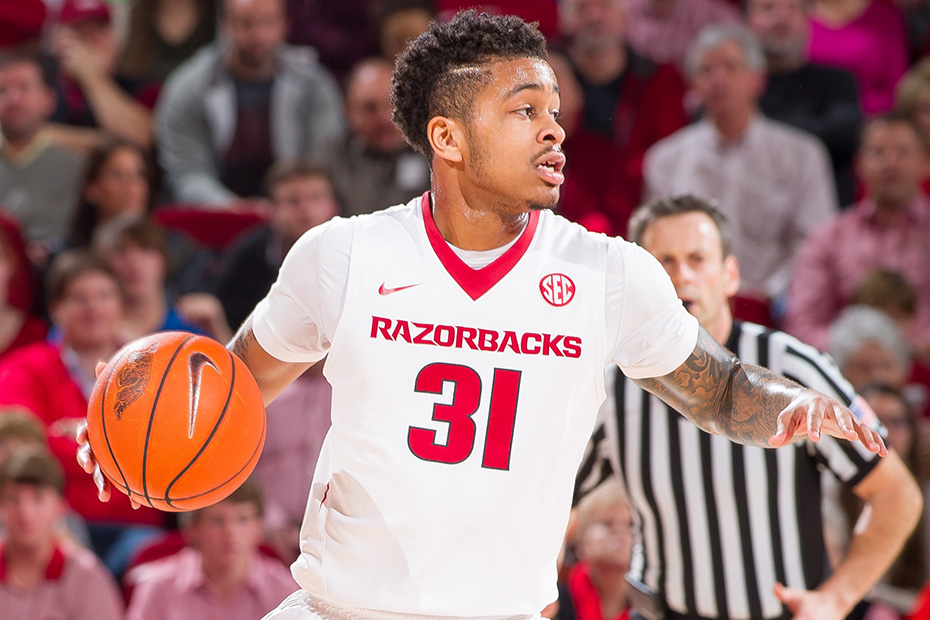 Beard Reinstated, Suspended For Fall Semester
FAYETTEVILLE, Ark. – Following resolutions in both the legal and the campus judicial processes, student-athlete Anton Beard has been reinstated to the men's basketball team, but will remain suspended from all competition for the remainder of the fall semester.
Beard will join the team for practices and other team-related activities, but will not be eligible to compete in a game until the conclusion of the fall semester on Dec. 18. Beard was suspended indefinitely on July 22, 2015, pending the legal matter.
"After being notified that both the legal and campus processes had taken their respective courses, we moved forward with our student-athlete conduct process and informed Anton he will be withheld from competition for the remainder of the first semester," Arkansas Vice Chancellor and Director of Athletics Jeff Long said. "These were serious allegations and we treated them as such. All of our student-athletes have a responsibility to conduct themselves in an appropriate manner at all times. That will continue to be our expectation."
Beard's legal case has been referred to the Washington and Madison County Drug Treatment and Diversion Court, where he will participate in a pre-adjudication program. As part of the program, Beard must meet the requirements outlined by the court. Non-compliance with the conditions or any additional inappropriate activity, as deemed by the court, may result in expulsion from the program. Successful completion of the program would result in the dismissal of the case.
"We have taken this matter extremely seriously within our program," Head Coach Mike Anderson said. "Now that this matter has been resolved, we look forward to having Anton rejoin our program for practices and team-related activities. This is an opportunity for him to have a second chance and hopefully he has learned a life lesson through this process. We have a responsibility to teach and educate our young men and hopefully he will live up to the expectations we have set before him. Our student-athletes will continue to be held to the highest standard on and off the court."
Men's basketball student-athlete Dustin Thomas remains suspended indefinitely pending resolution of his legal matter.
For more information on Arkansas men's basketball, follow @RazorbackMBB on Twitter.