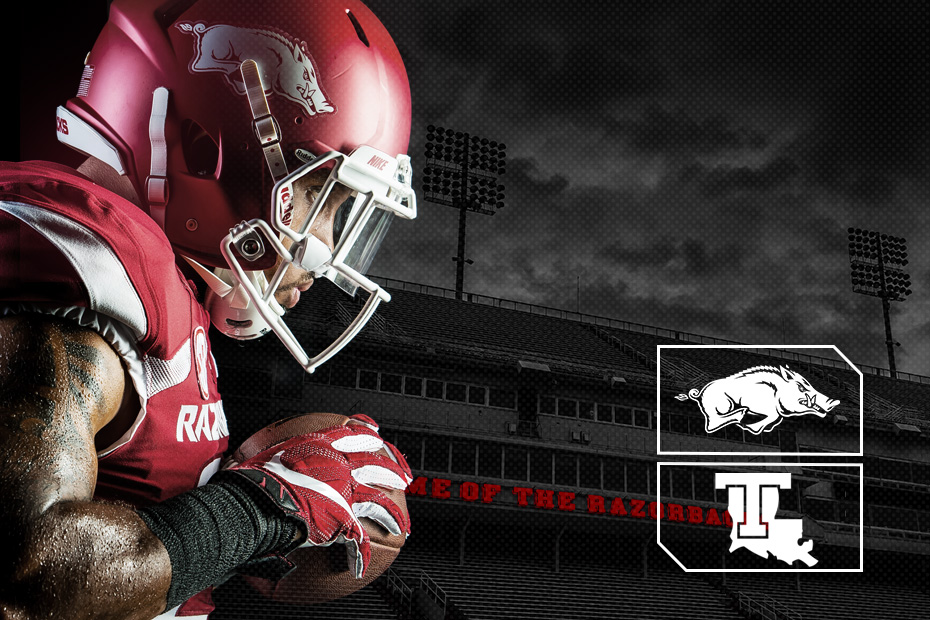 #BeatLaTech Schedule & Information
Add Weekend Events to Your Calendar
Kickoff: 3:01 p.m. CT
TV: SEC Network
Radio: 92.1 FM, 93.3 FM, 99.5 FM, 105.3 FM/1290 AM,
Promotions: UA Sports Hall of Honor, College Football Playoff Extra Yard for Teachers Presentation, Latino Alumni Scholars Presentation, Spencer Cup Recognition
Friday, Sept. 2
8 a.m.: UA Sports Hall of Honor Golf Tournament, Fayetteville Country Club
5:45 p.m.: Road Hog Park Pep Rally
6 p.m.: UA Sports Hall of Honor, John Q. Hammons Center, Rogers
8 p.m.: Pep Rally, Chi Omega Greek Theatre
Saturday, Sept. 3
9 a.m.: Broyles Center Museum opens until 12:15 p.m.
10 a.m.: Hog Heaven in Bud Walton Arena opens
10:30 a.m.: Hog Heaven Trailers open. Locations include the Bud Walton Arena lawn and the Northeast corner of DWRRS.
11 a.m.: Pregame traffic flow patterns begin & public shuttles begin operating from Road Hog Park and Baum Stadium East (Silver Route). Shuttles also begin from Lot 56 (Gold Route).
Noon: Guest service centers (Gates 1, 13 & 16) and public Will Call (Gate 1) open
12:45 p.m.: Hog Walk in Lot 44
1 p.m.: Gates to DWRRS open (Please note specific bag and conduct policies below)
1 p.m.: Pep Rally at Alumni House
2:30 p.m.: Tusk IV enters Donald W. Reynolds Razorback Stadium.
3:01 p.m.: Kickoff vs. Louisiana Tech