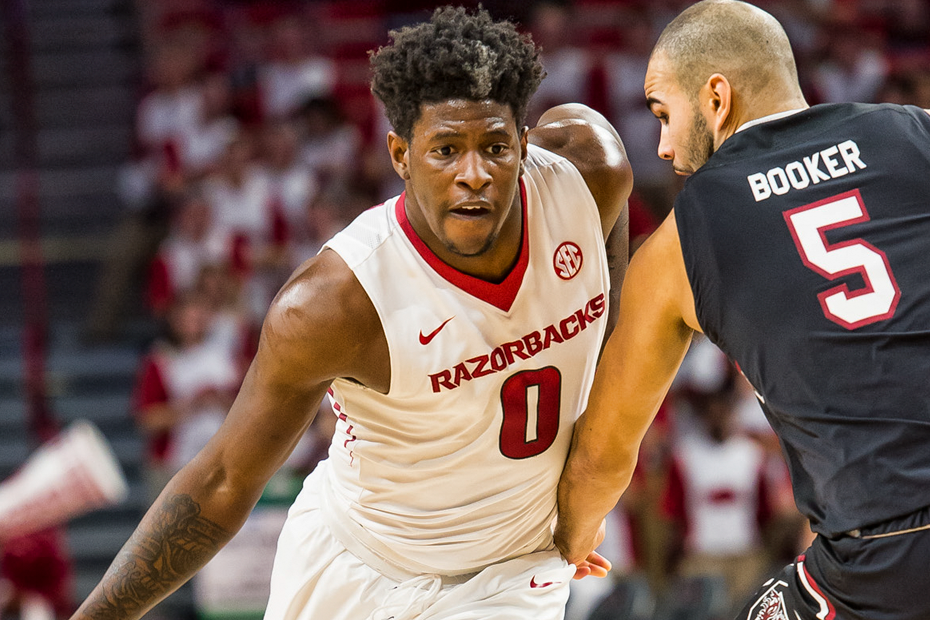 Big Nights By Barford & Macon Lead Hogs Over USC
Box Score | Highlights | Press Conferences: Coach A | Players
FAYETTEVILLE, Ark. – Behind 20-point efforts from senior guards Daryl Macon and Jaylen Barford, the Arkansas men's basketball team defeated the South Carolina Gamecocks 81-65 inside Bud Walton Arena Tuesday night.
Arkansas' plan early was to get the ball inside, as two of the first three buckets of the contest were lay-ups by Daniel Gafford. After scoring eight of their first 14 points in the paint, the floor started to open up more, allowing Arkansas to hit from distance, especially Barford. Barford scored 11 straight for Arkansas, as part of a 14-4 run to give Arkansas a 29-23 lead.
Barford would lead Arkansas into the locker room with the last four points of the half, finishing with 15 at the break, as the Razorbacks led the Gamecocks 43-38.  Macon scored 10 points of his own. Arkansas forced 10 first-half turnovers, outscoring the Gamecocks 11-2 on points off of miscues.
Arkansas opened the second half with five quick points to take its largest lead of the game to that point at 10, before South Carolina would score six straight of its own to cut it back to a four-point Arkansas lead. South Carolina would score just prior to the first media timeout of the half, then go nearly five minutes without a basket. The Razorbacks would take advantage of the Gamecocks' drought, using an 8-0 run to extend their lead to 13.
Arkansas would use an even larger run, 13-2, to take a 17-point lead, capped off my a monster dunk by Barford off of steal.
Macon finished with a team-high 25 points on 5-of-12 shooting. It is the sixth game in a row that Macon has eclipsed the 20-point mark, becoming the first Razorback since Corliss Williamson (1994-95) to score 20-plus points six consecutive games. Barford followed right behind with 24 points on 7-of-16 shooting, hitting five three pointers. It marks the fifth time this season that Barford and Macon have each scored 20-plus points in the same game this season. The Razorbacks are 5-0 in those games.
Gafford scored 11 points to go along with six rebounds and three blocks.
Arkansas forced 18 Gamecock turnovers, turning into 26 points on the other end. It is the most turnovers Arkansas has forced in conference play this season.
Arkansas remains at home for the rest of the week, as the Razorbacks host the Vanderbilt Commodores (8-15, 2-8 SEC) on Saturday at 7:30 p.m. on the SEC Network.
Game Notes
• The win gives the Razorbacks 12-plus victories in Bud Walton Arena for the 14th consecutive year.
• Arkansas improves to 32-6 in its last 38 games inside Bud Walton Arena.
• The Razorbacks are tied for the fourth-most home wins in the country during the Mike Anderson era at 107.
• During the Mike Anderson era, Arkansas is 86-11 when scoring 80+ points, including wins in 31 of the last 32 games.
• Jaylen Barford and Daryl Macon have both scored 20+ points in the same game five times this year. Arkansas is 5-0 in those games.
• Arkansas is 12-1 in Bud Walton Arena this season with a +14.1 average margin of victory, including a +112 scoring margin in the first half.
• Arkansas has won 33 consecutive games in which it has led at halftime. During Mike Anderson era, the Razorbacks are 118-7 when leading at the intermission.
• Daryl Macon is the first Arkansas player since Corliss Williamson in 1994-95 to score 20-plus points in six consecutive games.
• Daryl Macon is a perfect 26-of-26 from the free throw line in the final minute and overtime of games this season. In his career, he is 56-of-60 (.933).
Tickets
Single-game tickets for the 2017-18 season are available now at the Razorback Ticket Center by calling at 1-800-982-HOGS (4647) and online by clicking here.

For more information on Arkansas men's basketball, follow @RazorbackMBB on Twitter.