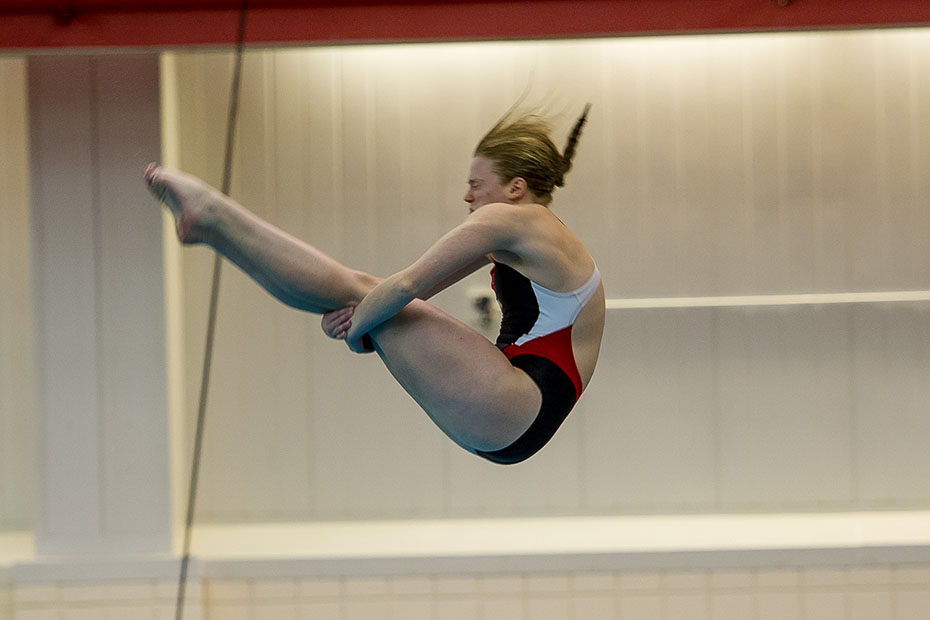 Building Trust Through Change
FAYETTEVILLE, Ark. — For student-athletes, change can be scary. The element of uncertainty can often be terrifying and every student-athlete has dealt with change during their career. It's not something they ask for, it just happens. You can either embrace or discard it, or choose to adapt and evolve.
Coaching changes, on the other hand, is a completely different matter.
With a new coach comes new methods, new personalities and new expectations. It takes time for student-athletes to become acclimated to change.
Junior diver Nicole Gillis has experienced this personally. When coaching changes occur, most student-athletes do not get to see firsthand how a new coach operates until official practice starts for their season.
When head coach Neil Harper was announced as the new head swimming and diving coach in May, he soon named Dale Schultz as the new head diving coach.
"Obviously, with any coaching change, the student-athlete has to learn to trust their new coach," Arkansas diving coach Dale Schultz said. "It's not something that happens overnight."
The relationship building process between Schultz and Gillis started almost immediately and helped in the junior's positive development during her season.
"We started building a diver-to-coach relationship earlier and its helped boost me forward for this season," Gillis said. "I am not starting that relationship now so I'm progressing more quickly."
Gillis was able to attend the 2016 FINA Diving Grand Prix in Italy during the summer. Typically with international events, student-athletes travel with their international team and are unable to be assisted by their college coach.
"Even though [Coach Schultz] was there for the U.S. team, my South African coach allowed him to help me out during the competition," Gillis said. "He worked really well with me. He also never stepped in, which is sometimes the case with coaches." They were able to find the perfect balance between the coaches.
Schultz's help during the FINA Diving Grand Prix helped his relationship with Gillis grow and develop. It also gave him the opportunity to gain the trust of his new diver.
Gillis experienced a bout of self-doubt prior to the event and expressed her fears to Schultz before leaving for Italy. She was only able to train with Schultz for two weeks before having to compete in the international event because of the coaching change. Due to the lack of time, this left her with no choice but to trust him.
"My biggest concern was embarrassing myself because of my lack of training and because I was holding back due to an injury," Gillis said. "I went in there just trying my best to gain experience diving against some Olympians from Rio and other younger divers. I went with Dale and it was really good to see what he is like during a competition before the season started to see how we would interact. Coaches seem to be different in competition and practice, so it was nice to be exposed to both sides especially during the summer when there is not that added pressure of the season and having to perform in class as well."
Trusting her new diving coach paid off for Gillis. Despite competing with a new synchro partner, Gillis recorded her best-ever finish in an international event with a seventh place finish in the 3-meter synchronized dive with a score of 238.02. Of the six duos that finished ahead of her, four featured divers who participated in the 2016 Rio Olympics.
Gillis also dove in the 3-meter springboard and recorded a 26th place finish with a score of 219.60 in a close competition. She only needed 10 more points to finish in the top 20.
"I was really happy with my result after the two weeks of training especially since I just had an injury and was still recovering," Gillis said. "A coaching change in diving is hard to get used to since it is very technical. There was less pressure at the Grand Prix, but you're still diving against the same caliber of divers."
Of those who dove in the 3-meter springboard against Gillis in Italy, 11 went on to dive in Rio including two who received medals (two silver and one bronze).
With Rio now in the past, athletes are starting to set their sights on a different goal: The 2020 Olympic Games in Tokyo.  The 2020 Olympics is Gillis' ultimate goal, but before she can compete in Tokyo, she has her junior year in front of her. It's a season that Gillis said can be her best year as a Razorback.
"I am very excited about this year. I have been told it is a big year for me in results," Gillis said. "I am excited to work hard and reach my goals, which is to go to NCAA Championships again and potentially become an All-American which I missed out on by just a couple of points last year."
Schultz agreed with his junior diver and the development she's made during the summer.
"I think the Italian Grand Prix allowed Nicole to go, 'Wow, I have some work to do and here's where I need to improve.' Her ultimate goal is 2020 and Tokyo but let's pick up an NCAA Championship along the way," Schultz said.
For Gillis to accomplish that goal, she has to buy in and believe in her new coach first. The trip to Italy not only jumpstarted that relationship but allowed her to bring some knowledge back to her younger teammates.
"I took the initiative of welcoming all the newer girls and asked if they had any questions or concerns," Gillis said. "Being exposed to Dale during the summer helped me to tell them what I have seen. They get to hear about a different side of him from someone who is a teammate. It's helped me become a better leader by reaching out and helping to guide my teammates to not be scared because it's a totally new experience for them."
For both Gillis and Schultz, the relationship and trust is developing quickly and so are the expectations for this upcoming season. It's not "championship or bust" right now. It's only about trust, believing and letting the results take care of themselves.