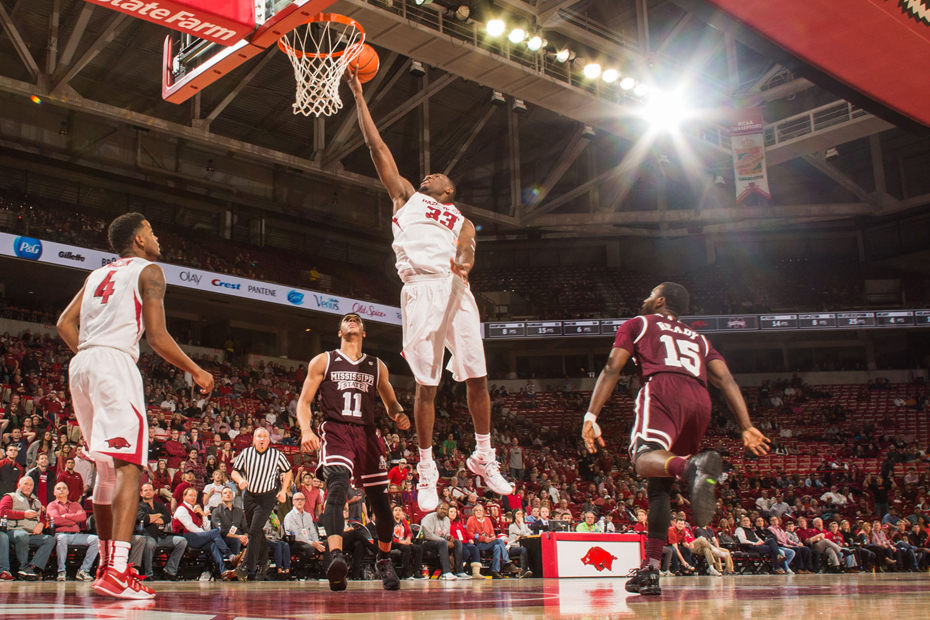 Bulldogs' Three-Point Shooting Hurts Hogs
FAYETTEVILLE, Ark. — Despite a season-high 19 points from senior Moses Kingsley, the Arkansas men's basketball team (12-4, 1-3 SEC) fell 84-78 on Tuesday night to Mississippi State (11-4, 2-1 SEC) in Bud Walton Arena.
Kingsley scored five early points to push Arkansas out in front to a 9-8 lead at the first media timeout. Mississippi State later missed seven straight shots over a span of three minutes and 52 seconds, giving Arkansas the chance to go on an 11-1 run, with eight of those points by Anton Beard, as the Razorbacks took a 24-17 lead with 9:40 left in the first period. The Bulldogs used three consecutive three-point baskets to recapture the lead 33-27 before going into the break with a 40-34 lead.
After forcing the Bulldogs into a shot clock violation and five second call on back-to-back possessions, Arkansas used a quick 6-0 run to open the second half to tie the game at 40.  The Razorbacks however, could never regain the lead despite forcing Mississippi State into 16 turnovers during the game.
Three-point shooting by the Bulldogs damaged the Hogs as Mississippi State went 12-of-26 (.462) from behind the arc.
Kingsley finished with a season-high 19 points and four rebounds on 7-of-12 shooting, including sinking a bucket from behind the arc. Jaylen Barford put up 10 points and five rebounds for the Razorbacks.
Arkansas continues to get good production from its bench as Dusty Hannahs put up 17 points on 6-of-13 shooting and three rebounds. Hannahs has now scored in double-figures in every game this season that he has come off the bench.
Anton Beard recorded 11 points and has scored in double-figures in five of the last six games. Dustin Thomas finished with a team-high seven rebounds to go with eight points. The Razorbacks outscored the Bulldogs 36-21 in bench points.
UP NEXT
Arkansas will face the Missouri Tigers on Saturday, Jan. 14 in Bud Walton Arena. The game is set to tip-off at 5 p.m. on SEC Network.
TICKETS
Mini plans, mobile passes and single-game tickets for the 2016-17 season are available now at the Razorback Ticket Center by calling at 1-800-982-HOGS (4647) and online by clicking here.
For more information on Arkansas Men's Basketball, follow @RazorbackMBB on Twitter.