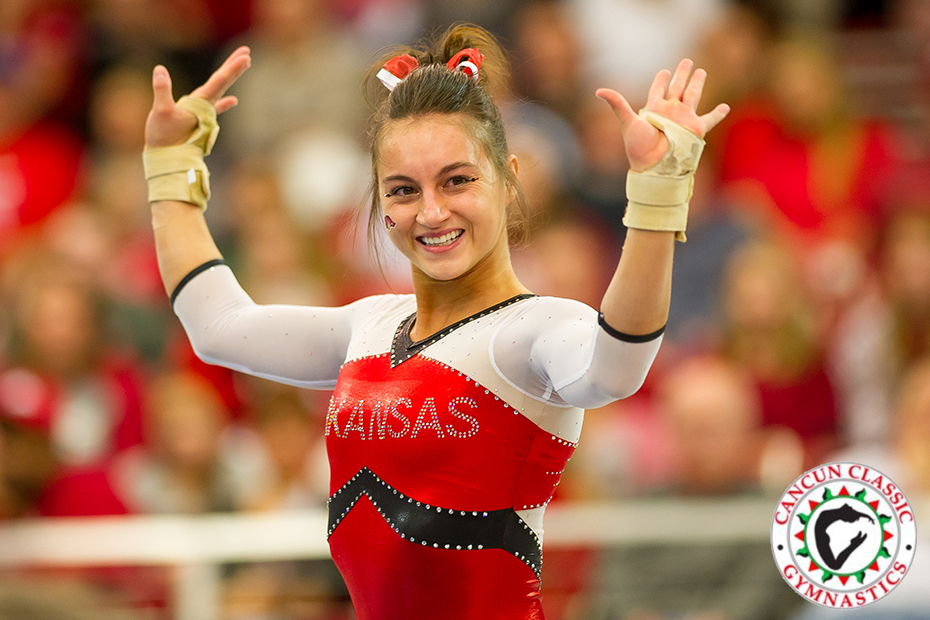 Cancun Classic Preview: A Shining Opportunity
MEET INFO…
WHO: No. 13 Arkansas vs. Iowa and No. 7 Michigan
WHAT: 2016 Cancun Classic
WHEN: Saturday, Jan. 2 at 6 p.m.
WHERE: Cancun, Mexico
HOW TO…
PREPARE: Meet Notes (PDF)
WATCH: FloGymnastics ($)
FOLLOW: @RazorbackGym
FAYETTEVILLE, Ark. — Arkansas gymnastics has a shining opportunity in its hands.
The eyes of the collegiate gymnastics world will be focused on the opening meet of the season, the 2016 Cancun Classic, where the No. 13 #Gymbacks will face off against two Big Ten foes – No. 7 Michigan and Iowa – on Saturday, Jan. 2 at 6 p.m.
Coming off their 10th-consecutive top 15 finish with a roster studded with five seniors and the two defending SEC Freshmen of the Year, the Razorbacks are primed for their biggest year since 2012. That was the last time the team competed in the Cancun Classic, as well as the last time Arkansas advanced to the NCAA Super Six.
But unlike the 2012 edition of the Cancun Classic, which was on Jan. 6, this one is a bit earlier, and Arkansas has had to adjust accordingly.
"It changes our preparation. I'm a little bit nervous about starting this early in the season, but we have been able to prepare ourselves very well going into and coming out of Christmas break," head coach Mark Cook said. "The team has been training pretty well since coming back and if they can perform their routines up to their abilities, then I feel that we have a chance to start the season off strong."
Only one current Razorback was on that 2012 team: Stephani Canizaro, who was a freshman four years ago and returns to the team after being granted an additional year of eligibility for an injury suffered during the 2013 season. Canizaro was an NCAA Second Team All-American on floor exercise in 2012 and hopes to earn national honors for unbalanced bars this season.
The Wolverines are one of seven of Arkansas' 2016 opponents ranked top 10 in the NACGC/W Preseason Coaches Poll, and Cook sees facing them, as well as the Hawkeyes, as a great opportunity for the team to assert itself early on in the season.
"We have beat Michigan before, and although we haven't gone against them in quite a while (since NCAA Session II in 2013) they continually have a strong program," he explained. "But it really depends on the score; if Michigan and Iowa have poor meets and we beat them it's not that much of a win. It's a moral win but it's not a strategic win. So we have to go down there and hopefully score above a 196. If we can do that, then we can say we've established ourselves."
For behind-the-scenes #Gymbacks content during the trip, please follow @RazorbackGym on Instagram and Snapchat.