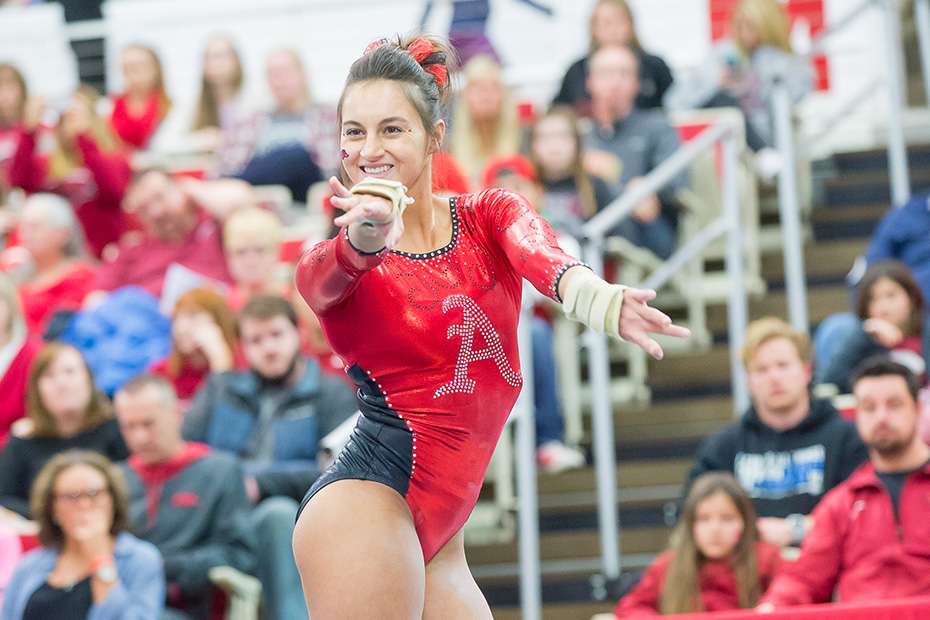 Canizaro Fulfills Grandfather's Dream Of Becoming A Razorback
FAYETTEVILLE, Ark. — Senior All-American Stephani Canizaro was destined to become a Razorback gymnast. Though growing up in the outskirts of Memphis in a small town in Mississippi, Canizaro's family had a major University of Arkansas supporter in it that dreamed of one day watching her compete for the Razorback gymnastics program.
Canizaro grew up in Nesbit, Mississippi, roughly 20 miles south of Memphis, and while she was in the heart of the Mississippi Delta, Razorback red ran through her family. Canizaro's grandfather, Thomas DeNomie, lived in the Natural State and was the president of the Roy L. Murphy Razorback Club in Hot Springs.
"He was a huge Razorback fan," Canizaro recalls. "He lived in Hot Springs and everything about him was Arkansas Razorbacks. I remember we had a family pool party and he was wearing an Arkansas shirt and he kept asking if I liked it. I told him it was pretty cool and he took it off and gave it to me, saying it was mine now. He had so much Razorback gear. I remember he had a huge Arkansas banner in front of his house and flags everywhere."
Stephani was developing her skills as a gymnast at Gymstar Gymnastics in Collierville, Tennessee, and Thomas would write his granddaughter letters on a regular basis to ask about her gymnastics meets. He would remind her that the University of Arkansas had recently started a gymnastics program and asked if she would like to go to summer camps there, sometimes offering to cover the cost of the camp to further convince her to go.
"Arkansas was a fairly new program, so I did not know a lot about them," said Canizaro. "He would tell me a bit about the program. He talked about the camps there and tried to get me to come down for a few weeks over the summer, but I never did."
In the fall of 2007, DeNomie was at a local golf tournament for the Razorback Club and there he met Arkansas Director of Women's Athletics, Bev Lewis. He spoke to Lewis about Stephani, who was 13 at the time, and that she had become a proficient gymnast and would love to see her performing for the Razorbacks one day.
DeNomie took out a business card and wrote all of Stephani's career-best scores and accomplishments on the back and gave it to Lewis. Once she had all of Stephani's information, she promised DeNomie that she would pass it along to gymnastics head coach Mark Cook.
Upon her return from the golf outing, Lewis kept her promise and handed the business card with all of Canizaro's information to Coach Cook. Because she was 13, he could not formally contact her yet, so he held onto the card until she was old enough to begin the recruiting process.
"The card sat in a cabinet in my office for two-plus years," recalled Cook. "I was thinking about the card one day a few years after I got it, and I wondered how old she was. Something kind of told me that I should give her a call. It turned out she was the appropriate age to start recruiting, so I wanted to check in and see how she was doing."
After doing some research on Canizaro, Cook decided to give her gym a call to find out more information on her from her coaches. He made the call to Gymstar where the secretary answered. It is a normal practice for gyms to have secretaries, but on this faithful call, it was who the secretary was that made this phone call more memorable.
"When I called, I told the secretary who I was and that I'm interested in one of the gymnast there, and she asked who," Cook recalls. "I told her Stephani Canizaro and I started to hear some crying on the phone."
The secretary turned out to be Stephani's mom, Kathy, and she told Mark that the card he had with Stehpani's information was from her father and that it was always his dream to have his granddaughter go to Arkansas. Unfortunately, Thomas had passed away two weeks prior to the phone call, and hearing that the school he loved so much wanted to recruit Stephani was an unreal and emotional experience for her and her mother.
"I remember my coach telling me that Mark Cook from the University of Arkansas just called asking about me and I didn't believe him at first," said Canizaro. "I was still upset about my grandfather passing, and being that he was a huge Razorback supporter, I couldn't believe it. My mom and I both kind of found it surreal. I remember looking at her when I got the news that they were interested in me and we both just hugged each other and cried."
Coach Cook went out to the gym in Collierville, Tennessee and watched Stephani compete. He was impressed with her phenomenal athletic skills, which Thomas had spoken of on the card, and knew he needed to get her on campus for a visit. It wasn't long after that Stephani took her first visit to Fayetteville, and Coach Cook had a bit of surprise for her once she arrived on campus.
"I remember sitting in his office and we were talking about my grandfather and how Mark had my information for a few years on a card that he gave him. Coach had it laminated and when I arrived he gave it to me, and I remember both me and my mom were just sitting in his office crying. It was unbelievable to see that card and what he wrote on it."
That wouldn't be the only time during the visit that Stephani and her family felt Thomas' presence. While taking a tour of the campus, Kathy would tell her daughter that Thomas was here with them and Stephani agreed that she felt his presence too."
After the visit, Stephani and her family agreed that Arkansas was the place for her. The timing aligned too perfectly for her and she wanted to fulfill her grandfather's wish of becoming a Razorback.
Since joining the Arkansas gymnastics program in the fall of 2011, Canizaro has had a strong impact on the team. In her first year of competition, she earned second team All-American honors on the floor exercise and helped the Razorbacks post the second-highest team score in school history to help the Razorbacks advance to the NCAA Super Six for the second time in four years.
She had a bit of a setback her sophomore season, as Tommy John surgery forced her to miss the entire 2013 campaign. But she returned with the next season, and helped the floor exercise and uneven bars rotations earn the third-highest score in team history in each event. This year, she has been even better, as she has won the first two event titles of her career – both on the bars – and helped the Arkansas floor rotation post its highest score in the event in team history, which led to an upset of Southeastern Conference champion, Alabama.
Her accomplishments would make any parent or grandparent extremely proud, and Stephani knows that's exactly how Thomas feels about his granddaughter.
"It was always his dream to see me succeed and do big things, and I'm really happy that I've been able to accomplish big things at the school he loved so much. I think about him before every meet. In a letter he sent me back when I was younger, he told me that I was determined, strong willed and refused to be denied. So I recite that to myself before every meet for motivation."
Stephani also has another way to honor and remember her late grandfather, no matter where she is at. She got a tattoo of his initials on her wrist to carry his memory around all the time and before every meet, while reciting his words from the letter, she looks at it in remembrance of him.
This Friday, Canizaro will be honored as one of two members of the Arkansas gymnastics senior class. The Razorbacks will host No. 8 UCLA in their regular season finale at Barnhill Arena. Events are scheduled to begin at 6:45 p.m. CT, with a live webcast on the SEC Network+ starting at 7 p.m.
For more information on the Arkansas women's gymnastics team, follow @RazorbackGym on Twitter.