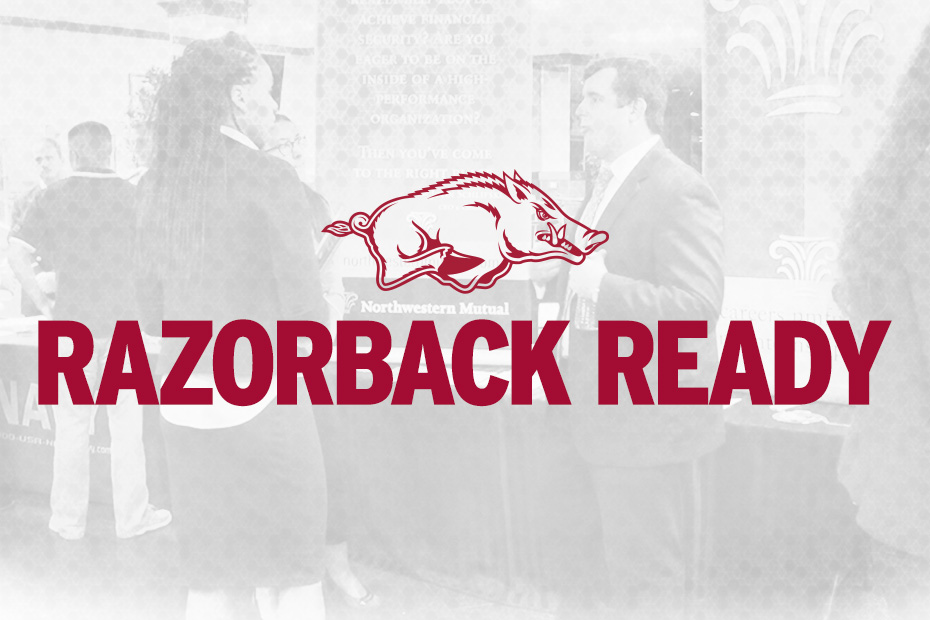 Career Education & Job Attainment For Razorbacks Student-Athletes
FAYETTEVILLE, Ark. – Universities around the country are striving to meet the changing needs of student-athletes and the Arkansas Razorbacks' Office of Student-Athlete Success (OSAS) has taken innovative approaches to current events by creating programming that directly addresses hot topics and the changing landscape of college athletics.
This article is the second in a five part series titled The Changing Landscape of College Athletics: Meeting the Needs of our Razorbacks that will highlight those efforts and the unique learning opportunities. The articles will focus on the education and instruction that will benefit the next generation of young professionals on the following subjects:
June 12: Financial literacy
Career education and job attainment
Working with the Millennials and Generation Y
The role of our Student-Athlete Advisory Committee (SAAC)
Social spotting to help address risky behaviors
It is widely known that the changing economy and job market can often make post-college life hard. The Federal Reserve Bank of New York recently reported that 44% of college graduates were underemployed and that the average college student overestimates how much they will earn after graduation by 45%.
As OSAS focuses on the area of career education and job attainment, they created programing that helps student-athletes with several key elements that will improve their post-graduate employment opportunities.
"We are fortunate at the University of Arkansas that this is really important to our Director of Athletic," said Dr. Charles Small, the Director of Student-Athlete Development.  "(Vice Chancellor and Director of Athletics) Jeff Long has built a culture that values a well-round development of student-athletes. Our coaches understand and embrace the fact that these development programs are a big part of a successful student-athlete experience."
Razorback student-athletes have access to a staff person who assists with the development of resumes, cover letters and pertinent skills specific to potential jobs.
In addition several workshops beginning during the freshman year, help ensure Razorbacks student-athletes are ready for professional life after graduation.
As freshman, the programing is designed to encourage self-awareness.  Student-athletes identify their talents, strengths and interests through a range of activities which are tailored to explore how those strengths will lead to success in different areas of their lives, including choosing a career path.
"A major component in career development is finding ways to implement your identity into career decisions," Small said. "Often, our student-athletes need to have a strong athletic identity to excel at this level of sports. We are committed to also developing ways to help them have the same passion, focus and skill development as it relates to their career outside of competition."
As sophomores, Razorback student-athletes take a career exploration course that assists with selecting a major and career path that fits the individuals' interests, values, strengths and personality.  The class includes discussion, exercises and assignments designed to help the student-athlete conduct a personal self-assessment.
Time is spent learning to gather occupational information, creating resumes, developing job interview skills, learning job search strategies and completing requirements for the Professional Development Institute (PDI). Students graduate from PDI and receive a letter of recognition from their college dean and a certificate of completion from the UA Career Development Center.
"It was a great class that opened my eyes to life after football," said junior offensive lineman Dan Skipper.  "It taught me how to connect, interact and in the end, hopefully get hired by an employer."
As juniors and seniors, Razorbacks student-athletes have the opportunity to participate in a Finishing Touch series, a collection of workshops and career fairs.  Workshop topics include interviewing skills, networking, utilizing the internet for job searches, dining etiquette and dress etiquette.  Additionally, student-athletes have access to two career symposiums during the fall and spring semesters. Employers from a range of companies are invited to network with student-athletes. Last year, 29 companies participated in the career symposiums. When student-athletes complete three of the Finishing Touch series workshops, they receive gifts.  Juniors will receive business cards and a Razorback padfolio and seniors receive a gift card to Dillard's for the purchase of professional attire.
"It's an unbelievable opportunity for me," said women's tennis player Flavia Araujo after earning a Nike Internship.  "Most people started as interns or working at Nike stores and now they have been here for over 20 years. It's encouraging to know I'm on the right path. I have been working with Nike senior leadership every day and they share life stories, tell me about their background and give me advice on how to succeed in the business."
Araujo is one of 180 interns selected from 23,000 applicants.
Stay tuned to ArkansasRazorbacks.com as we cover in detail, the three other areas of programming within The Changing Landscape of College Athletics: Meeting the Needs of Our Razorbacks.  For more information on Arkansas Athletics, follow @ArkRazorbacks, and @Hoglife_Scholar on Twitter.