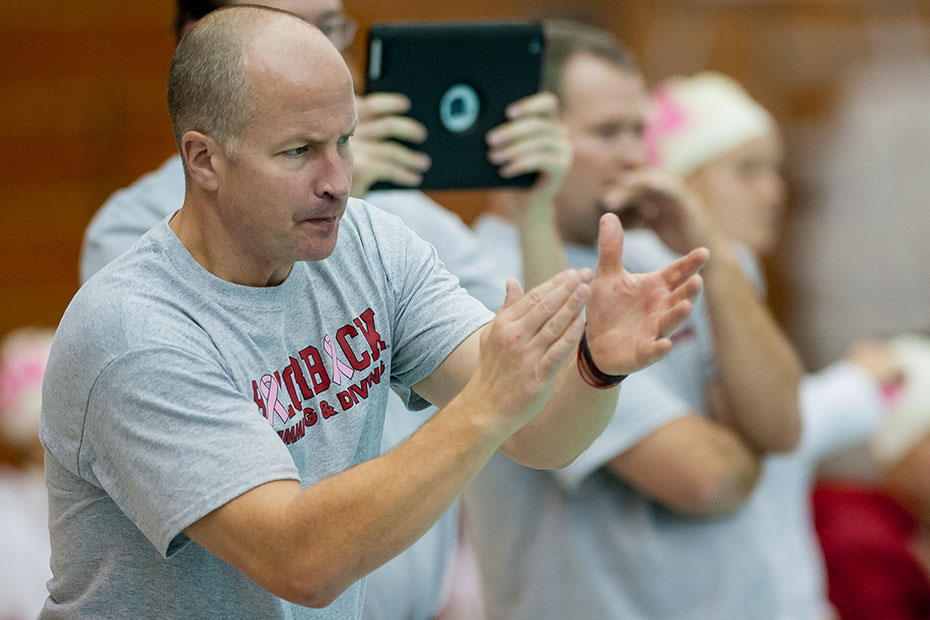 Schimmel: We Have A Great Team Dynamic Right Now
After winning three dual meets, capturing first place at two invitationals and garnering five individual weekly honors this past fall, Arkansas swimming and diving heads into the spring with a lot of momentum. Here's what head coach Sean Schimmel had to say about the Razorbacks' successful start:
Q: The team's 5-0 record in the fall included a near 50-point win at Nebraska followed by a victory over Kentucky at home, the program's first win ever at No. 10 Tennessee, a victory at the Rice Invitational and a first place finish at the Georgia Tech Invitational (19 teams). What has been the key to this team going on the road and performing at such a high level?
A: We emphasize being a part of something bigger than yourself. And When we back that up with our training and a real desire to do things we have never done before, we yield good results and performances. We perform at a higher level when we do it for our teammates. We have a great team dynamic right now, they are embracing each other and the opportunities we have, and they are just having a lot of fun! We knew would be facing some great teams. The outside world definitely had us as the underdogs. In fact, probably the only people in the country who believed we would beat Tennessee was the 41 members of our team. And that is really all that mattered!
Q: How rewarding was it for the team to get ranked No. 24 nationally by the CSCAA after such a successful fall season?
A: It's a good reference point. OK, so this is where we are stacking up right now, but then you just really get on with it and start preparing for the next practice and competition. We are always preparing for better things to come in life. We had a solid fall, but now we are looking at championship season which is right around the corner and that is where our focus is.
Q: What was the team's primary focus during the training trip to Puerto Rico and the meets leading up to the SEC Championships?
A: One of our goals coming out of our Puerto Rico training trip was to be a better team than when we left, have better chemistry and better relationships among everyone. Then, we can do the work and have performances necessary to set us up for a great championship season.
Q: With all the team and individual achievements in the pool, continued success in the classroom and new team training facilities and locker room being built, how much energy and excitement is around the program right now?
A: We are all excited. Myself, our student athletes, staff and even the alumni are excited! We have worked a lot on our team culture in all areas of our lives, whether it is academics, swimming and diving, community service and just making better choices in life. We still have a lot to accomplish, but I look back over the last three and a half years since I arrived, I feel confident about our team, our success and where we are going. I am content with all of the great things we have accomplished, but certainly not satisfied. We have been getting great facility upgrades with the new team suite and the endless pool. Those two things just really help our teams experience and our ability to get better. It is certainly an exciting time to be a part of our Razorback Family. We are all so grateful to the generous donors, alumni and athletic department for all of their support in helping all of these projects come to fruition.