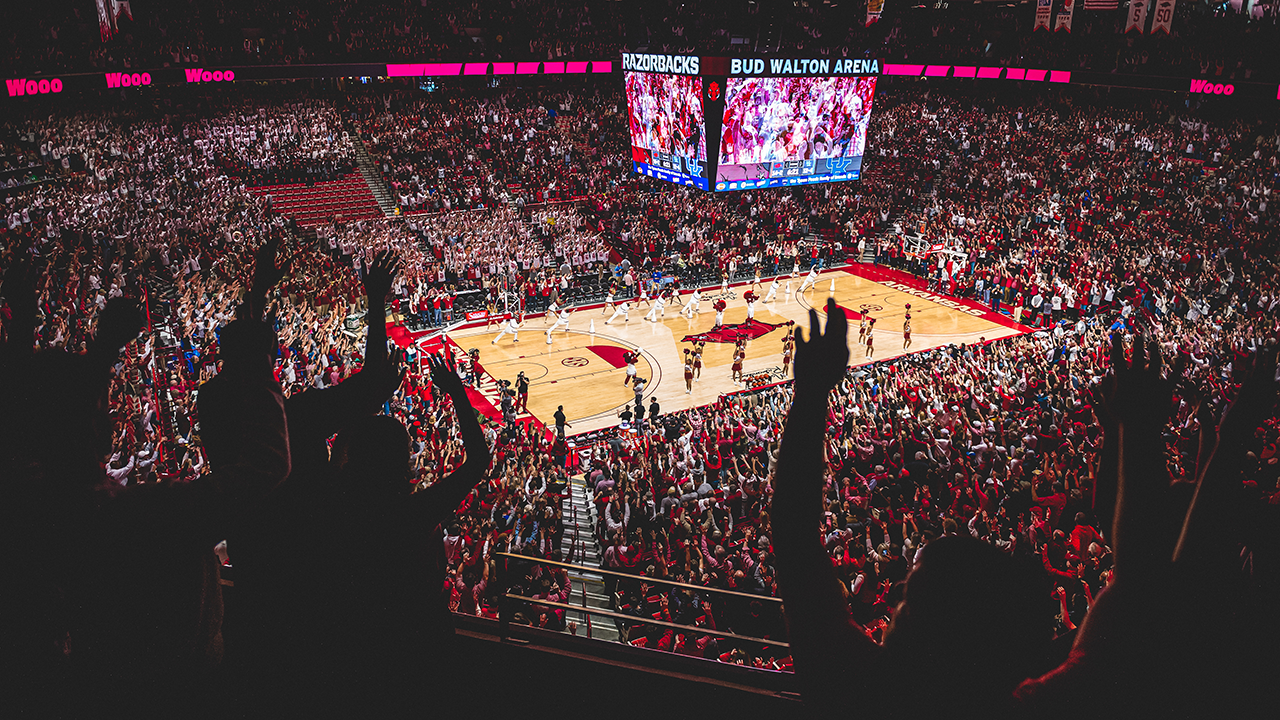 Changes to Basketball Gameday Experience
Below is a message sent to our men's and women's basketball ticket holders regarding some changes to game days at Bud Walton Arena for this upcoming season.
Thank you for your continued support and patience as we worked to finalize the plans for the 2020-21 Razorback Men's and Women's Basketball seasons. As you would anticipate, the ongoing pandemic has drastically changed many facets of the game day experience. As was the case in football, the goal of our plan is to provide a healthy and safe environment and an equitable opportunity for our Razorback Foundation members, season ticket holders and University of Arkansas students to attend games at Bud Walton Arena this season.
---
Your Health & Safety Are Our Top Priority
In consultation with the Arkansas Department of Health (ADH), we will implement a number of measures to make your basketball fan experience as healthy and safe as possible including:
All event staff and employees will wear face coverings at all times.
All guests will be required to wear face coverings (over the nose and mouth) at all times, unless actively eating or drinking.
Lines will be queued at elevators, concession stands and merchandise locations, and there will be 6-feet distancing markers placed throughout the venue to remind you to properly socially distance.
Please note for this season, arena doors will open 1 hour prior to tipoff.
No fans, other than courtside seat patrons, will be permitted on the arena floor level at any time. All fans must enter their seats using the concourse level. In previous years, some fans utilized the elevator to access their seats from floor level stairwells. This is no longer permitted.
Hand sanitizing stations will be added throughout facilities to supplement restroom use.
Extensive cleaning and sanitation efforts including deep cleaning prior to games and disinfecting of high frequency touchpoints throughout the event.
Mobile-only ticketing to provide contactless experience at gates and in the stands. For more information on mobile ticketing click here.
All game programs will be digital this season.
Reduced capacity in venue, based upon current state Phase II social distancing standards. Capacity, including students, will be around 4,000.
Socially distanced seat blocks will be in place. It's critical that fans only sit in their assigned seats locations.
The team bench configuration will be different. Just like the in the stands, the team bench seating will also be socially distanced and taking up a much larger footprint on the sideline and baseline than normal.
---
A number of traditional game day experiences will be adjusted to accommodate safety protocols.
Spirit Squads: While cheerleaders, pom squad and mascots will be in attendance and located in the lower level student section area, they will not be allowed to be on the sidelines during the game and their direct interactions with fans will be eliminated, due to social distancing precautions.
Hog Wild Band: Due to the indoor nature of the event, the band will be even more limited at Bud Walton Arena than it is at Razorback Stadium for football games. The band will be present in their normal location and continue to bring energy and enthusiasm to the game. They will not, however, be permitted to have their normal array of instruments.
Big Red Flag: Unfortunately, Big Red will not be permitted to run onto the floor and wave the Razorback flag at center court before introductions this year.
Halftime Performances: Our fans have become accustomed to having unique and entertaining halftime performances over the past few years. Unfortunately this season we will not be able to have any entertainers, including the Pom Squad, perform on the floor at halftime. We are developing some creative options to keep you entertained at intermission, including airing some of our previous best halftime performances on the videoboard.