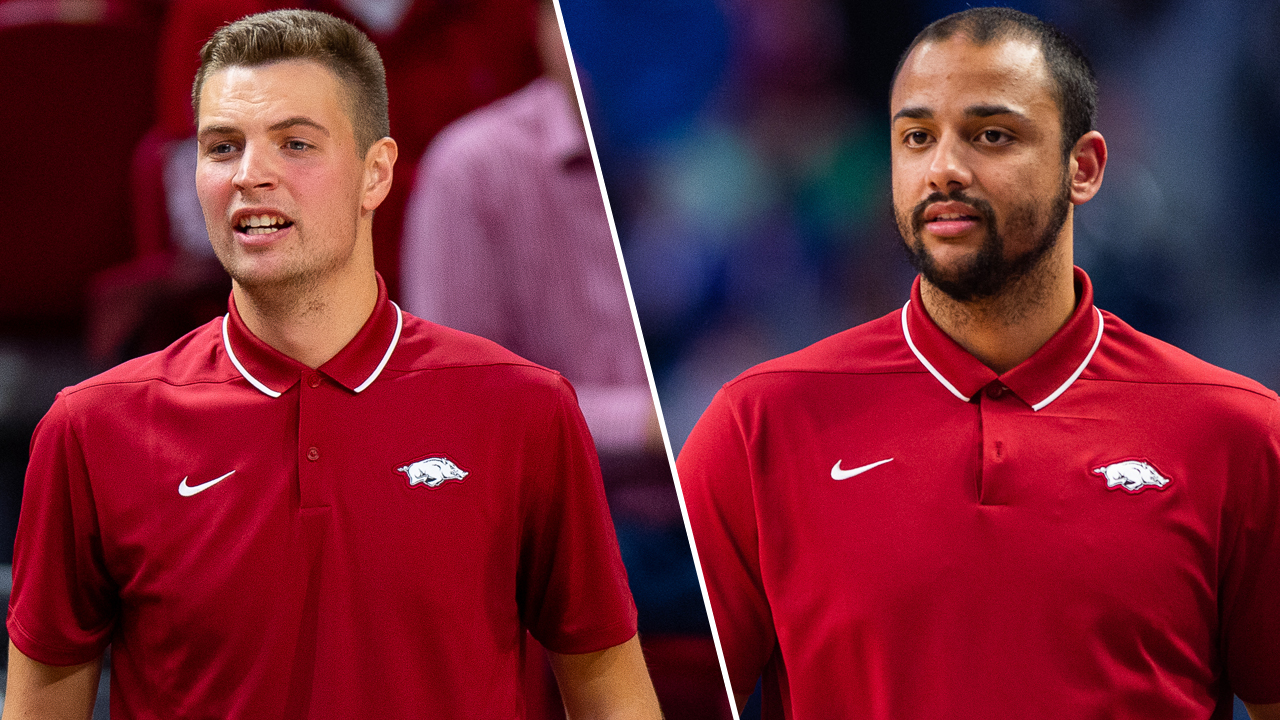 Cline and Martin Promoted on MBB Staff
FAYETTEVILLE – Caleb Cline and Raheem Martin have been elevated to full-time positions on the men's basketball staff, head coach Eric Musselman has announced.
Both Cline and Martin helped the Razorbacks to NCAA Elite 8 appearances the last two seasons serving as graduate assistants. Cline has been promoted to assistant director of operations and Martin was promoted to coordinator of student-athlete development.
"Caleb and Raheem quickly established themselves as graduate assistants," Musselman said. "Our staff, but more importantly our players, have the ultimate confidence and trust in them. They have been leaders in their previous roles and our players have benefitted from their knowledge. The program is fortunate to keep them in the family."
Caleb Cline
Worked two years at Arkansas as Graduate Assistant, pursuing a Master's in Adult and Lifelong Learning
South Dakota, 2020 (BS – Kinesiology and Sport Management with a coaching minor)
College Playing career: Walk on at the University of South Dakota
Hometown: LeMars, Iowa (LeMars Community HS – 2015)
Raheem Martin
Worked two years at Arkansas as Graduate Assistant, pursuing a Master's in Adult and Lifelong Learning.
Greensboro College, 2016 (BA – Criminal Justice)
Spent one season as an assistant coach at Greensboro College (2019-20) and one season as an assistant coach at Richard Bland College (2017-18)
Four-year letterman at Greensboro College (2013-16) … Was USA South Defensive Player of the Year following the 2013-2014 season … Finished his career with 85 blocks, which ranks third on the Pride all-time list, and ranked ninth in career steals with 116
Is the brother of Cody and Caleb Martin, who played for Eric Musselman at Nevada and currently play for the Charlotte Hornets and Miami Heat, respectively
Hometown: Mocksville, N.C. (Davie County HS – 2011).
Cline and Martin are the third and fourth staff members to be promoted within the Razorback program this off-season, joining Anthony Ruta (from director of operations to assistant coach) and Michael Musselman (from director of recruiting/assistant director of operations to director of operations).
For more­­ information on Arkansas Men's Basketball, follow @RazorbackMBB on Twitter.