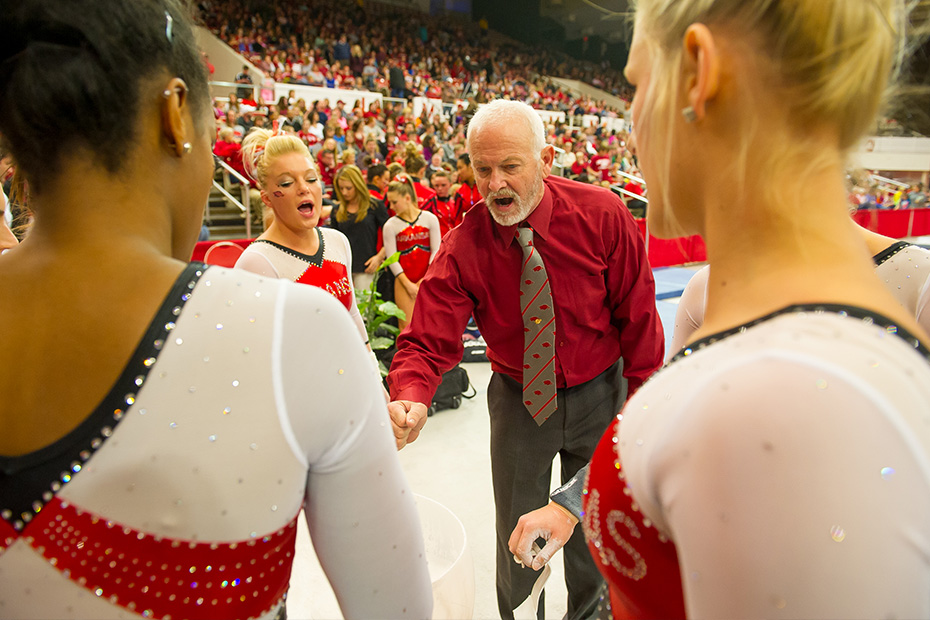 Coach Cook's Press Conference Transcript
FAYETTEVILLE, Ark. – On Tuesday, Arkansas women's gymnastics head coach Mark Cook spoke with local media members to discuss the upcoming NCAA Morgantown Regional, which will be held this Saturday, April 4, on the campus of West Virginia University. Events will start at 3 p.m. CT from the WVU Coliseum.
Opening Statement
"We are excited to attend our 12th NCAA Regional Championship. Since the second year of the program we've been every season. It's going to be very exciting, as usual. There will be a lot of pressure, but we have to embrace that. We will be traveling to Morgantown, West Virginia and have to finish in the top-two to move on to the NCAA National Championship Session, which will be held in Fort Worth, Texas in two weeks."
Q: The field features five top-25 teams, which is the most top-25 teams in a single region, can you discuss your thoughts on going up against so many quality teams?
A: "Florida is without question one of the best programs in the nation. They are very strong, very deep and will be a very hard team to beat in this competition. However, we feel that the other two teams ranked above us, Stanford and Illinois, are definitely vulnerable. We feel that our team is just as good as those two teams quite honestly, and all three of us will be battling it out to see who can claim that second spot to advance to the NCAA Championships."
Q: What kind of score do you think it will take to get that number two spot on Saturday?
A: "Well, it all depends on the panels. There are four judges, sometimes they tend to be a little tight with the scoring. From a historical standpoint, it's going to take probably a mid-to-high 196 to get into the second spot. I also know that if our kids can go out and perform their routines like they have been in practice this week we can get that. I feel pretty confident that it will come down to a tenth or a half-tenth for the second-place team."
Q: Is this a mandatory podium competition and discuss the format of the NCAA Regionals?
A: "This meet will not be on a podium, it will be on the regular floor. Podiums, in our case, are only for the NCAA Championships and the SEC Championships. There are a couple of regular season meets during the season that have podiums, like the Metroplex, but they are very expensive. There are six regional sites, and all of them will be taking place around the same time. It will be interesting to see who comes out on top."
Q: How was the week off for training been and what have been some of the emphasis of practices?
A: "We came back from the SEC's pretty tired, so we need a couple of days off. We had a strong training day before the meet, then you go into the meet and travel back the next day, you get tired. We got the girls together to watch the NCAA Selection Show to find out where we were going and we were very excited for this matchup. I think our group is very motivated, and we have this little theme of the 'Under Hogs' because we are considered an underdog going into this meet. I don't feel like we are (an underdog) and I feel like we are capable of competing for that second spot, but it's a fun little way of approaching this meet for our girls and they've been embracing it. We're very motivated, training has been excellent this week and we know we have to go to Morgantown and be the best that we can be."
Q: What do you think of your NCAA Regional rotation?
A: Well, it's good to have a bye before the floor. You don't want to go on the floor first because that event tends to be a little tight for the first team out there. Ending on beam will be challenging, but we've been in that boat before and we've been practicing in those rotations with all the timing exactly like it will be in the competition. We've been doing well at the rotation in practice, and we have to go out there and be mentally tough and perform."
Q: Who is coming on for your team and where might you squeeze an extra tenth of a point out of?
A: Our two all-around gymnasts, Amanda Wellick and Paige Zaziski, have been doing a lot of the work in all four events. But I need Stephani Canizaro to really do her routines well. She had a bit of a rough SEC Championship, but she has trained well this week and as a senior she needs to come on and finish strong. I also need Erin Freier to do her two routines the best that she can do them, as well as no mistakes for the team."
Q: Tell us about Stanford and Illinois, the two teams that are ranked right above you in this Regional?
A: To be honest, we don't scout the other teams because we do not have any interaction in our sport. But, looking at their scores, they are both pretty balanced teams. Stanford started the season a bit slow, but have really picked things up here lately. Illinois is a very consistent team. I don't feel that they have any more difficulty in their routines than we have, they're just very consistent and very clean. All three of us have strong programs. With Florida, they have such a stacked roster of extremely talented, high-level athletes. We don't have that kind of depth to choose from, so our girls will have to maximize their potentials."
The Morgantown Regional will be a six-team competition which will feature five top-25 ranked teams and one of the defending NCAA National Champions. The top seed in West Virginia will be the co-defending champion, and second-ranked, Florida Gators. No. 11 Stanford, No. 14 Illinois and No. 25 New Hampshire will join the No. 19-ranked Razorbacks in Morgantown, along with host-school West Virginia.
For more information on the Arkansas women's gymnastics team, follow @RazorbackGym on Twitter.