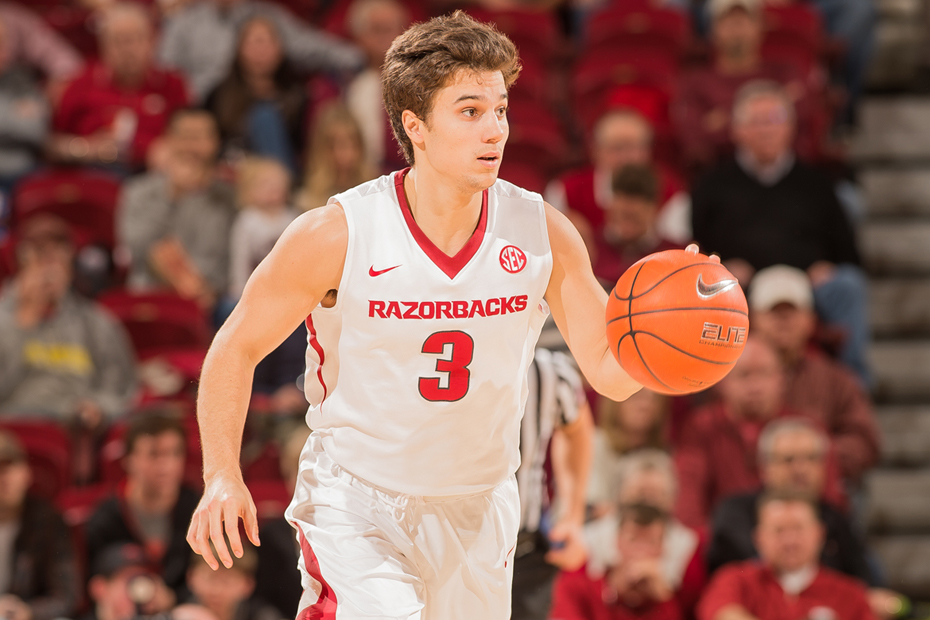 Commodore Threes Sink Hogs
FAYETTEVLLE, Ark. — The Arkansas men's basketball team fell 72-59 Tuesday night against the Vanderbilt Commodores inside Bud Walton Arena.
Arkansas (17-7, 6-5 SEC) had its lowest scoring output of the season, while allowing Vanderbilt (12-12, 5-6 SEC) to sink 12 three-point baskets, including 10 in the first half alone.
The league's best three-point shooting team showed it early. Vanderbilt opened the game sinking seven of its first 10 attempts from behind the arc to jump out to a 25-4 lead. The Razorbacks could never recover.
Arkansas used a 13-3 run late in the game to cut it a 12-point contest, but that was as close as the Hogs would come in a 13-point defeat.
Dusty Hannahs led the Razorbacks with a season-high 24 points off 10-of-19 shooting, including 3-of-6 from long range. Hannahs also tied his season high in rebounds with five.
Jaylen Barford had a career-high six assists to go with five points and three rebounds. Moses Kingsley finished with 11 points and six rebounds.
UP NEXT
Arkansas hits the road again for the third consecutive Saturday for a showdown on SEC Network against the LSU Tigers in Baton Rouge at 7:30 p.m.
For more information on Arkansas Men's Basketball, follow @RazorbackMBB on Twitter.