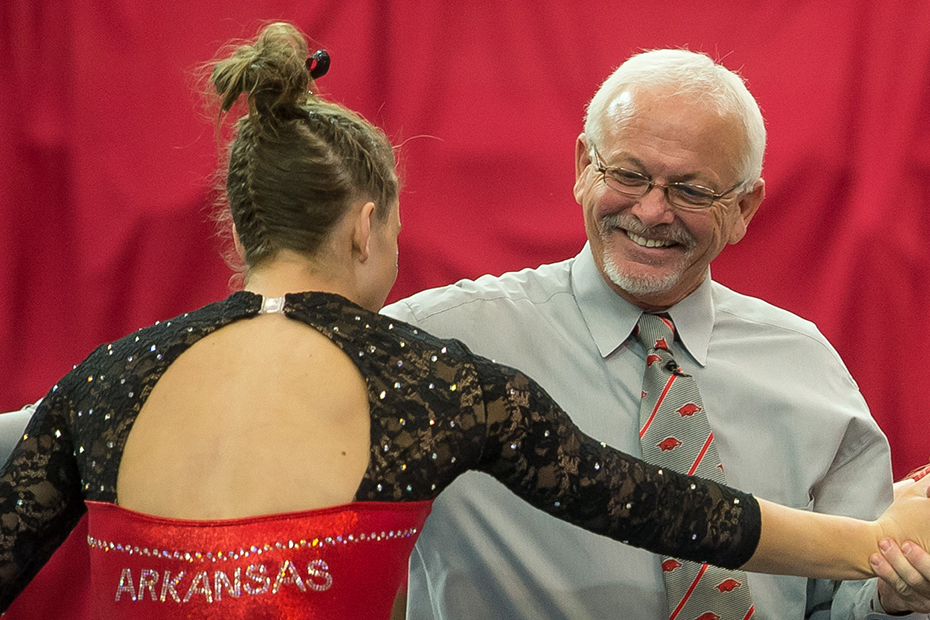 Cook Voted SEC Co-Coach of the Year
BIRMINGHAM, Ala. — Arkansas gymnastics head coach Mark Cook has been named 2016 Southeastern Conference Co-Coach of the Year, along with Florida's Jenny Rowland, the league office announced Thursday morning. The SEC awards are based on a vote among the league's eight coaches.
It is the second such honor of Cook's career, as he was also named SEC Co-Coach of the Year in 2008 when the Razorbacks earned a spot in NCAA Session II.
"I'm honored to receive this award on behalf of my staff and the University of Arkansas," Cook said. "All of the coaches in our conference are worthy of this, especially those who have taken new leadership over tremendous programs."
Cook has led the Razorbacks to many notable moments in 2016, including making program history on four occasions.
First it was a home-opening record score of 196.700 vs. Georgia on Jan. 15, then the team won in Tuscaloosa, Alabama, for the first time in program history, defeating the No. 4 Crimson Tide on Jan. 22.
The Razorbacks tied their program record score of 197.225 in a win over Kentucky on Feb. 26, then set their best-ever score in an SEC Championship, a 196.500 on Saturday in Little Rock, Arkansas.
In addition, All-SEC teams were officially announced with Samantha Nelson, Amanda Wellick and Paige Zaziski earning the honors for their performances Saturday in Verizon Arena.
Nelson, Wellick and Zaziski finished individually among the top two in their events to grab spots on the team. Zaziski had a 9.875 on uneven bars and Wellick had a 9.875 on floor exercise, as each finished tied for second. Nelson also scored a 9.875 on floor, and added a first session top score of 9.900 on balance beam.
This marks the second appearance on the All-SEC team for each of the three gymnasts.
For the other notable SEC awards: Auburn's Caitlin Atkinson was named Gymnast of the Year, LSU's Ashleigh Gnat was named Specialist of the Year, Morgan Porter was named Freshman of the Year and Alabama's Lauren Beers earned Scholar-Athlete of the Year.
For more #Gymbacks content during the season, please follow @RazorbackGym on Instagram, Twitter and Snapchat.