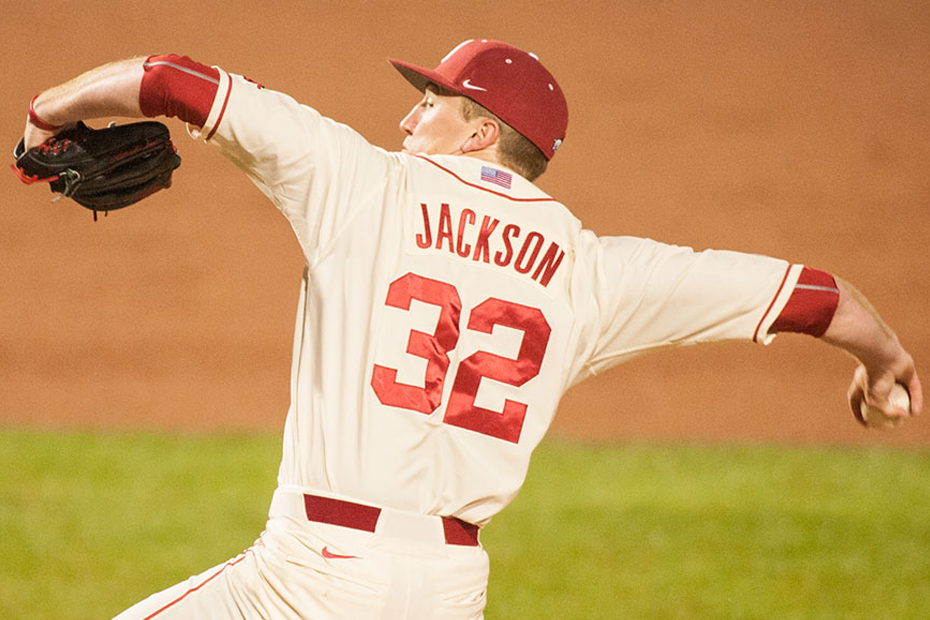 Crucial SEC Weekend At Ole Miss For Razorbacks
Arkansas Notes vs. Ole Miss (PDF)
OXFORD, Miss. – The No. 21 Arkansas baseball team heads to Oxford this weekend and will play in what looks to be a crucial Southeastern Conference series with No. 14 Ole Miss at Swayze Field.
The three-game series will start Friday at 6:30 p.m. CDT as both the Razorbacks and Rebels are coming off series losses and looking to get back in the thick of the conference and national picture.
The Razorbacks (20-9, 4-5) are just two games out of first place in the SEC Western Division and are fresh off a 12-4 win over Memphis on Wednesday in what turned out to be one of its largest offensive outputs of the season.
Arkansas got three-hit performances from Cullen Gassaway, Clark Eagan and Grant Koch, all tying career-highs. It also was a big night for the Hogs' four through eight hitters in the lineup. The five players went 12 for 23 (.522) in the game. Along with Gassaway and Koch, Rick Nomura and Michael Bernal contributed two hits each in the game and Luke Bonfield added a home run in the second inning.
The Hogs will have a new-look rotation this weekend as head coach Dave Van Horn made the decision to start junior James Teague on Friday and junior Zach Jackson on Saturday. Sunday's starter is to be determined at a later time.
Friday's game will be the first start for Teague since last year's NCAA Super Regional against Missouri State (June 7, 2015). In that game, Teague went four strong innings, scattering five hits and only allowing one unearned run with four strikeouts.
This season, Teague has been one of Arkansas' more solid arms out of the bullpen. With his 3.12 ERA in nine appearances, Teague gives the Razorbacks an experienced starting arm on the hill that held opponents to a .259 batting average in 2015. His unique skill sets also helped send Arkansas to the College World Series.
For Jackson, he was named the closer at the start of the year and has notched a team-leading four saves entering this week. Now, he's asked to make the sixth start of his career Saturday in what the Hogs hope will be a series-winning day.
In his three starts last season, Jackson compiled a 1.04 ERA with one victory and 12 strikeouts. Jackson only threw 8 2/3 innings as a starter, but made the most of his time including an eight-strikeout performance against North Dakota last season over just four innings.
Follow Live
Fans can watch the entire series on SEC Network+ and the WatchESPN app. Saturday and Sunday's games will be on the SEC Network as Clay Matvick (PXP) and Chris Burke (Analyst) will call the action.
Also, all three games of this weekend's series can be heard on the radio via the Razorback Sports Network from IMG with Phil Elson (PXP) on the airwaves.
Probable Starters
Fri. | 6:30 p.m. CT | (ARK) RHP James Teague (2-2, 3.12 ERA, 20/11 K/BB) vs. (UM) RHP Brady Bramlett (4-2, 2.97 ERA, 47/10 K/BB)
Sat. | 7 p.m. CT | (ARK) RHP Zach Jackson (2-2, 3.68 ERA, 27/18 K/BB) vs. (UM) LHP David Parkinson (0-0, 1.40 ERA, 18/9 K/BB)
Sun. | 12 p.m. CT | (ARK) TBA vs. (UM) TBA
Razorback History vs. Ole Miss
The Razorbacks and Ole Miss have played 82 times since 1982 with Arkansas leading the all-time series, 45-37.
The last time these two teams met, Arkansas took home the 2-1 series victory at Baum Stadium last season and the Hogs have come out winners in five of the last six meetings.
Ole Miss took the series the last time the two clubs played in Oxford, winning two out of three games, but neither win was by more than three runs.  Arkansas took the final game of the series 11-1 to start its recent run over the Rebels.
HOGS AND REBELS LAST 10 RESULTS
| Date | Location | Result | Score |
| --- | --- | --- | --- |
| March 28, 2015 | Fayetteville, Ark. | W | 5-2 |
| March 27, 2015 | Fayetteville, Ark. | L | 5-4 |
| March 26, 2015 | Fayetteville, Ark. | W | 10-3 |
| May 23, 2014 | Hoover, Ala. | W | 8-7 |
| May 21, 2014 | Hoover, Ala. | W | 2-1 |
| May 4, 2014 | Oxford, Miss. | W | 11-1 |
| May 3, 2014 | Oxford, Miss. | L | 7-4 |
| May 2, 2014 | Oxford, Miss. | W | 3-2 |
| May 22, 2013 | Hoover, Ala. | W | 2-1 (10) |
| March 17, 2013 | Fayetteville, Ark. | L | 6-3 (13) |