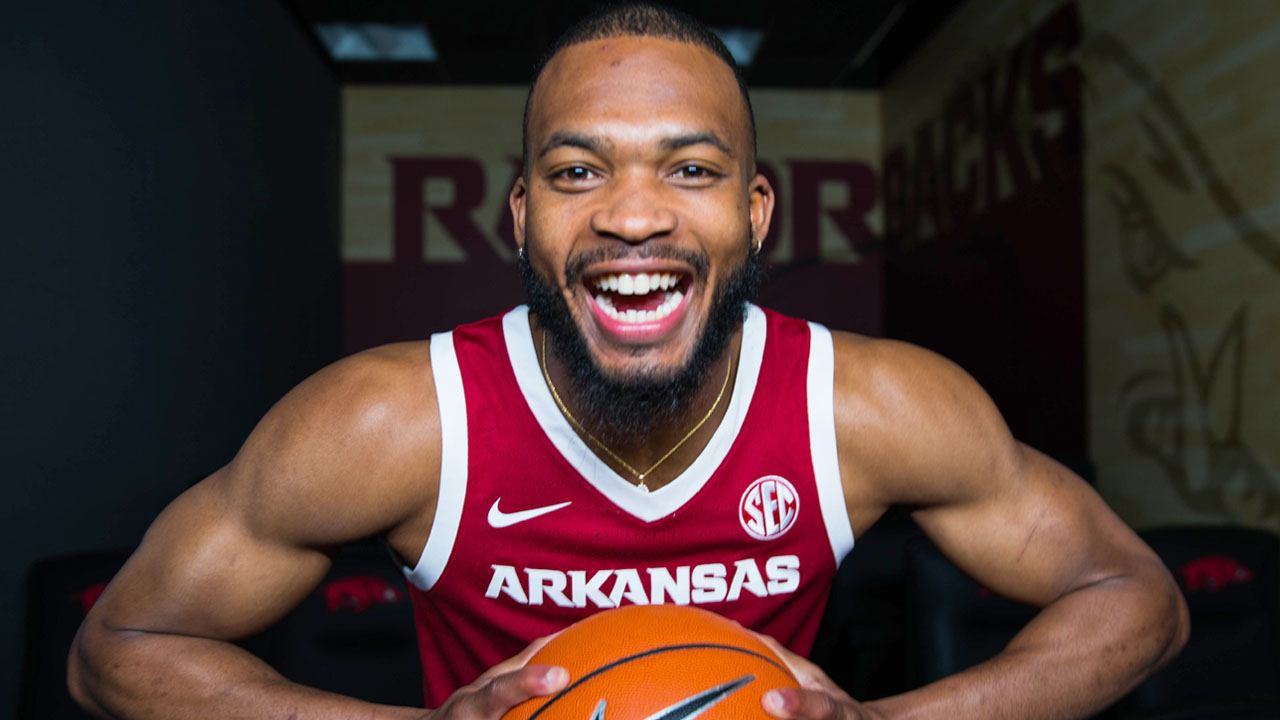 Cylla to Join Arkansas as Graduate Transfer
FAYETTEVILLE – Jeantal Cylla (pronounced GENE-tall SILL-uh) will join the Arkansas men's basketball team for the 2019-20 season, Razorback head coach Eric Musselman announced. Cylla will have one season of eligibility at Arkansas, coming to Fayetteville as a graduate transfer from UNC Wilmington.
Cylla played one season with the Seahawks after beginning his career at Florida Atlantic. In addition to his collegiate experience, Cylla played on the Haitian National Team in the summer of 2018.
In his three-year collegiate career, Cylla has averaged 10.25 points (984 total) and 3.78 rebounds (363 total), making 40.3 percent of his field goals (336-833), 31.2 percent of his 3-pointers (100-321) and 78.5 percent of his free throws (212-270) with 47 assists, 48 steals and 42 blocked shots.
Jeantal Cylla
6-7, 215
Lake Worth, Fla./ UNC Wilmington
2018-19 (R-Jr. at UNCW): Ranked 61st in the NCAA and fourth in the Colonial Athletic Association in free throw percentage at 84.8 percent (106-of-125) … Played in all 33 games, starting 32 … Averaged 13.7 points and 4.6 rebounds while making 31.1 percent (33-of-106) of his 3-point shots … Scored a season-high 24 points at Elon and at James Madison … Overall, led the team in scoring 11 times including 24 at James Madison, 24 at Elon, 23 versus Elon, 22 versus Gardner-Webb, 20 versus East Carolina, 19 versus Northeastern, 16 at #14 North Carolina, 16 at Delaware, 16 at Hofstra and 14 versus Stanford … Reached double figures in 22 of his 33 games … Recorded third career double-double with 19 points and tying his career-high with 10 rebounds at Mercer … Was the Preseason CAA Newcomer-of-the-Year pick by Blue Ribbon Yearbook.
2017-18 (Junior at UNCW): Sat out at UNC Wilmington due to NCAA transfer regulations.
2016-17 (So. At FAU): Started all 26 games in his second year with Owls … Averaged 7.1 points and 3.4 rebounds … Had a double-double, scoring 10 points and pulling down a career-high 10 rebounds versus Webber … Scored in double figures 11 times, including a season-high points 16 versus Florida Gif Coast and Florida International.
2015-16 (Fr. At FAU): Appeared in all 33 games for Owls and made 24 starts … Averaged 9.7 points and 3.5 rebounds in rookie year … Closed out his first season by scoring in double digits in three of last four outings … Led team in Conference USA games with 12.5 ppg … Scored 18 points and grabbed seven rebounds versus Wagner … Registered back-to-back, 20-plus scoring games with career-high 25 points at UTEP and 22 points at UTSA … Posted first career double-double with 24 points and 12 rebounds in a win over UTSA.
HIGH SCHOOL: Three-time All-State and All-Conference selection … Scored 2,678 points at Lake Worth (Fla.) High School (Sr.) and Lake Worth Christian School (Fr.-So.-Jr.) … Averaged 27.0 points and 11.0 rebounds during senior campaign for Trojans … Ranked 38th nationally at small forward position in Class of 2015.
For more­­ information on Arkansas Men's Basketball, follow @RazorbackMBB on Twitter.