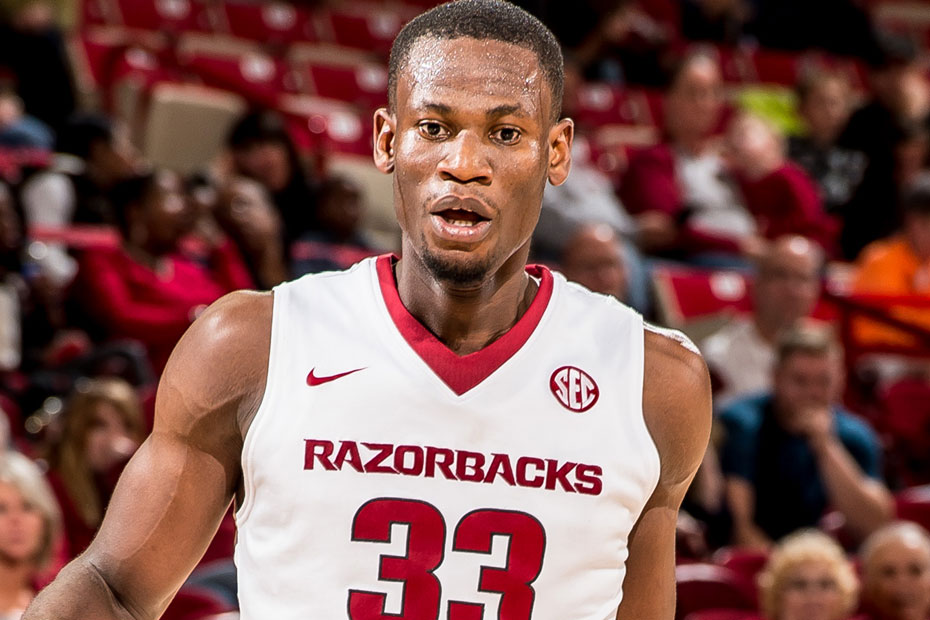 Defense Makes Statement in 74-40 Exhibition Win
FAYETTEVILLE, Ark. — A dominating performance on the defensive end led Arkansas men's basketball to a 74-40 win over Delta State on Tuesday night in Bud Walton Arena. The Razorbacks held the Statesmen 34 points under their 2014-15 scoring average, forcing the visitors to 30 percent shooting from the field and to only six total attempts from the foul line.
Arkansas ended the game on a 22-1 run after Delta State got within a 52-39 score, their closest margin of the second half, at the 11:09 mark. The run was spurred in large part by Dusty Hannahs, who at one point scored 12 consecutive points for the Razorbacks; he finished the game with 15 points on 6-for-12 shooting, including 3-for-5 from long range.
Moses Kingsley led Arkansas with 16 points on 6-for-9 shooting, including two thunderous dunks. The junior forward also added eight rebounds and deterred DSU from going inside with three blocks. Point guard Jabril Durham had a multifaceted performance once again, leading the team with seven assists and five steals, while adding three points and five rebounds.
QUOTABLES
"I think we have some nice pieces and I think these pieces are going to have to figure out how to play with one another. I like the energy, I think we have a team that has energy. We have some versatile parts and we have some guys who can knock down some shots." — Head coach Mike Anderson
"Sometimes the game is going to start slow and nothing is going to fall, but the one thing that we can always start off right is our defense. As long as that starts off right going forward, we're going to be okay." — Senior guard Jabril Durham
QUICK HITS
• There were six dunks by the Razorbacks, two each by Kingsley and Trey Thompson, while Willy Kouassi and Jimmy Whitt had one apiece.
• Arkansas shot 17-for-20 (85 percent) from the foul line after shooting 16-for-29 (55.2 percent) from the charity stripe in Thursday's first exhibition.
• The Razorbacks had 10 team fouls after committing 26 in Thursday's first exhibition.
• Arkansas out rebounded DSU 51-29 overall, including 33-20 on the defensive glass and a 18-9 edge in offensive boards.
• Nine Razorbacks played in the 14-to-27 minute range during the game, while all 12 active players appeared in the contest.
• In the two exhibition games, the team's leaders were Whitt (16.5 points), Kingsley (8.5 rebounds), Durham (eight assists).
UP NEXT
The Razorbacks officially open the 2015-16 season against Southern University on Friday, Nov. 13 at 7 p.m.