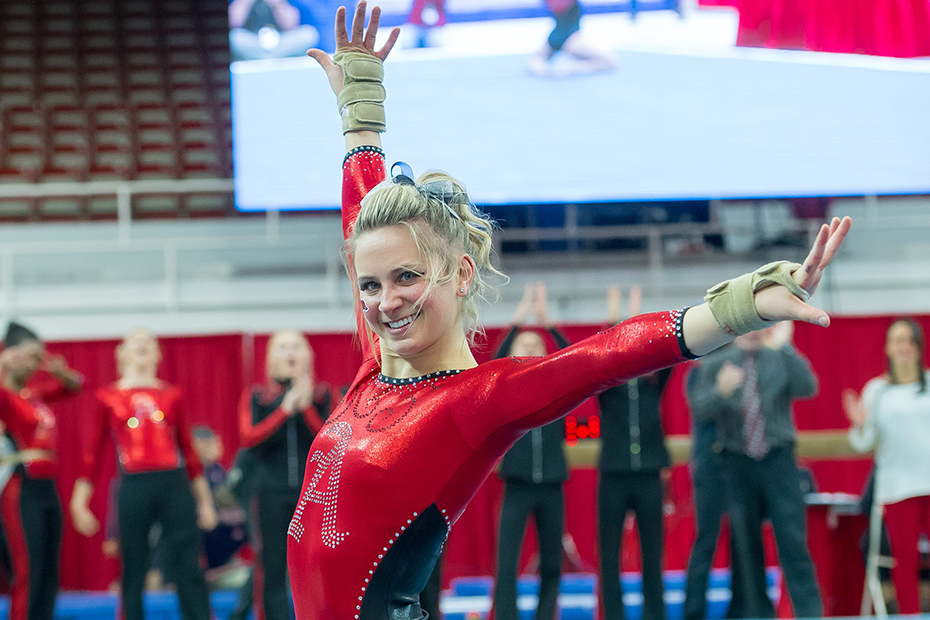 Déjà Vu Victory for Gymnastics
FAYETTEVILLE, Ark. — In the most competitive gymnastics conference in the country, the going tends to get tough quite a bit. And that's when this Arkansas team stands out.
Trailing late against a top-10 SEC opponent for the second-consecutive week, the No. 8 Razorbacks came back to defeat No. 9 Auburn, 196.600-195.975. Amanda Wellick won the vault and all-around titles, while sharing a balance beam title with Samantha Nelson, who had the highest floor exercise score in the meet and tied a career high with a 9.925.
The Razorbacks started out with a 49.075 on vault, with Wellick posting her fourth 9.900 in five meets this season. On uneven bars, Braie Speed scored a 9.850, while Wellick also tied a season high with the same score as Arkansas posted a 49.025. However, a stellar uneven bars score of 49.250 from the Tigers put the Razorbacks behind the eight-ball early.
On beam, Arkansas had above a 49.000 for the fourth-consecutive meet, this time with a 49.150. Nelson tied her career high of 9.850 for the second-straight week, while Wellick had a 9.850 and Paige Zaziski and Erin Freier notched 9.825.
Still, with a 49.275 on floor from the Tigers, the Razorbacks stepped up to the fourth rotation with a .300-point deficit. Similar to No. 4 Alabama in Tuscaloosa, Auburn struggled on beam with two falls and finished with a team score of 48.425. Meanwhile, Arkansas put forth a 49.325 on floor and pulled out the victory. For the second-consecutive meet, all six Razorbacks scored above a 9.800 on floor, beginning with a 9.850 from Sydnie Dillard.
GYMQUOTES
"This team continues to perform consistently and aggressively. There are always things we can improve in our routines, but once we dial in we will have the opportunity to break a 197. I'm very proud of their progress." — Head coach Mark Cook
"It's very important to me and gives me a lot of pride to really set the tone for my team by starting us off strong with a great floor routine." — Senior Sydnie Dillard
"This team is full of fighters and we don't hold back. Before the final rotation, we knew we needed to get fired up and leave it all out on the floor." — Junior Samantha Nelson
UP NEXT
Arkansas will be on the road for the next three meets, beginning with No. 6 LSU in Baton Rouge on Friday, Feb. 5. First vault is at 7:30 p.m. and the #Gymbacks will be broadcast on SEC Network for the fourth-consecutive week.