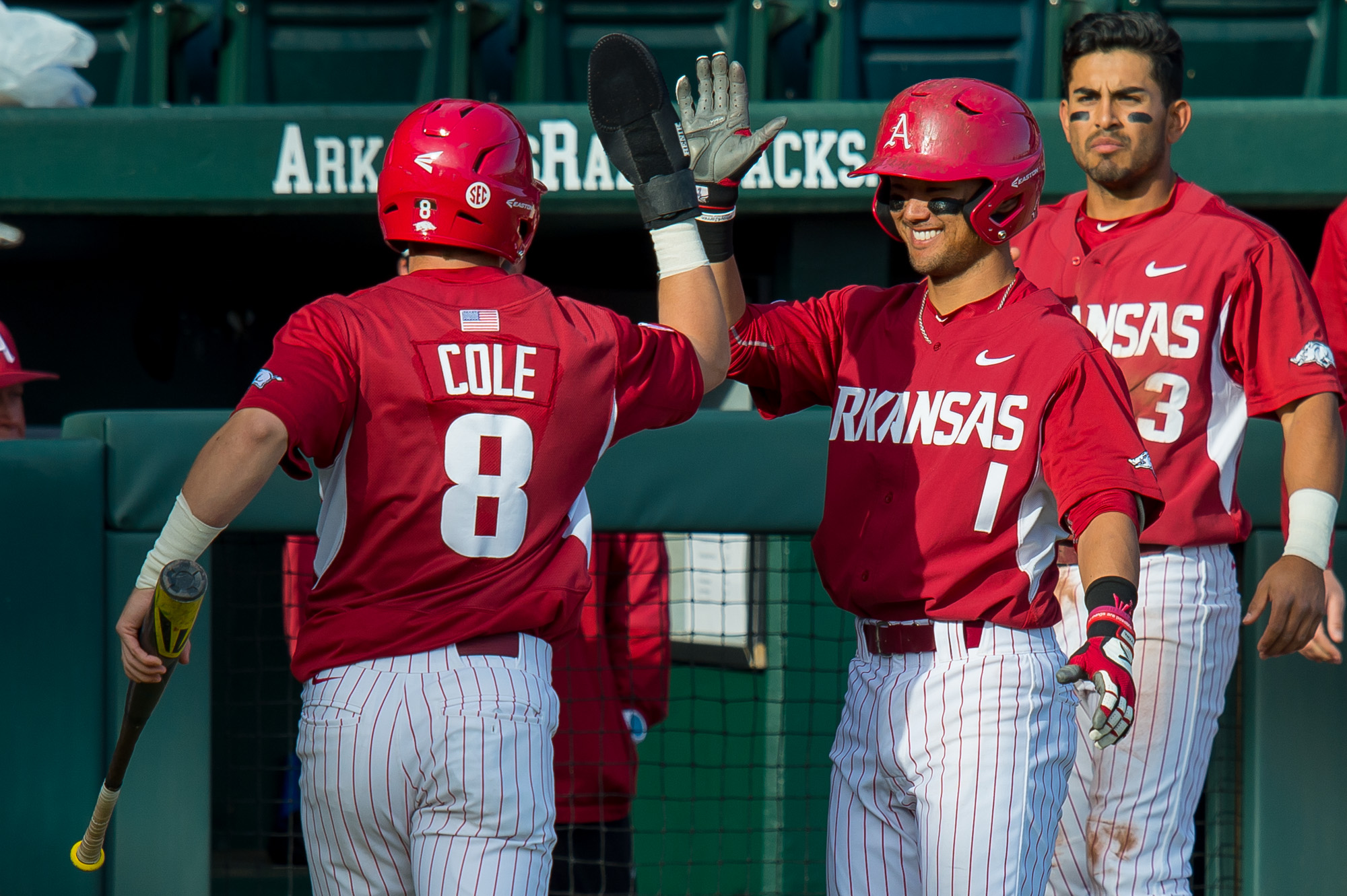 Diamond Hogs' Homestand Continues With Eastern Illinois
Arkansas Notes vs. Eastern Illinois (PDF)
FAYETTEVILLE, Ark. – After a slight setback against Louisiana Tech earlier this week, the No. 12 Razorback baseball team is ready to get back on the field starting this Friday with a three-game series with Ohio Valley Conference member, Eastern Illinois. The Razorbacks enter the weekend with an 8-1 record, while the Panthers are still searching for their first victory of the young season as they are 0-8 in 2016.
Follow Live
Fans can catch Friday's and Sunday's game on SEC Network+ and the WatchESPN app with Alex Perlman (PXP) and Troy Eklund (Analyst). All three games of this weekend's series can be heard on the radio, also, via the Razorbacks Sports Network from IMG.
Probable Starters
Fri. | 3 p.m. | (ARK) RHP Dominic Taccolini (2-0, 2.08 ERA, 9/2 K/BB) vs. (EIU) RHP Matt Wivinis (0-2, 6.23, 10/5 K/BB)
Sat. | 12 p.m. | (ARK) RHP Blaine Knight (1-0, 3.86 ERA, 6/1 K/BB) vs. (EIU) RHP Michael McCormick (0-2, 9.82 ERA, 4/6 K/BB)
Sun. | 1 p.m. | (ARK) RHP Keaton McKinney (0-0, 13.50 ERA, 2/4 K/BB) vs. (EIU) RHP Brendon Allen (0-1, 6.75 ERA, 10/5 K/BB)
Tickets
Fans can purchase tickets for Wednesday's game at the Razorback Ticket Office, online on ArkansasRazorbacks.com or at the gate of Baum Stadium.
Previewing the Arkansas Rotation
•  Junior right-hander Dominic Taccolini will be making his third Friday start in as many weekends on Friday. Taccolini is 2-0 on the year with a 2.08 ERA and has held opponents to a .140 batting average, good for 10th in the SEC.
•  In his two starts this year with 13 innings pitched, Taccolini has only allowed three earned runs and struck out nine. A total of six hits have been tallied on Taccolini, while he's also only had one walk in each of the two games.
•  On Saturday, Dave Van Horn will call Blaine Knight back to the hill for his third start of the season. Knight has a 3.86 ERA through 7.0 innings pitched and has one victory to his name occurring during the last home weekend against Central Michigan.
•  Knight was taken out fairly early in his last start against No. 9 Houston and was not the pitcher of record, but still had a good outing, allowing just one run, while scattering four hits with three strikeouts and one walk.
•  Keaton McKinney gets the nod for the Sunday matchup and will be looking to shake off a rough start last Sunday when No. 23 Texas Tech scored five earned runs on him in the first inning.
•  McKinney wasn't able to make it out of the first inning of that contest, but his teammates bailed him out by coming back to beat the Red Raiders, 10-6.
•  McKinney has yet to be the pitcher of record in a start this year as he only went four innings in a 9-4 win over Central Michigan, allowing four hits, two earned runs and striking out one.
•  Overall this season, Arkansas' weekend starters have combined for 24.2 innings pitched and struck out 17 batters, while walking only seven.
Razorback History vs. Eastern Illinois
Arkansas will be facing Eastern Illinois for the first time since 2014 and the 23rd consecutive time at Baum Stadium. The Razorbacks have won 15-straight contests against the Panthers dating back to 1998 and hold a 21-1 overall advantage in the all-time series. All the games in the all-time series have occurred at Baum Stadium. The only loss the Hogs have suffered to Eastern Illinois came back in 1998 when the Panthers took home a 5-4 victory.
HOGS AND PANTHERS LAST 10 MEETINGS
| | | | |
| --- | --- | --- | --- |
| Date | Location | Result | Score |
| Feb. 25, 2001 | Fayetteville, Ark. | W | 10-4 |
| Feb. 25, 2001 | Fayetteville, Ark. | W | 17-4 |
| Feb. 14, 2003 | Fayetteville, Ark. | W | 5-1 |
| Feb. 15, 2003 | Fayetteville, Ark. | W | 17-3 |
| March 11, 2005 | Fayetteville, Ark. | W | 17-2 |
| March 12, 2005 | Fayetteville, Ark. | W | 12-1 |
| March 13, 2005 | Fayetteville, Ark. | W | 6-0 |
| Feb. 21, 2014 | Fayetteville, Ark. | W | 6-2 |
| Feb. 22, 2014 | Fayetteville, Ark. | W | 8-3 |
| Feb. 23, 2014 | Fayetteville, Ark. | W | 8-3 |
Scouting Eastern Illinois
•  Eastern Illinois is coached by Jason Anderson, who is in his first year at the helm.
•  Offensively, the Panthers are paced by Cale Hennemann, who is hitting .393 with 11 hits and six RBI. Hennemann is the only Panther that has 10 or more hits so far this season.
•  As a team, Eastern Illinois is batting .214 with just 10 extra-base hits, 16 RBI and have struck out 76 times.
•  Eastern Illinois is coming off a four-game series with Central Arkansas, losing by a combined 12 runs with only one of those four games being a deficit larger than two runs.
•  Andy Fisher had a solid outing in relief for the Panthers in game three of the series. The sophomore lefty tossed 6.2 scoreless innings and became the first EIU pitcher with 10 strikeouts in a game since Matt Borens did so against Jacksonville State on May 21, 2014 in the OVC Tournament.