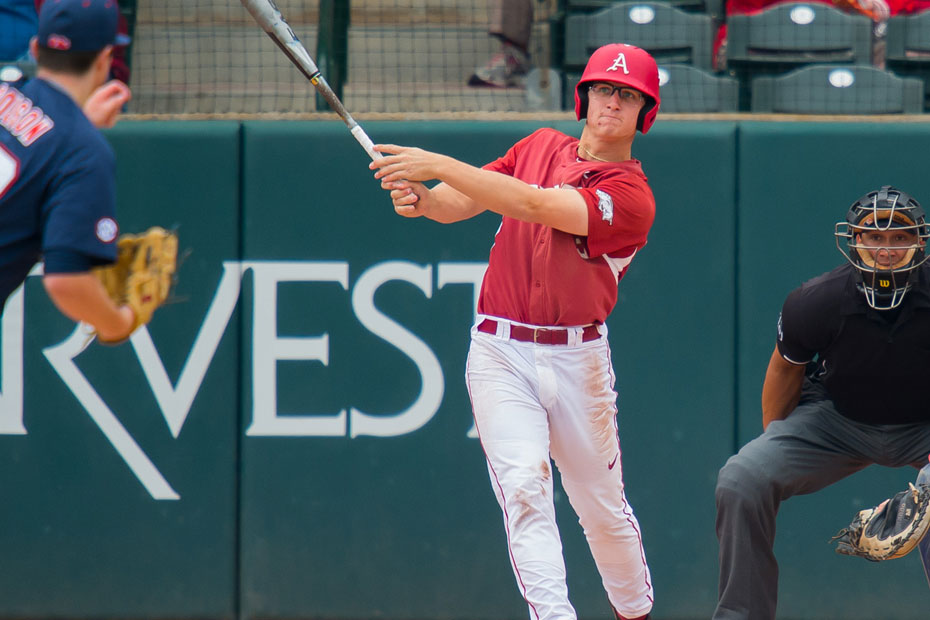 Division Race Heats Up As Hogs Head To Tennessee
KNOXVILLE, Tenn. – The 15th-ranked Razorback baseball team is in the thick of the Southeastern Conference pennant race as it heads to Tennessee this weekend for a three-game series against the Volunteers starting on Thursday at 6 p.m. CT. The Hogs are one of eight teams that are within three games of the best record in the league. The western division alone is a six-team race with the Razorbacks just a game back of leaders Mississippi State and Auburn.
Arkansas heads to Tennessee for the first time since 2012 and will look for its fourth-straight series win in Knoxville dating back to 2007.
The Hogs will keep its same rotation as they have every weekend this year when they send sophomore Blaine Knight to the mound for game one and junior Trevor Stephan for game two. After getting roughed up at Auburn two weeks ago, both Knight and Stephan got back on track last week against Ole Miss. Even though both were saddled with losses, Knight notched his third 10-strikeout performance of the season and Stephan tallied his fifth quality start of the year.
Knight and Stephan have near identical numbers at this point in the season. Knight leads the pitching staff with a 3.48 ERA, compared to Stephan's 3.54 ERA. Both have four or more wins in 11 starts and both have 12 walks on the season. Stephan leads the staff in strikeouts with 71, while Knight is right behind with 70 for the season.
Follow Live
Thursday's game one is scheduled for a 6 p.m. CT start in Knoxville and will be televised on the SEC Network. Friday's second game of the series will be on SEC Network+ and start at 5 p.m. Saturday's series finale is set for a Noon start and will also be on the SEC Network.
Phil Elson, as always, will have the call on the radio via the Razorback Sports Network for all three games.
Game 1 – 6 p.m. | WATCH | LIVE STATS
Game 2 – 5 p.m. | WATCH | LIVE STATS
Game 3 – Noon | WATCH | LIVE STATS
Probable Starters
Thu. | 6 p.m. | (ARK) RHP Blaine Knight (6-3, 3.48 ERA, 70/12 K/BB) vs. (TENN) RHP Hunter Martin (4-5, 3.07 ERA, 73/14 K/BB
Fri. | 5 p.m. | (ARK) RHP Trevor Stephan (4-3, 3.54 ERA, 71/12 K/BB) vs. (TENN) RHP Garrett Stallings (3-1, 2.83 ERA, 31/12 K/BB)
Sat. | Noon | (ARK) TBA vs. (TENN) LHP Zach Warren (2-4, 5.09 ERA, 29/26 K/BB)
Hogs Start Final Stretch At Tennessee
Just nine regular-season games remain for the Razorbacks in 2017 and the first three will come on the road this weekend in Knoxville. The Hogs will be playing their first series in Tennessee since 2012 and haven't lost a series to the Volunteers since 2005. Arkansas is in the midst of a five-team race in the SEC Western Division as Auburn and Mississippi State are tied for the lead. The Hogs, LSU, and Texas A&M are all tied for second at 13-8. Ole Miss looms just three games back of the lead at 11-10.
Evan Lee Keeps Coming Up Big
Two-way player Evan Lee proved just how versatile he could be against Kansas State when he drove in three of Arkansas' six runs in its 6-5, 10-inning victory. Lee pinch hit for Jake Arledge in the fifth, driving in two. It was his fourth time this season to pinch-hit and he had drawn walks each time before. On April 14, Lee scored the walk-off run against Georgia after pinch-hitting in the ninth. He also earned his first collegiate save on Friday against Ole Miss, needing six pitches to get the final three outs.
Grant Koch's Bat Awakens
Catcher Grant Koch hadn't hit a home run since April 8 against LSU, but he broke his bat out in a big way last week against Ole Miss. Koch hit two home runs over both games of a double-header Friday and totaled three RBIs in the 7-4 series finale win. It was the seventh game this year that Koch had three or more RBIs in a game and he's the fifth Razorback to hit home runs in back-to-back games this season.
Reindl Continues Strong Sophomore Campaign
Sophomore Jake Reindl has been one of Arkansas' strongest arms out of the bullpen as of late and it may mean a more expanded role in the weeks to come. In 14 of his 15 appearances this year, Reindl hasn't given up more than two earned runs and has nine scoreless outings, seven consisting of two or more innings. In four of his last eight appearances, the sophomore has totaled five strikeouts, all against SEC opponents (Alabama, LSU, Auburn, Ole Miss). Reindl was particularly effective against Ole Miss, going a career-long 6.1 innings out of the bullpen, scattering six hits, allowing one run, and striking out five.
Quick Hits
-The Razorbacks are coming off a series loss to the Ole Miss Rebels last week, but were able to salvage a win in the final game to remain in a tie for second place in the SEC Western Division. The Hogs are one of six teams to have not been swept in an SEC series this year.
– Catcher Grant Koch led all hitters against the Rebels, tallying two home runs and four RBIs, while slugging .833.
– Arkansas has won four of its last five games against Tennessee, including a 2-1 win in its last meeting in the 2015 SEC Tournament.
– Arkansas owns a 6-0-1 series record over Tennessee since 2006, including its last three trips to Knoxville.
– The Hogs are 33-4 when scoring three or more runs this season.
– The Razorbacks continue to lead the league with 58 home runs on the offensive end and 452 batters struck out on the mound.
For more information on Razorback Baseball, follow @RazorbackBSB on Twitter.