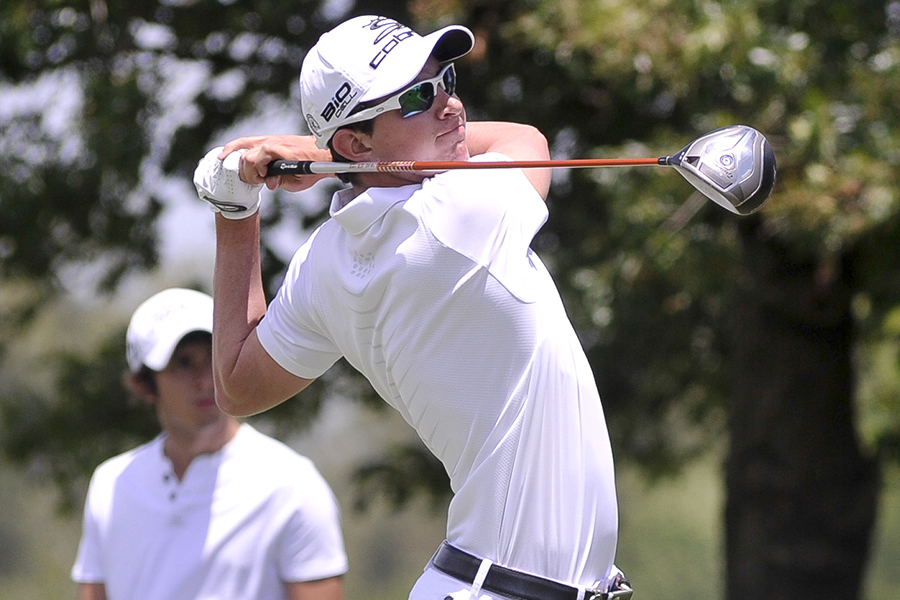 Echavarria, Ortiz In Contention At Latin Amateur
Buenos Aires, Argentina – Arkansas men's golf junior Nicolas Echavarria and freshman Alvaro Ortiz advanced to the weekend at the inaugural Latin America Amateur Championship (LAAC) at Pilar Golf Club in Buenos Aires, Argentina, on Friday. Ortiz sits in a tie for eighth at three under-par while Echavarria is tied for 12th place at one-under.
Echavarria provided the highlight of the tournament on Friday afternoon with a hole-in-one on the par 3 8th hole. The ace happened just minutes before live coverage started on ESPN2, but was the opening highlight, and is a prime candidate for Friday's ESPN SportsCenter Top 10 plays.
Entering the day tied for the lead, Ortiz followed his first round four-under 68 with a one-over 73, but remains one of just 14 players under-par through the first two days. Ortiz sits five strokes off the lead. Echavarria's hole-in-one was part of a one-under 71 day after he opened with a 72 on Thursday. Representing Colombia, Echavarria is one of 14 players in the 109-player field to finish under-par in the second round.
Echavarria will begin his third round at 5:26 a.m. CT while Ortiz will also go off the first tee at 5:48 a.m. Live coverage of the third round can be seen on ESPN2 or ESPNEWS from 9-11 a.m. CT.
The LAAC is developed by the three most important organizations in the golfing world: The Masters Tournament, the R&A and the United States Golf Association. The goal with which it was created was to promote the growth of and to inspire future youngsters to play the game in the region. This event will provide a unique opportunity since the winner will play the 2015 Masters, U.S. Amateur and the Amateur Championship. Likewise, the champion and runner-up(s) will be exempt to play the final qualifying of the 2015 Open and U.S. Open.
For more information on Arkansas men's golf, follow @RazorbackMGolf on Twitter.