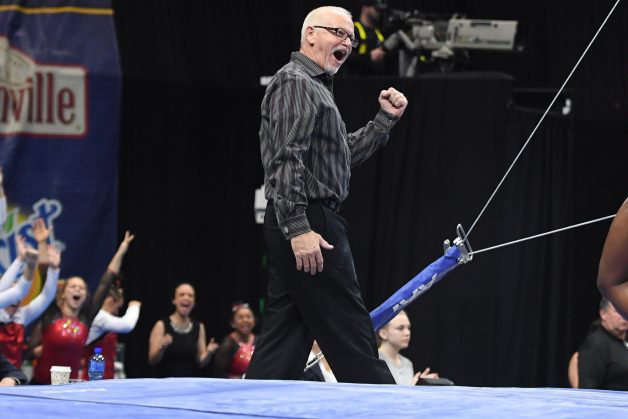 Elswick, Hambrick Highlight 2018 Gymnastics Class
FAYETTEVILLE, Ark. – Arkansas gymnastics coach Mark Cook announced his two signees for the 2018 class Thursday, as Amanda Elswick and Kennedy Hambrick have signed National Letter of Intents to join the Razorbacks for the 2018-19 season.
"Our two signees represent power, grace and explosiveness," said Cook. "Both ladies can have a huge impact on the future of our program."
Amanda Elswick | Austin, Texas
"Amanda Elswick is definitely one of the most powerful gymnasts we have recruited to the University of Arkansas," Cook said. "She is going to be a lot of fun to watch, and she will mesmerize the crowd on the floor exercise, which is one of her strongest events."
Elswick comes to Arkansas from Capital Gymnastics in Cedar Park, Texas where she has competed at Level 10 since 2014. This past spring, she placed third in the all-around at the state championships with a score of 38.000 while placing first on beam and second on floor.
In 2017, Elswick scored above a 9.900 on vault three times, including a perfect 10.000 at the 2017 WOGA Classic. Her perfect score was one of just five perfect scores on vault during the 2017 season among Level 10 athletes. In each of the past two years, she has qualified for the Junior Olympic Nationals where she placed second on floor exercise and fourth on vault in 2016.
"Arkansas provides me with the perfect opportunity to compete in the best gymnastics conference, the SEC," Elswick said. "I love the camaraderie of the team and the closeness of the University. The team already feels like family and I can't wait to take on this new journey with them."
Elswick is the younger sister of former All-SEC Razorback Heather Elswick and the daughter of Mike and Kathy Elswick. She attends Westlake High School in Austin, Texas. Elswick joins Kennedy Hambrick as Arkansas' two signees this fall.
Amanda Elswick Personal Bests (Level 10):
Vault: 10.000 | Bars: 9.100  | Beam: 9.700 | Floor: 9.700  | AA: 38.000
Kennedy Hambrick | Pearland, Texas
"Kennedy Hambrick has tremendous difficulty in her gymnastics," said Cook." She will bring that high skill level to the competition floor competing a Yurchenko 1 ½ twist on vault, full in on floor and much more."
Hambrick comes to Arkansas from Reflex Gymnastics Academy in Pearland, Texas where she has competed at Level 10 since 2014. Hambrick qualified for the Junior Olympic Nationals in 2015, 2016 and 2017 where she had two top-ten finishes in two events.
In 2017, Hambrick has 18 top-ten finishes including eight event titles. She finished sixth in the all-around with a 37.625 and second on vault and balance beam at the 2017 state championships.
"I chose Arkansas because I felt it was a good fit for me," Hambrick said. "As soon as I walked into the gym I felt like I belonged there. I felt like the team was already my family and I couldn't imagine myself anywhere else."
Hambrick is the daughter of Robert and Julia Hambrick and attends Pearland High school in Pearland, Texas. She joins Amanda Elswick as Arkansas' two signees this fall.
Kennedy Hambrick Personal Bests (Level 10):
Vault: 9.750 | Bars: 9.550 | Beam: 9.650 | Floor: 9.750  | AA: 38.475
For more information on Arkansas gymnastics including in-meet updates, follow @Razorbackgym on Twitter.