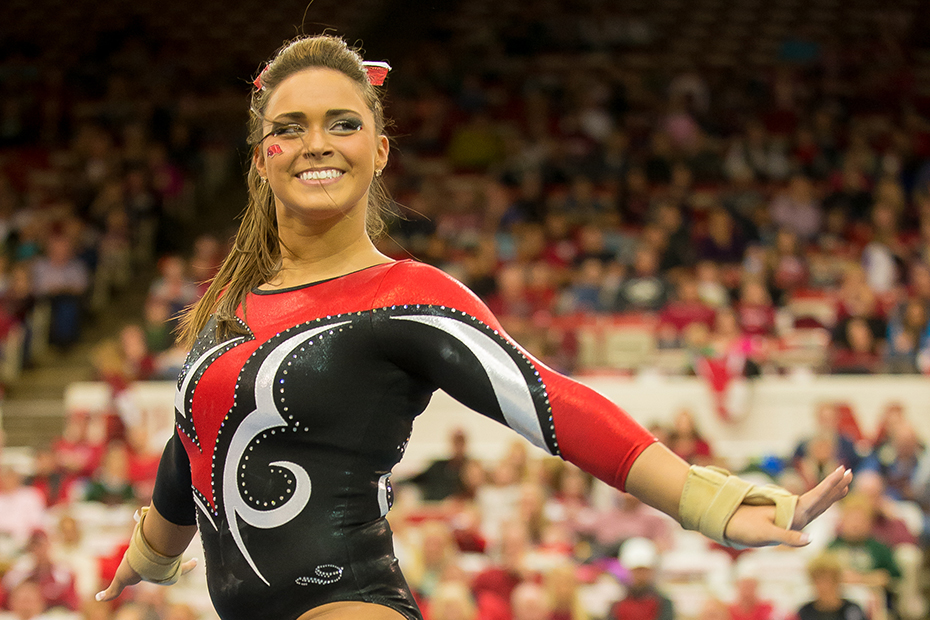 Elswick Named To SEC Community Service Team
NORTH LITTLE ROCK, Ark. — Arkansas gymnast Heather Elswick has been named to the Southeastern Conference Community Service Team for giving back to the community in superior service efforts. It's the third consecutive honor for the senior from Austin, Texas, as she volunteered for over 35 community service hours during the past year.
Elswick is also a two-time member of the SEC Academic Honor Roll. She serves as the Student-Athlete Advisory Committee (SAAC) representative for the gymnastics program.
VOLUNTEER PROJECTS AND ACTIVITIES
• Participated in the 2016 NWA Heart Walk to raise awareness for healthier lives free of cardiovascular disease and stroke
• Helped with canned food drive in "competition" with the Missouri athletic department
• Helped in conjunction with Lift Up America to transfer boxes of food and supplies
• Participated in Razorback canned food drive, where supplies were brought to local non-profit organizations
• Participated in MDA Muscle Walk at Arvest Ballpark to raise awareness for muscular dystrophy
• Supported the Special Olympics Unified Sports initiative during flag football games that feature special needs participants
• Participated in RazorBuddy program, which connected student-athletes with local youth to help them succeed in school
• Supervised and taught youth gymnasts during a day of training in the Razorbacks' Bev Lewis Center for Women's Athletics
• Took part in Shop with SAAC, where student-athletes raised money throughout the year to purchase holiday gifts for local children
• Handed out awards at the annual Santa Meet in Arkansas's Barnhill Arena during a youth gymnastics meet
Although Elswick has been unable to compete this year due to injury, she will return next season for a fifth year of eligibility.
For more #Gymbacks content during the season, please follow @RazorbackGym on Instagram, Twitter and Snapchat.