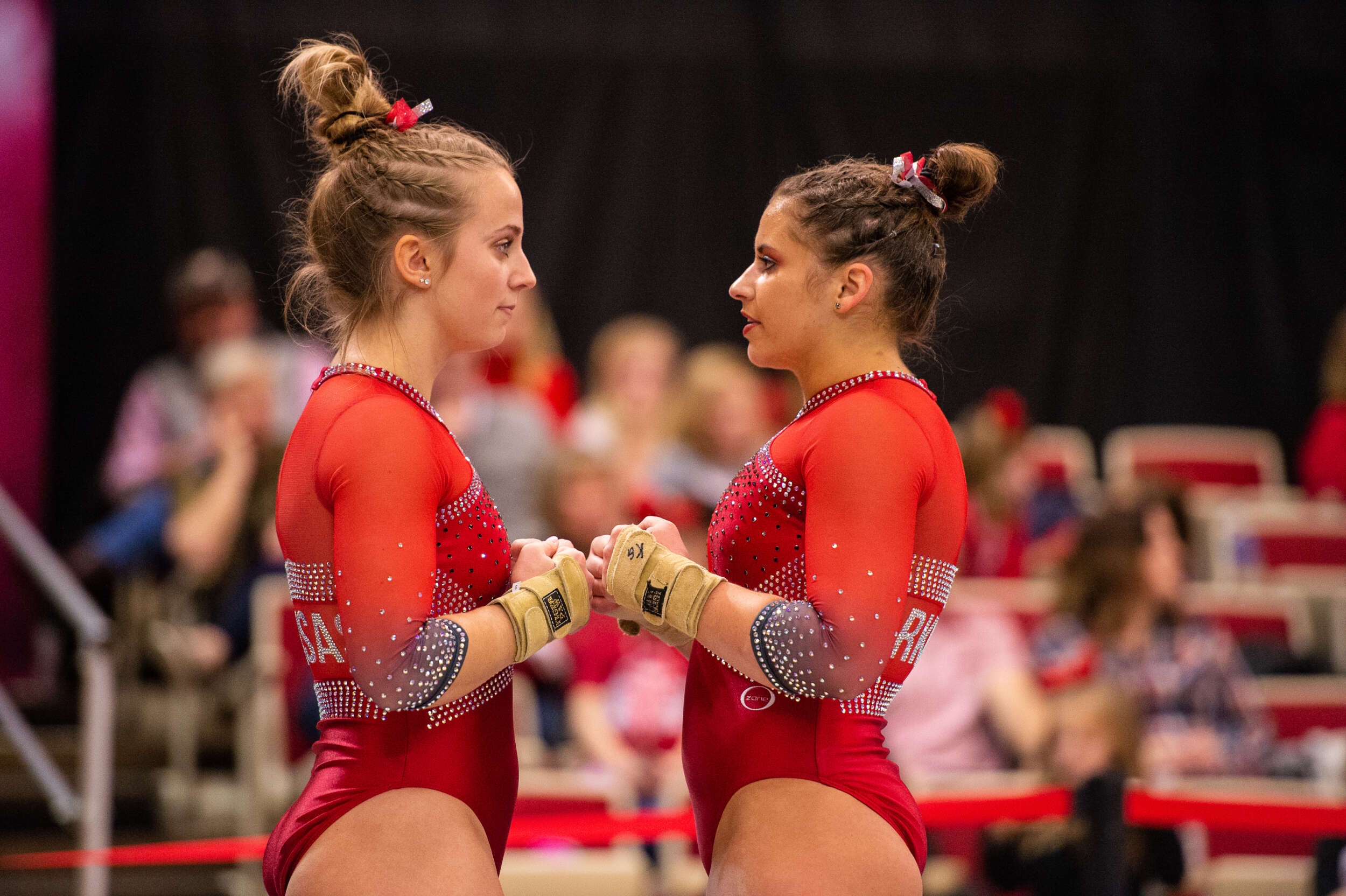 First Quad Meet of the Season on Deck for Gymbacks
FAYETTEVILLE, Ark. – Arkansas continues its streak as road warriors this weekend, traveling to the Lonestar State for its first quad meet of the 2020 season. The Razorbacks will compete against LSU for the second week in-a-row, Centenary and host-school Texas Women's University.
The Razorbacks will be looking to break a three-meet losing streak, on the hunt for their first win since their upset of Georgia at home on February 7 (196.950 – 196.750). The Gymbacks are undefeated against TWU and quad-meet opponent Centenary, posting a 5-0 record against both. Arkansas is still looking to outscore LSU for the first time since 2012 when they beat the Tigers in two of their three meetings.
Arkansas saw TWU in action last season at the Arkansas Quad Meet in Fayetteville, the Gymbacks finished first (196.525) and TWU finished third (192.175).
Only the seniors, Jessica Yamzon, Hailey Garner and Sarah Shaffer have faced Centenary since arriving at Arkansas when the Gymbacks hosted Centenary in a tri-team event in 2017. Garner won the uneven bars title with a then career-best 9.925 in the event, the highest score by an Arkansas gymnast in any event in 2017. Yamzon also won the all-around title in the Arkansas win.
The last time out, junior Sophia Carter won her 23rd career title on Friday evening, tying her career-high score on the floor with a 9.950 in the event. Carter's performance helped Arkansas finish strong against No. 5 LSU but ultimately fell to the Tigers in Baton Rouge, 197.125 – 195.725. Sophomore Kennedy Hambrick and redshirt-freshman Bailey Lovett also tied a career-highs with their 9.925 and 9.900 respectively on the beam. Lovett's famous double-layout first pass scored her a 9.900, making it six out of nine times this season she scored a 9.900 or higher.
Arkansas has won 22 event titles through nine meets. Carter and Hambrick are the only with multiple event titles and there are three first-time title winners, Lovett, Laird and Elswick. Hambrick has the team-high with ten total titles, the only event she hasn't won a title in is vault.
Kennedy Hambrick has scored a 9.850 or higher in seven of her nine floor routines dating back to the start of the season – good for 78% of her routines. Three of her last five routines have scored a 9.925.
Visit ArkansasRazorbacks.com for the latest information on all things Arkansas Gymnastics. You can also find the Hogs on social media by liking us on Facebook (Arkansas Razorback Gymnastics) and following us on Twitter and Instagram (@RazorbackGym).