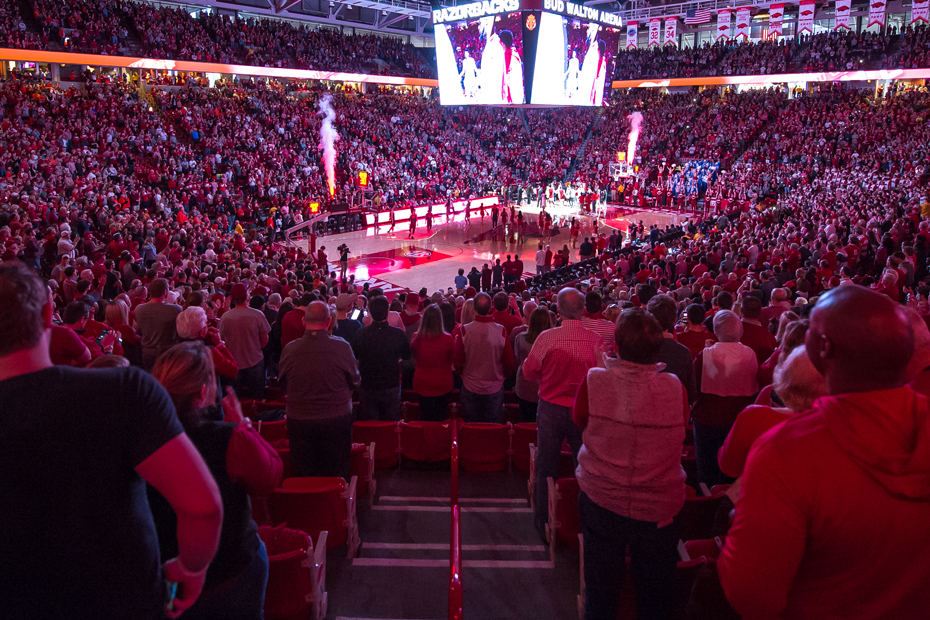 Former Arkansas Greats to Coach at Red-White Game
FAYETTEVILLE – The annual Red-White Game, which is set for 7 pm this Friday (Oct. 19), will have a new twist as former Razorback greats Joe Kleine and Charles Balentine will coach for the Red team and, in honor of the 25th anniversary of the 1994 National Championship, Corey Beck and Elmer Martin will coach for the White team.
Arkansas head basketball coach Mike Anderson also announced the rosters for the 2018 Red-White Game (subject to change).
Red Team
#1 Isaiah Joe
#5 Jalen Harris
#10 Daniel Gafford
#12 Emeka Obukwelu
#15 Jonathan Holmes
#22 Gabe Osabuohien
#23 Ibrahim Ali
White Team
#0 Desi Sills
#2 Adrio Bailey
#4 Ty Stevens
#11 Keyshawn Embery
#13 Mason Jones
#24 Ethan Henderson
#35 Reggie Chaney
Kleine was a two-time All-Southwest Conference selection and was the sixth pick in the 1985 NBA Draft. He played 15 seasons in the NBA and was an NBA champion in 1998 with the Chicago Bulls. Kleine, a native of Salter, Mo., is a member of the Arkansas Sports Hall of Fame and the University of Arkansas Sports Hall of Honor.
Balentine is remembered for one of the great moments in Razorback history when he sank a basket in the closing seconds in a 65-64 win in Pine Bluff over a top-ranked and undefeated North Carolina squad that featured Sam Perkins, Matt Doherty and Michael Jordan. Balentine, a product of Newport, is a member of the University of Arkansas Sports Hall of Honor.
Beck helped Arkansas win the 1994 national championship and finish NCAA runner-up in 1995. The Memphis native was an All-SEC honoree, named to the NCAA All-Tournament Team and played in the NBA for the Hornets and Pistons.
Martin not only was Beck's teammate on the 1994 National Championship and 1995 NCAA runner-up teams, the pair were high school teammates at Memphis Fairley High School. Martin went on to play for the Harlem Globetrotters.
Admission for the Red-White Game is free and open to the public. Doors to Bud Walton Arena will open at 5:45 pm. The program is asking fans to bring a non-perishable food item to donate with collection points at each entrance at BWA. All the items donated will benefit the Jane B. Gearhart Full Circle Food Pantry. Fans are encouraged to park in lots 46, 56, 56B, 56D and 60. (Parking lots must be cleared by midnight due to the football game with Tulsa on Saturday.)
The main Hog Heaven store, located at the south entrance to Bud Walton Arena, will stay open for the duration of the scrimmage and concessions stands will be open.
SCHEDULE OF EVENTS
5:45 pm – Doors Open
6:00 pm – 2018-19 Razorbacks Autograph Session
6:45 pm – Autograph Session Ends
7:00 pm – Dunk Competition
7:10 pm – Red-White Game