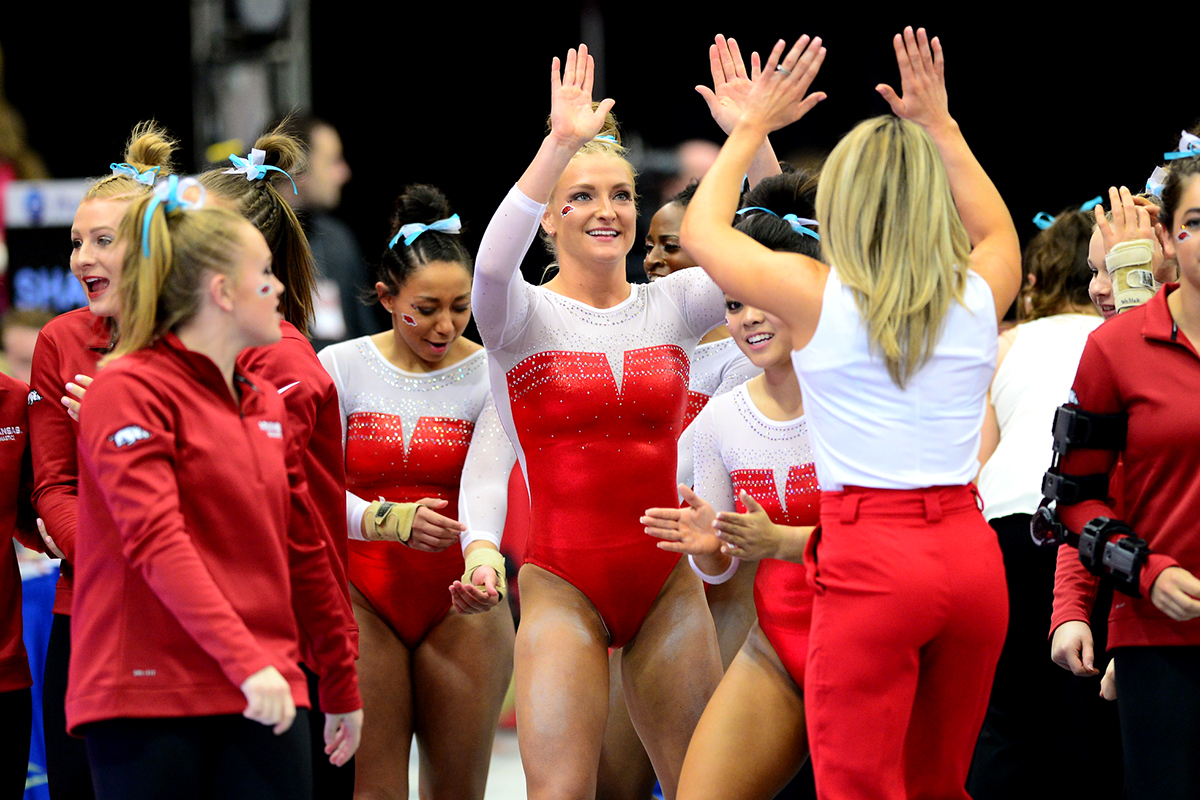 Fourth-Straight Week In The Top-10
FAYETTEVILLE, Ark. – The Arkansas gymnastics team held steady in the top-10 for the fourth-consecutive week, coming in at No. 10 in this week's Road To Nationals weekly rankings with an average score of 196.310.
The Razorbacks recorded its fourth-straight score over 196 at Alabama, posting a 196.350 in Tuscaloosa. Its the fifth time in program history that Arkansas has had four-straight scores over 196, joining such streaks during the 2012, 2013, 2014 and 2016 seasons.
Arkansas remained one of the top beam squads in the country, coming in at No. 5 in the nation on the event with an average of 49.230. The Razorbacks have been ranked in the top 5 on the event since the start of the season. Freshman Sophia Carter continues to lead the team, averaging a 9.880 as Arkansas' highest individual ranked No. 14 on the event. In total, five Razorbacks are in the top-100 individual rankings, including Freshman Sarah Shaffer (No. 99), who recorded a 9.900 at Alabama on beam.
The Razorbacks come in at No. 14 on each of the other three apparatus', averaging a 49.100 on floor, a 49.000 on vault and a 48.980 on bars.
On vault, senior Braie Speed continues to be the Razorbacks best athlete, ranking No. 24 with an average of 9.860. Senior Amanda Wellick and Junior Sydney McGlone rank tied for 67th with an average of 9.820 each to round out the top-100.
Speed is also ranked No. 55 as the Razorbacks' best on bars with an average of 9.825, while Wellick and freshman Sydney Laird are tied for No. 95 with an average of 9.795.
Shaffer is the highest-ranked on floor, coming in at No. 57 with an average of 9.845. The freshman recorded a 9.900 on floor at Alabama, becoming the only freshman in the SEC to score a 9.900 on two events over the weekend.
Arkansas has matchups with No. 1 Oklahoma, No. 5 Florida, No. 12 Denver and No. 15 Auburn left this season, along with the Mardi Gras Invitational meet in St. Louis that includes rematches against No. 2 LSU and No. 24 Missouri on Feb. 16.
The Razorbacks began the year as the preseason 19th-ranked team, and moved up to No. 11 following its week one score of 195.350 at LSU. Arkansas was ranked its highest this season at No. 8 following its 197.175 score against Georgia.
No. 10 Arkansas return home this Friday for another Southeastern Conference top-15 showdown against the 15th-ranked Auburn Tigers inside Barnhill Arena. The meet is scheduled to begin at 7 p.m. It's Daddy-Daughter Princess Date Night and all kids are encouraged to wear their favorite princess costumes to the meet plus the first 150 kids will get a light up princess tiara. Tickets are $5 for adults and $3 for youth 17 and under and can be purchased here.
For more information on Razorback gymnastics, including in-meet updates, follow @Razorbackgym on Twitter.