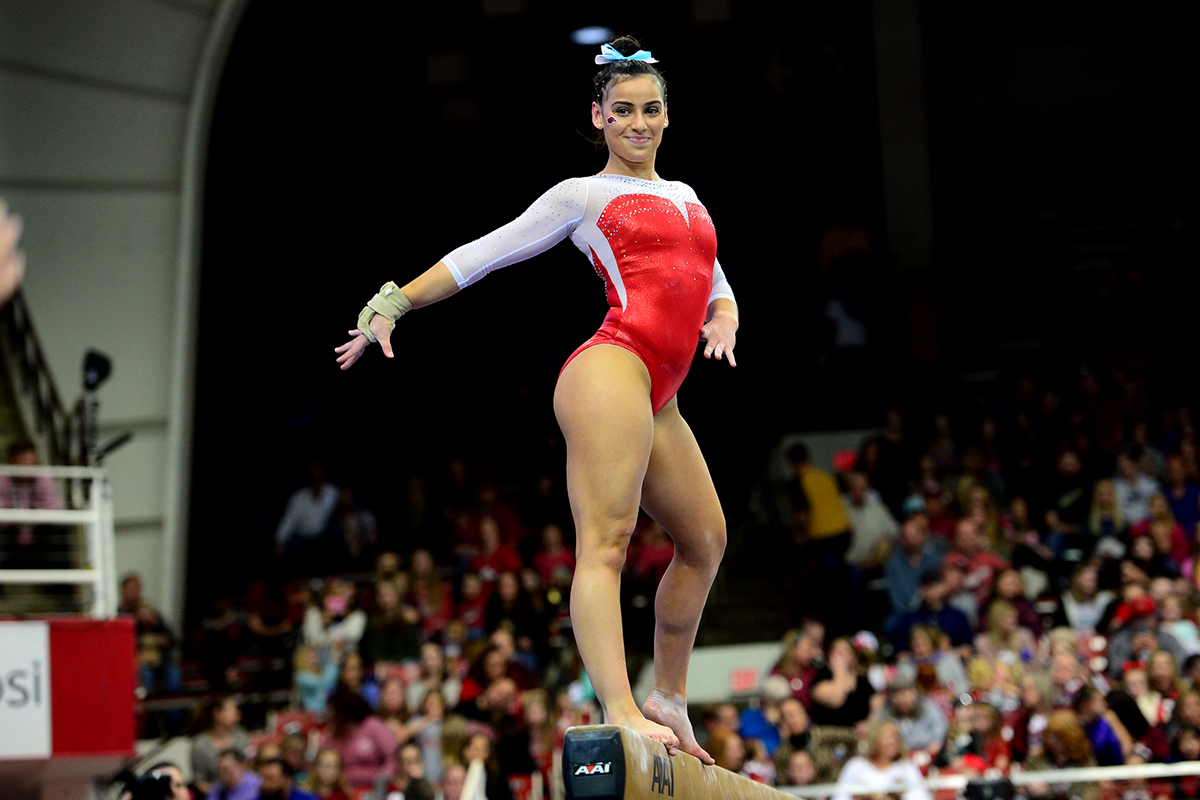 Freshmen Lead Record Night In Barnhill
FAYETTEVILLE, Ark. – Freshman Sophia Carter set a program record score on the balance beam with a 9.975 to lead all Razorbacks on all events as No. 10 Arkansas downed No. 11 Georgia 197.175-196.125 inside Barnhill Arena Friday night.
"Even in training I could see we were starting to get polished," said head coach Mark Cook. "We just have to get in that zone a little bit more. We were close to it tonight, but owning some of those landings. We're not quite there, but we're moving in that direction."
The win was the first of the season for the Razorbacks and just the third time in program history Arkansas has beaten the Bulldogs.
First Rotation: Georgia Bars: 49.175, Arkansas Vault: 49.100
Led by freshman Sarah Shaffer, who scored a 9.875 and tied her career high on any event, the Razorbacks trailed by the slimmest of margins after the first rotation. Seniors Braie Speed and Amanda Wellick were the other Razorbacks with scores over 9.800 as each scored a 9.850 and a 9.825, respectively.
Second Rotation: Arkansas Bars: 49.175, Georgia Vault: 48.875
Arkansas took the lead it never relinquished in the second rotation. Shaffer and Speed led the Razorbacks in the second event with scores of 9.875 each. Four of the five scorers for Arkansas tallied scores over 9.800 as Wellick and Sophomore Jessica Yamzon recorded scores of 9.850 and 9.825, respectively.
Third Rotation: Arkansas Beam: 49.425, Georgia Floor: 49.100
Freshman Sophia Carter broke the school beam record with a score of 9.975 while Yamzon and fellow sophomore Michaela Burton tied the previous record with scores of 9.950 each. Coming into the night, the program-record score on the balance beam was 9.950 set seven times in program history, last by Katherine Grable and Jaime Pisani at the 2012 NCAA Championships. The score of 49.425 on beam was the second best beam score in team history.
"We've been practicing it," said Carter. "My coaches have been telling me, just do what you can do and go out there and be you. I was just happy to go out there and deliver and do that tonight."
Fourth Rotation: Arkansas Floor: 49.475 Georgia Beam: 48.975
Arkansas secured the victory and its first score over 197 since 2016 on the floor. All six athletes posted scores over 9.800 as Carter led the Razorback on her second-consecutive event with a 9.950. Shaffer recorded a 9.900 while Yamzon, Burton and sophomore Hailey Garner all tallied 9.875's to lead the Razorbacks to a final score of 197.175, its seventh score over 197 in program history.
"All season we've been talking about just being us out there and doing what we do," said Carter. "We knew we could do this. Each performance everyone went out there and knew they could do their best and we got that 197."
Among all-around performers, Yamzon posted a score of 39.425 while Shaffer recorded a 39.350 as both broke their career highs.
Up Next
The Razorbacks head back on the road for a Southeastern Conference battle at No. 7 Alabama next Friday at 7:30 p.m.