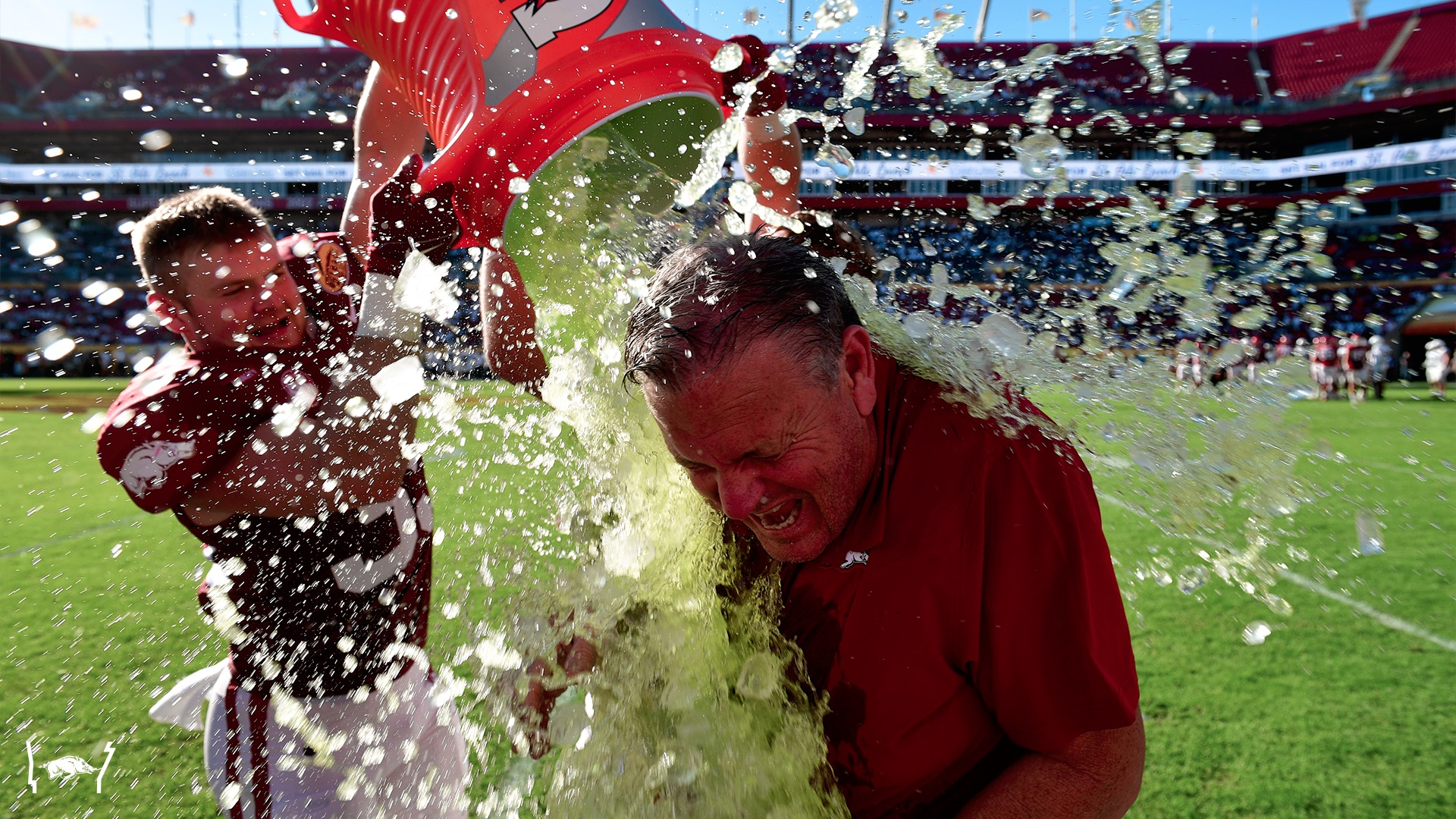 From the Desk of Hunter Yurachek: Jan. 5
Happy New Year!
I can't think of a better way to ring in the Razorback New Year than with our exciting 24-10 victory over Penn State in the Outback Bowl in Tampa, Florida. A second-half comeback led by Outback Bowl MVP K.J. Jefferson was too much for the Nittany Lions to withstand and the No. 21 Hogs came out with the victory.
Congratulations to Coach Sam Pittman, his coaching staff and most of all our football student-athletes on a fantastic game and a truly remarkable season. Raymond James Stadium was filled with Razorback fans, Calling the Hogs and cheering our team on to victory. Thank you to all of you who traveled to Tampa to join us for this unforgettable day.
Our bowl victory culminated a remarkable season that included:
First Bowl Game win since the 2016 Liberty Bowl (vs. Kansas State)
First New Year's Day Bowl Game win since the 2000 Cotton Bowl (vs. Texas)
First 9-win season since 2011
Victories in 4 Trophy Games (Southwest Classic, Battle for the Golden Boot, Battle Line Rivalry and the Outback Bowl)
It is a season that won't soon be forgotten On the Hill. This is just the beginning for Coach Pittman and our football program. Big things are ahead for Razorback Football!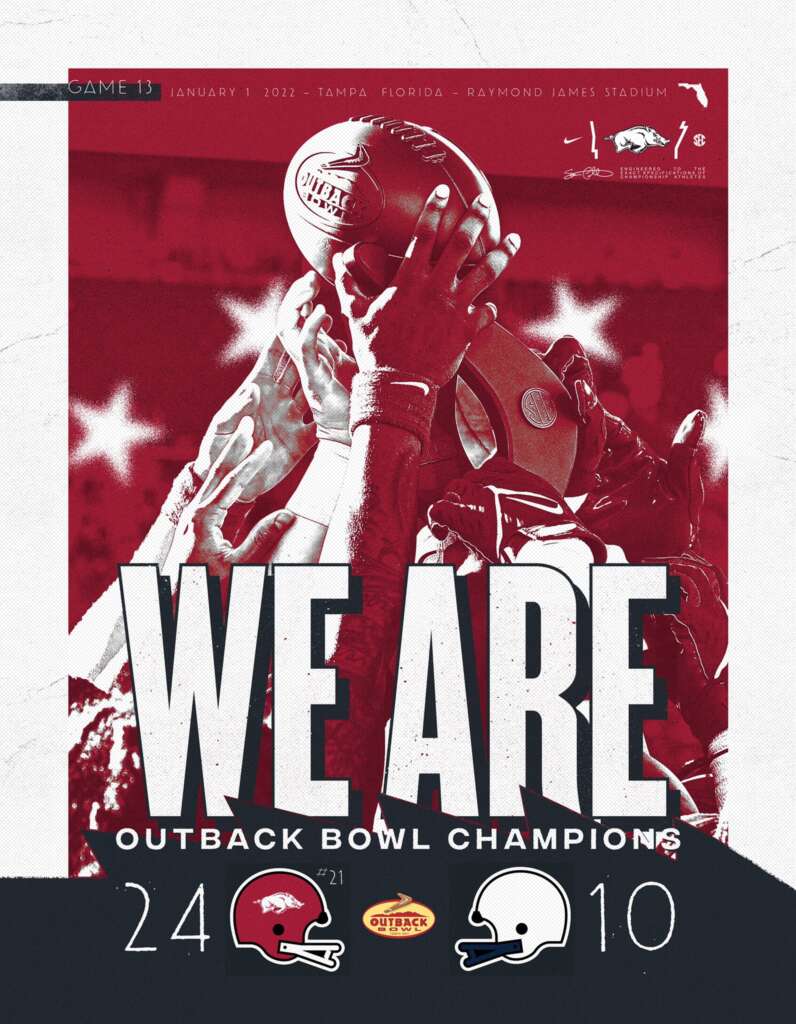 ---
Hog Hoops Into Conference Play
Both the Razorback men's and women's basketball teams have entered Southeastern Conference play. Coach Eric Musselman and the men's team lost a tough one-point game against Vanderbilt on Tuesday and now stand 10-4 overall. The Hogs will travel to College Station to battle Texas A&M on Saturday (Noon CT, SEC Network).
Coach Mike Neighbors and our women's basketball team saw its first conference game postponed at Ole Miss. Instead, our squad opened with a tough test at home this past Sunday with No. 7 Tennessee. The Hogs (10-4) hung tough throughout, before dropping a 70-63 decision to the Lady Vols. We will look to even our conference mark on Thursday night at Vanderbilt, in a game televised by the SEC Network at 7:30 p.m. CT.
---
Vaulting into a New Season
Coach Jordyn Wieber and the Razorback gymnastics team will open the 2022 season this Friday at Barnhill Arena against Ohio State. The inaugural meet of the season is scheduled for 7:30 p.m. CT (Intros 7:15 p.m. CT). We hope you can join us to cheer on the No. 11 Razorbacks. The meet will also be televised on the SEC Network.
Arkansas will host its first ever gymnastics meet inside Bud Walton Arena on January 14 against Auburn. Be sure to get your tickets for that historic meet and the entire 2022 Razorback Gymnastics schedule today.
For some in the Razorback Nation, attending a Razorback Gymnastics meet might not be viable option. In an effort to provide an opportunity to children in our area, we have created the Community Hero Ticket program. The concept is simple, buy a ticket as part of the program and the ticket will be distributed to a charitable children's organization here in Northwest Arkansas. It is just a small way you can give an assist to the next generation of Razorback fans!
---
Razorback Superlatives
Congratulations to Razorback freshman men's golfer John Daly II, who recently teamed with his father and former Razorback and professional golfer John Daly to win the 2021 PNC Championship.
Arkansas will resume its indoor track and field season on January 14 at the Randal Tyson Track Center. Plan on joining us for some world class track and field with the defending SEC men's and women's team champions!! Men's Schedule | Women's Schedule
An exciting year of Razorback Athletics is ahead! Thanks for your continued support of our 465+ student-athletes.
Go Hogs!
Hunter