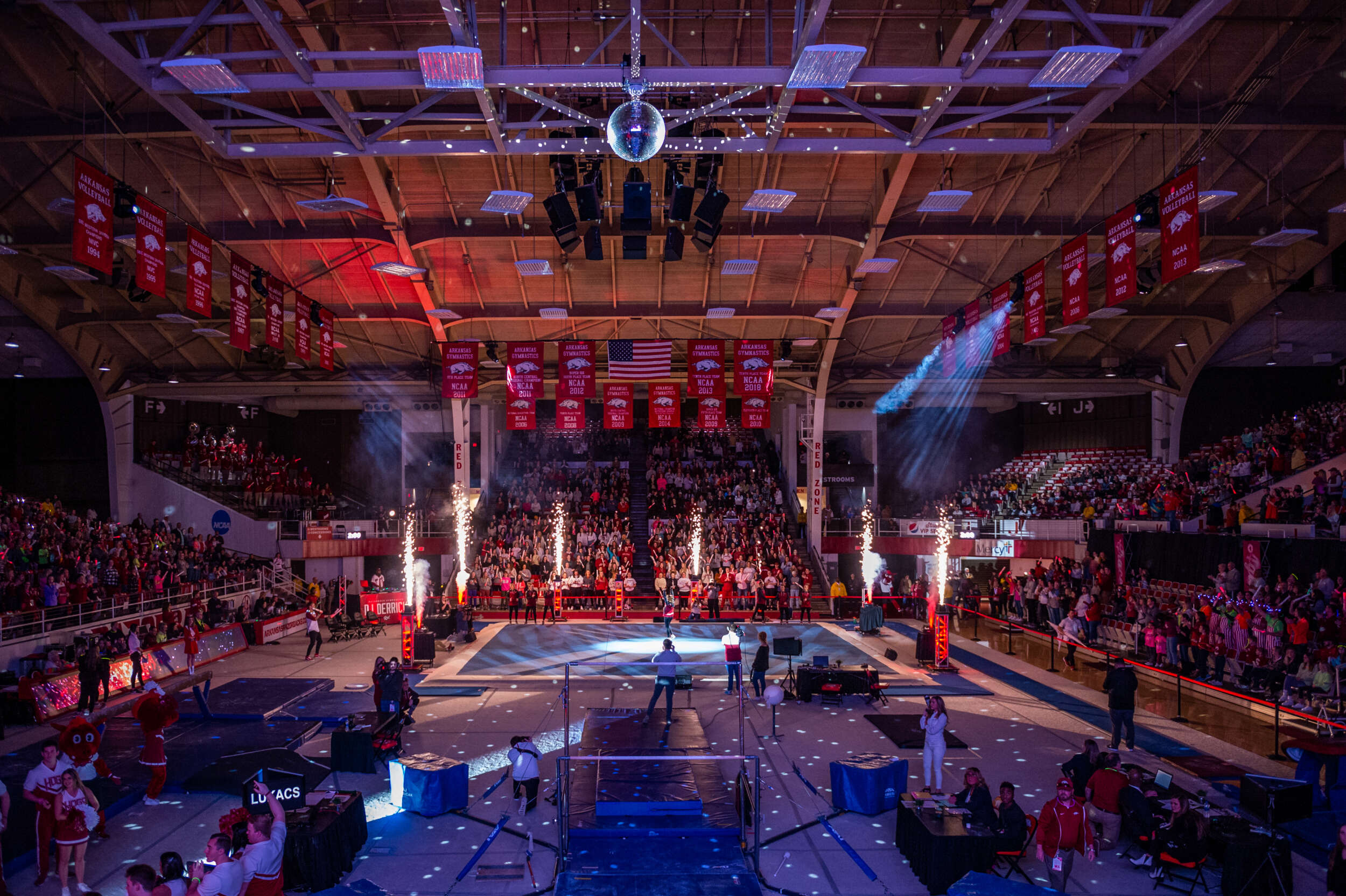 Single Meet Tickets Now on Sale, Promotions Announced for 2022 Gymnastics Season
With just one month left until the team's season opener against Ohio State, single meet tickets are now on sale for the 2022 Arkansas gymnastics slate.
The Gymbacks will host five meets on the University of Arkansas campus this winter, including the first-ever gymnastics action in Bud Walton Arena on Jan. 14 against Auburn (7:30 p.m.). The other four meets will be hosted at Barnhill Arena.
The Razorback Ticket Center strongly recommends purchasing tickets in advance online HERE, over the phone, or at the Razorback Ticket Center. Advanced ticket prices are as follows:
Ticket prices increase to $10 for adults and $8 for youth when purchased same day. All single meet seating is general admission. New season tickets are still available for fans to purchase for $25 HERE.
With the release of single meet tickets, the gymnastics program is also excited to announce a full promotions and theme schedule for its five home events.
January 7 vs. Ohio State, 6:45 p.m.
Theme: Gymback Throwback
Celebrating 20 Years of Razorback Gymnastics at Barnhill Arena
Tickets HERE
January 14 vs. Auburn, 7:15 p.m.
Theme: A Night at the Palace
First-ever meet inside Bud Walton Arena
Tickets HERE
February 4 vs. West Virginia, 6:45 p.m.
Theme: Equality Night
An evening celebrating fans of all races, abilities, genders, and sexual orientations, as well as an expression of commitment to the equal treatment and inclusion of all
Tickets HERE
February 11 vs. Kentucky, 6:45 p.m.
Theme: Women's Empowerment/Alumni Night
Recognizing women who have paved the way and made an impact in our society and local community
Celebrating all Razorback Gymnastics Alumni who have made the program into what it is today
Tickets HERE
February 25 vs. Georgia, 7:45 p.m.
Theme: Senior Night
Honoring and celebrating the team's seven seniors post-meet
Tickets

HERE