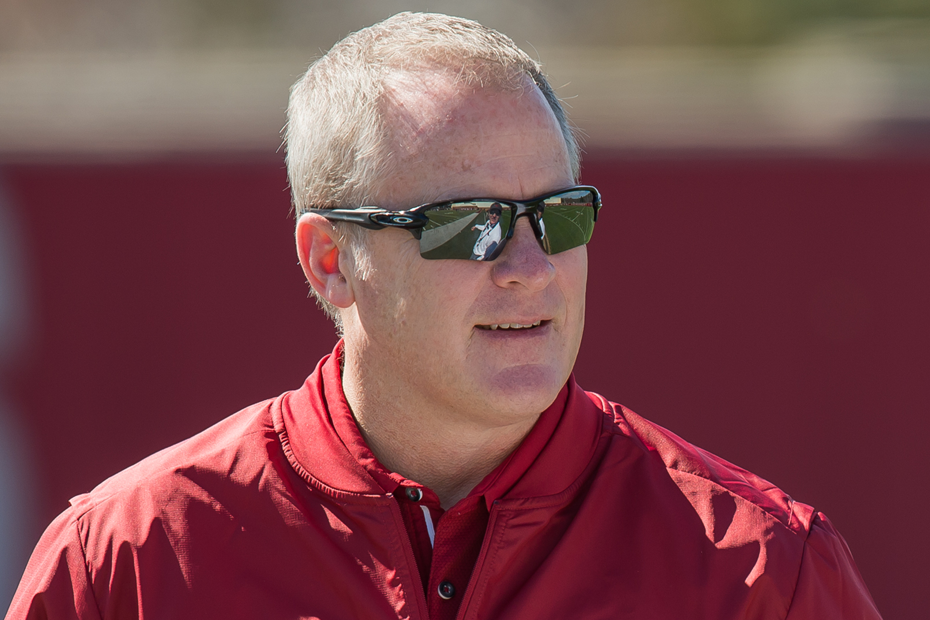 From the Desk of Your AD
Hello Fellow Razorbacks!
Late last month, I had the privilege to join our women's track & field team on the infield of the Randal Tyson Track Center to celebrate another championship moment made possible by our remarkable student-athletes and coaches. Coach Lance Harter and our women's indoor track & field team dominated the competition on its way to its fifth-straight SEC Indoor Track & Field title. Arkansas captured eight individual event titles to outdistance the competition. For those of you counting, our women's program has won 14 of the last 15 SEC Championships in cross country, indoor and outdoor track & field. Congratulations to these outstanding young women!
On the same weekend and on the same track, we observed our men's team rally past higher nationally ranked competitors to earn a SEC runner-up team finish. Coach Chris Bucknam's squad captured two individual titles and provided the capacity crowd of enthusiastic Razorback fans plenty to cheer about. Anyone who had an opportunity to watch these young men compete know that they were putting it all on the line for their teammates, their school and the great state of Arkansas.
Beginning on Friday, our women's and men's teams will take the track in Birmingham, Alabama for the NCAA Indoor Track & Field Championships. With 13 individual event and two relay event qualifiers, the No. 1 nationally-ranked Razorback women's squad is primed to make a run at the second NCAA indoor title in program history. We wish both of our teams and all of our competitors the best of luck. Be sure to follow ArkansasRazorbacks.com for all the latest on the NCAA Indoor Track & Field Championships. Kudos to sophomore diver Brooke Schultz on winning both the 1-meter and the 3-meter diving titles at the SEC Swimming & Diving Championships. I had the privilege to attend the SEC Swimming & Diving Championships and watch Brooke and her teammates compete. Congratulations to Head Swimming Coach Neil Harper and Head Diving Coach Dale Schultz on another great run at the conference meet. We look forward to seeing several Razorbacks in the NCAA Championships later this month.
Nationally-Ranked Razorbacks
Our men's and women's track & field teams aren't the only squads on campus enjoying some national recognition. The University of Arkansas has long been known for the depth of its nationally-competitive sport programs and the 2018-19 year is living up to that standard. Six active Razorback teams rank in the top 20 of their respective sport national polls.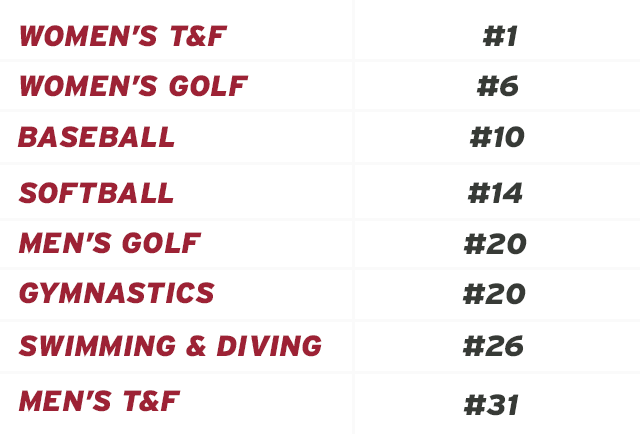 Celebration of a Championship
Speaking about national success, no University of Arkansas men's basketball team has done more to put our program on the map than our 1994 NCAA Championship Team. This past weekend, we had the pleasure to welcome back Hall of Fame Coach Nolan Richardson, his staff and almost every member of the 1994 team for a weekend of celebration. The weekend included a team reunion on Friday night, a reception for the coaches, players and staff, members of our spirit squads and the HogWild Band from that era on Saturday morning and of course the halftime recognition at the men's basketball game against Ole Miss.
It was a memorable moment for me to be able to greet each member of the team as they walked out onto the court. You could see what it meant to each of them to be back in Bud Walton Arena. There is no doubt that our current men's basketball team gained some inspiration from these former Razorbacks and the loud and active crowd at Bud Walton Arena. They responded by culminating the weekend with a memorable buzzer beating win over the Rebels.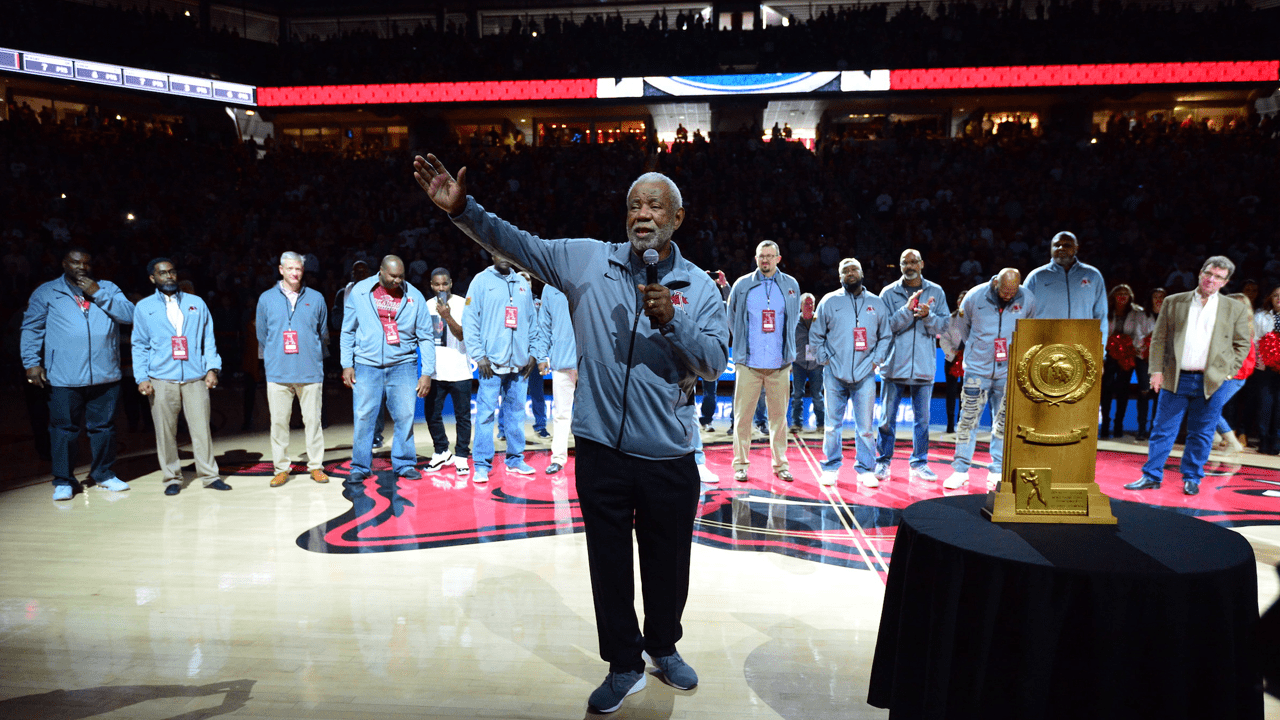 Earlier this week, Chancellor Steinmetz announced that we have submitted a resolution to the University of Arkansas Board of Trustees to honor our former legendary coach with the naming of Nolan Richardson Court at Bud Walton Arena. The resolution to name the floor Nolan Richardson Court will be considered at this month's Board of Trustees meeting on March 27-28 in Hot Springs.
While I know some expected us to make some type of announcement last week during 25th anniversary of the 1994 NCAA Championship team, that special team deserved its own weekend of celebration. Similarly, Coach Richardson deserves to be recognized independently for his Hall of Fame career, including his many accomplishments at the University of Arkansas.
While the reunion weekend was the signature event of our 1994 team celebration, there is still a chance to re-live some of the great moments from that season. On Tuesday night, we debuted a film room session of the 1994 NCAA Championship Game featuring commentary from Coach Richardson, Coach Mike Anderson and former point guard Corey Beck. Chances are you have seen the game before, but you have never seen it quite this way. We hope you take a look.
I also want to encourage our fans to join us once again this Saturday for our final home game of the regular season. Come support our team as they take on the Alabama Crimson Tide. It will also be a special day as we celebrate the career of longtime athletic trainer Dave England. Dave is finishing his 36th and final season as our men's basketball head athletic trainer. No one has put more time and dedication into helping our men's basketball student-athletes over the years than Dave. While we will miss his presence on the bench, I'm pleased he is remaining with us to help lead our athletics training program.
Headed to the SEC Tournament
March has arrived and so has post-season basketball. Our women's team will be in Greenville, South Carolina this week for the SEC Women's Basketball Tournament. Coach Mike Neighbors and his squad have exceeded the pre-season expectations of league coaches and will open tournament play on Thursday at 5 p.m. CT against Georgia. Be sure to tune into the SEC Network to watch all the action through the quarterfinals with ESPNU and ESPN2 picking up the semifinals and final, respectively. A special congratulations to Chelsea Dungee for earning second-team All-SEC honors. Dungee enters the tournament averaging 19.5 points per game. She has posted 27 double figure scoring efforts while competing in the nation's most talented women's basketball conference.
Coming Soon
Looking for a way to upgrade your group tailgating experience in the Hog Pen at Baum-Walker Stadium?
We have you covered. In the next few weeks, the OmaHogs will be offering baseball fans an opportunity to enjoy a new area at Baum-Walker Stadium. Located along the back wall of the Hog Pen in left field at Baum-Walker Stadium, each private group tailgating unit features space for serving food and beverages, a television, a leather sofa, a grill and an 8-feet by 20-feet observation deck. Each tailgating unit includes 50 tickets.
Fans interested in more information or purchasing a unit for a game call us at (479) 575-5151 or email us at raztk@uark.edu. Group units are available on a weekend series or single-game basis, subject to availability. Prices ranges from $600 to $1500.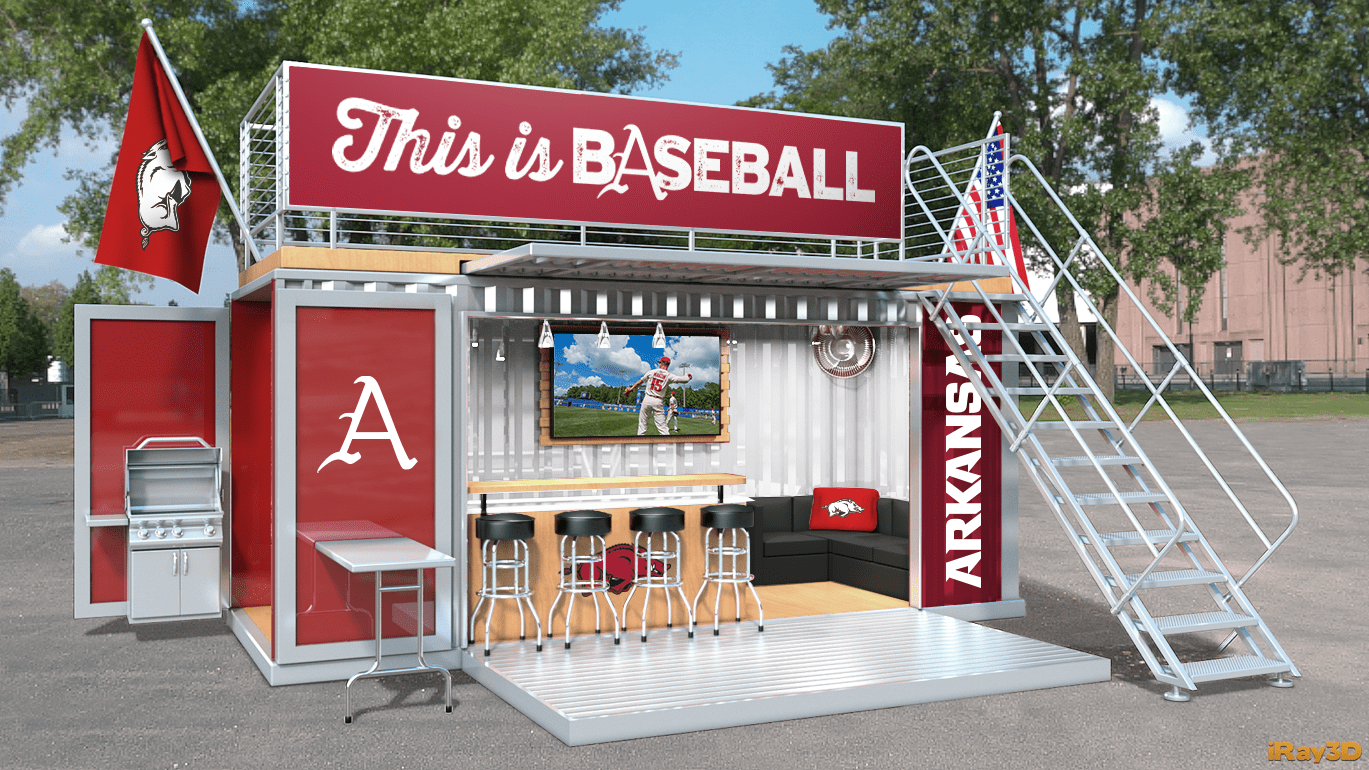 Mark Your Calendars
While temperatures in most of Arkansas don't necessarily indicate it, spring is on the way. I want to make sure you make plans to join us On the Hill for the weekend of April 6. It will be a full weekend of activities including our Red-White Spring Football Game, our Spring University of Arkansas Sports Hall of Honor induction, our annual A Club Reunion and HogFest..
Looking Ahead
Also, never too early to start planning for fall Saturdays at Donald W. Reynolds Razorback Stadium. This week we announced special dates for the 2019 football season including the University's Family Weekend on Saturday, September 21 (vs. San Jose State) and Homecoming on November 2 (vs. Mississippi State).
Snout Outs
If you have been on social media recently you probably are already aware of our own Danielle Gibson's historic softball feat against SIU Edwardsville on February 23. Gibson became the first NCAA Division I softball player to hit for the home run cycle – a solo, two-run and three-run home run, and a grand slam – in four innings. Gibson helped lead Arkansas to a 15-3 win in five innings and a place in the record books.
Make it 100! – One Hundred victories for Coach Courtney Deifel as the softball coach at the University of Arkansas. Coach Deifel earned the milestone with a 2-1 win over SIU Edwardsville on February 22. We look forward to the next 100 and many more to come!
Until next time –
Go Hogs!
Hunter