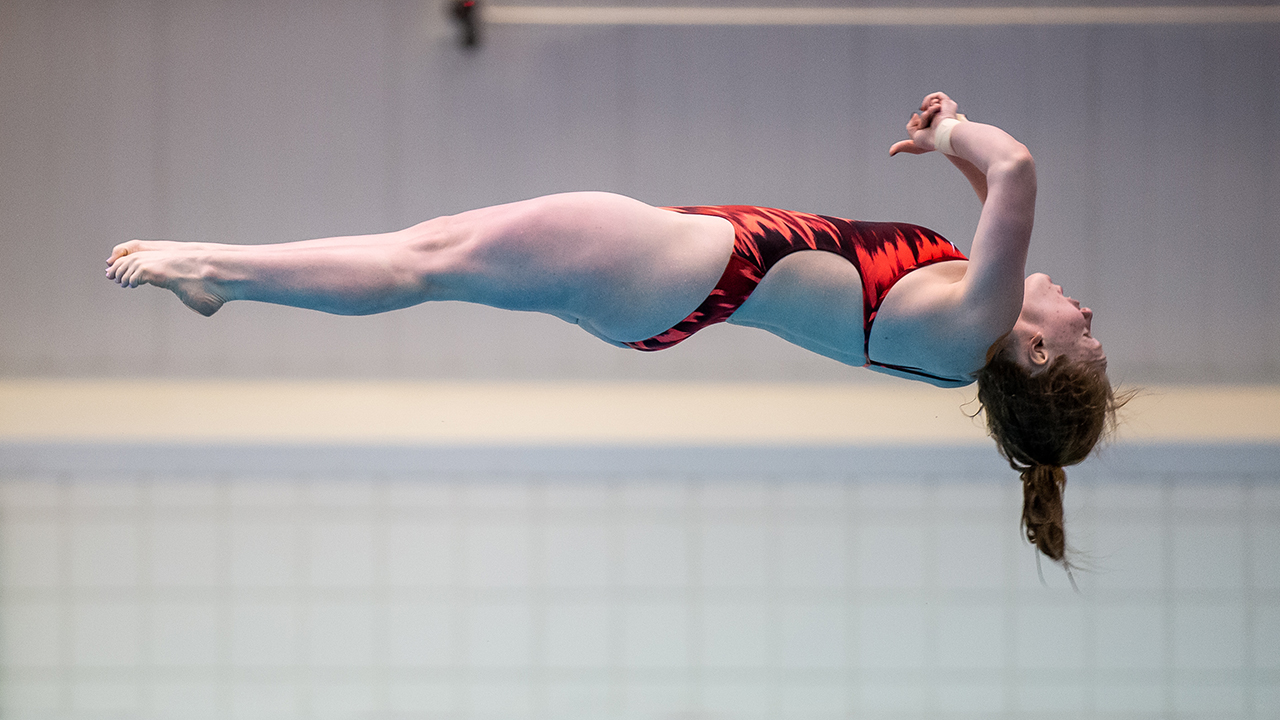 Schultz Defends Second Title, Hogs Set Two More Records
ATHENS, Ga.- In the second day of the SEC Championships, the Razorbacks set two more records and sophomore Brooke Schultz took the 1-meter title for the second consecutive year.
In the 500 freestyle relay preliminary round, Alyssa Lemon set a personal best with a time of 4:54.37 to finish in 44th place while Rachel Rodriguez finished in 47th place with a time of 4:55.40. Peyton Palsha finished in fifth place (4:40.54), setting a personal best and advancing to the A-finals where she finished in eighth place (4:44:45).
The 50 freestyle saw nine Razorbacks compete in the preliminaries, with Cris Roberts setting a personal best (25.02) and finishing in 63rd place. Kenedy Thaman placed 50th with a time of 23.48, while Brittney Pike finished 48th (23.44) and set a personal best.
Andrea Sansores set a season-best time of 23.35 to finish 46th and Annah Carney set a season-best time to tie for 42nd place (23.26) with Kiera Michailoff-Russell. Erin Kelly finished in 35th place, setting a personal best time of 22.93.
Molly Moore set a personal best time of 22.72 to finish in 25th place and qualify as first alternate. Anna Hopkin earned a second-place finish with a time of 21.70 to advance to the A-finals. Hopkin's personal best of 21.58 earned her a second place finish and set a school record.
On the springboards, Marissa Green placed 31st on the 1-meter with a 210.70 while Caroline Welch finished 24th with a 231.05. Maha Amer finished ninth with a 273.45, 4.30 points shy of advancing to the finals. Schultz placed second with a 325.75 to advance to the finals, where she won her second title of the meet with a score of 359.35.
The final event of the day was the 200 yard freestyle relay, where Kobie Melton, Hopkin, Moore, and Kelly set a school record (1:28.83). The fourth-place finish was the highest SEC Championship finish for the Razorbacks in the event since 2015. After the second day of competition, the Razorbacks sit in sixth place with 294 points.
The Hogs will return to the pool for the third day of the SEC Championships tomorrow morning with the 400 yard IM preliminaries at 10 a.m. (ET).
For more information on Arkansas Swimming and Diving, follow @RazorbackSD on Twitter.