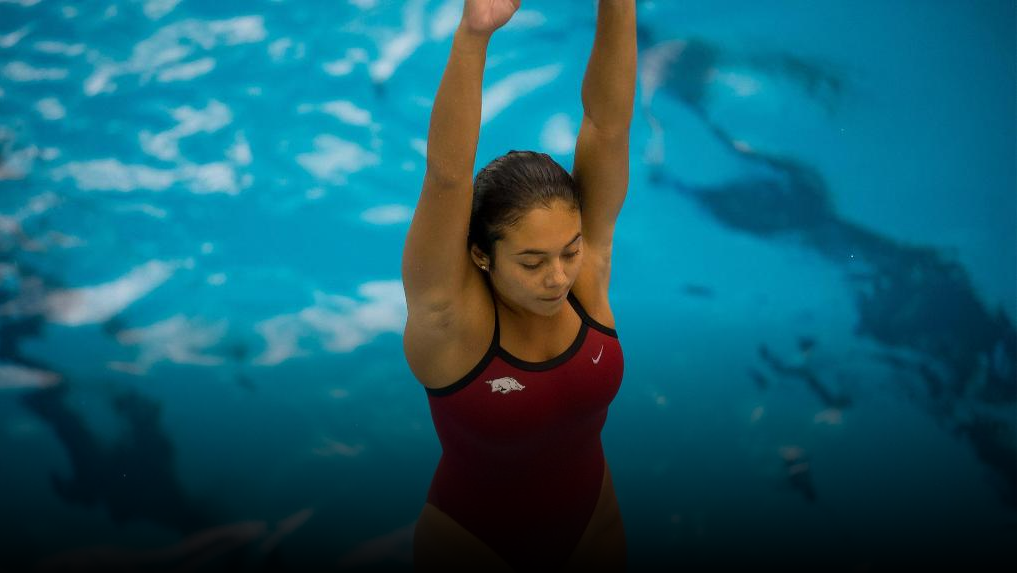 From The Pool Deck: Bortnick Readies for SECs
Arkansas women's swimming and diving is just days away from diving in at the 2015 SEC Swimming and Diving Championships on Feb. 17-21 in Auburn, Alabama. Following a record-breaking junior season, diver Hannah Bortnick is making her second appearance at the SEC Championships and looks to notch more career-best scores. Not only has Bortnick set personal-bests in the 1-and 3-meter boards this season, but the Mission Hills, Kansas native has also already hit a 2015 Zone Diving qualifying mark for the NCAA Zone Diving Championships on March 9-12 in Iowa City, Iowa.
Q: SECs are quickly approaching, have the nerves or excitement set in yet?
Hannah Bortnick: I'm really nervous because it's the biggest meet! I'm also really nervous for tower because I don't usually do tower that much, so I'm really nervous for that because it will be my first tower meet and only tower meet of the year. But, I'm really excited too!
Q: How have you been prepping for SECs?
HB: We've been going lighter in weights this week and our reps have been less in the pool. I've been trying to sleep a lot and eat healthy this week.
Q: What do you think has been your biggest accomplishment this season?
HB: Probably when I PR'd on the three-meter and one-meter against Missouri State. That's probably my biggest accomplishment and I haven't hit 300 since my freshman year, so that was really exciting that I did it again.
Q: Do you have any goals for SECs this year?
HB: I want to score on all three events. Last year I scored on platform and three meter, so this year I want to score on all of them.
Q: What is your favorite part about SECs out of the pool?
HB: Well, it's really cool to see everyone cheering on the deck and I get to see a lot of my friends from other teams that I haven't seen in a while.
Q: What do you think about right before you're going to dive?
HB: Mostly I have key words for myself, and I'll just try to think about one thing and fix it before I'm about to go. Because if I think about too much then I'll just get overwhelmed and it won't go well.
Q: Before you're about to dive, what do you do to calm yourself?
HB: I try to take deep breaths and visualize my dives.
Q: Do you have any crazy superstitions?
HB: Yes! I have to look at the end of the board three times before I do any kind of run, and when I'm rocking backwards, I have to do at least 10.
Q: With a meet like the SECs that is spread out over five days, what do you do to keep focused?
HB: I just try to relax and not really think too much about how big the meet is because then I'll just get really nervous. So I'll watch like some of my favorite TV shows and hang out.
For more information on Arkansas swimming and diving, follow @RazorbackSD.