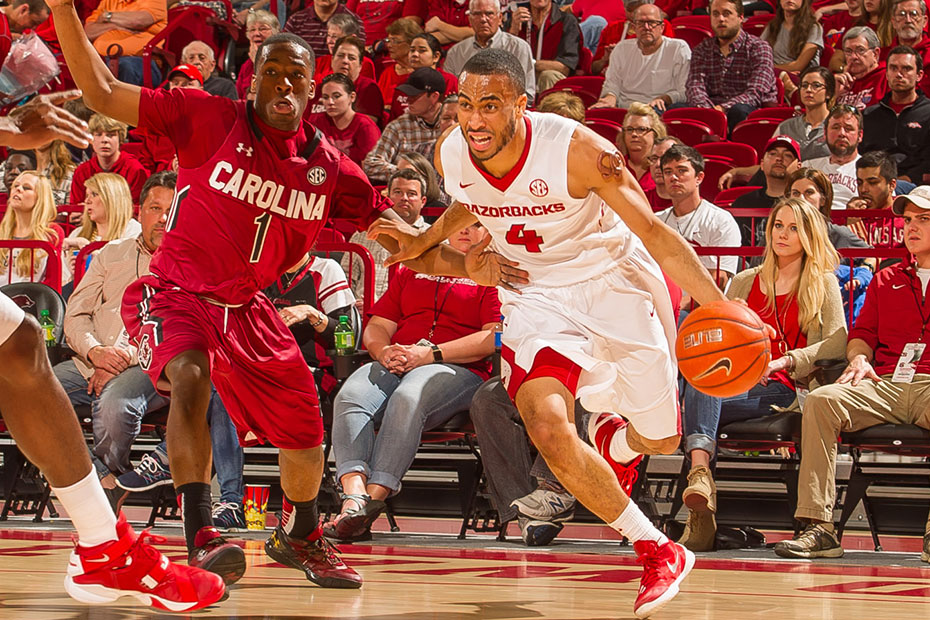 Furious Rally Falls Short on Senior Day
FAYETTEVILLE, Ark. — Down by 27 with 15 minutes left, the Arkansas men's basketball team put forth a spirited comeback attempt on Senior Day. It fell short, however, as the Razorbacks ultimately lost to South Carolina on Saturday afternoon by a score of 76-61. Arkansas ends the regular season with a 16-15 record, including a 9-9 mark in SEC play.
Following back-to-back three-pointers by Dusty Hannahs with 5:50 remaining, Arkansas trailed only 66-57, but that was the closest the hosts would get the remainder of the way. Hannahs and senior Anthlon Bell tied for the team lead with 16 points apiece, while senior Jabril Durham dished out a game-high 11 dimes.
The game was tied 14-14 just under the 12-minute mark of the first half when the Gamecocks gained separation. The visitors went on a 15-2 run over the next five minutes to take a 13-point lead, which they parlayed into a 36-24 halftime lead. For the second straight game, Hannahs led the team in first-half scoring; he had seven points.
South Carolina's run continued into the second half, bursting out of the locker room with a 20-5 run to take their biggest lead of the game at 56-29 with 15 minutes remaining. A three-pointer by Bell ended the spurt and the Razorbacks began chipping away.
A Moses Kingsley dunk with 9:19 left brought the lead under 20 points. A Bell jumper at the 7:27 mark cut it down to 15. Then the piggybacking threes by Hannahs had Arkansas within nine with under six minutes to go. In all, a 28-10 run by the Razorbacks in just over nine minutes made it a 66-57 game at that point.
After the team traded a few scores, a Durham layup with 3:56 left got Arkansas to within striking distance once again at 70-61. But those were the last points the Razorbacks scored, as the Gamecocks ended the game on a 6-0 run and won by 15.
QUOTABLES
"I'm disappointed for our seniors but I told them in the locker room they gave us everything they had, we just ran out of time today. We were in attack mode in the second half, which we should have been in all game. Now we go to the next season, which is a one game season: the SEC Tournament." — Head coach Mike Anderson
"It's not the way we wanted to go out, but we can't dwell just because this is our last game at BWA and it's Senior Day. We still have basketball left so we have to change the mindset really quick and prepare for our games in Nashville." — Senior guard Jabril Durham
"You can't just look and see their best player on crutches and think you're going to win. We knew we were going to get their best basketball no matter who played. South Carolina didn't win this many games with just one player, and they proved that today."— Senior guard Anthlon Bell
QUICK HITS
• After an 8-for-22 performance from three-point range, Arkansas' percentage is at .402 for the season. An SEC team hasn't shot 40-percent from behind the arc in a season since Florida in 2007.
• The Razorbacks hit eight-plus threes in a game for 13th time this season, and 11th time in the last 17 games.
• Over the last six games, Jabril Durham has dished out 39 assists and committed only three turnovers. His 198 assists this year rank fifth all-time for a single season.
• Durham's game of two points and 11 assists is only the 10th game in the country this season with two or fewer points and 11-plus assists.
• With 11 assists, Durham became one of six players in the country to have seven-plus games with 10-plus assists.
• With three blocks, Moses Kingsley became one of 21 players in the country to have 13-plus games with three-plus blocks.
• With four three-pointers, Anthlon Bell became one of 20 players in the country to have 12-plus games with four-plus treys.
• Bell has hit a three-pointer in all 31 games this season.
• Dusty Hannahs made three three-pointers for the 18th time this season.
• Bell and Hannahs scored in double figures, each for the 27th time this season.
• With 13 points, Kingsley leads all Razorbacks with 29 games scoring in double digits this season.
UP NEXT
Arkansas travels to the 2016 SEC Tournament in Nashville, Tennessee, where it will open play on Thursday, March 10. The Razorbacks' opponent is yet to be determined.