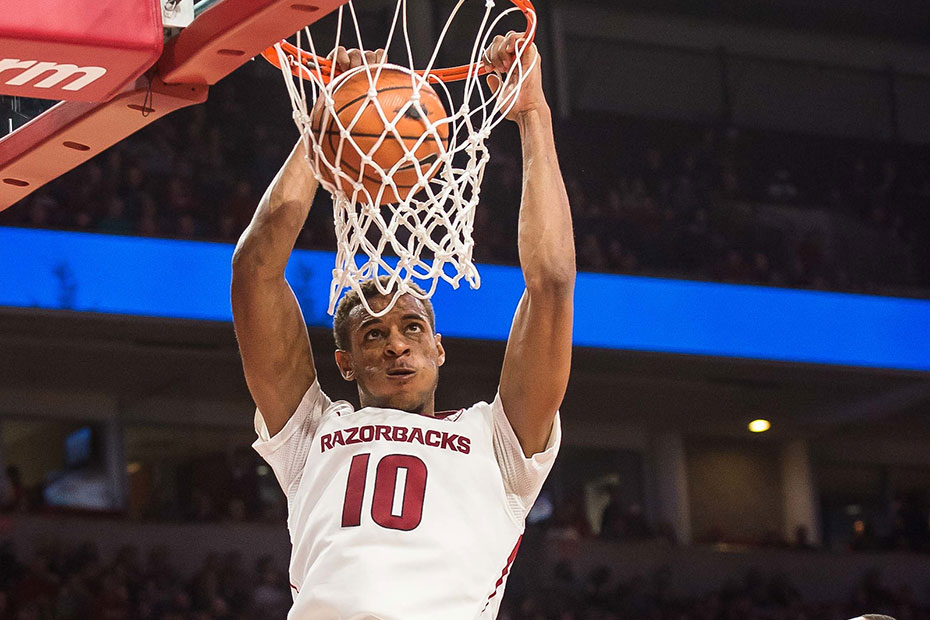 Gafford's Career Game Leads Hogs Over Bulldogs
Box Score  | Highlights | Press Conference: Coach A | Players
FAYETTEVILLE, Ark. – Behind a career-high 25 points from freshman Daniel Gafford, the Arkansas men's basketball team held off the Fresno State Bulldogs, 83-75, Friday night in Bud Walton Arena to improve to 3-0.
Most of Gafford's night was played above the rim, as the explosive 6-foot-11 forward used six dunks, including five in the second half, to go 9-of-11 from the floor to go along with eight rebounds and three blocks.
Fresno State came into Friday's contest averaging 92.5 points per game, but the Razorbacks had other ideas. The Hogs turned up the defense, forcing 16 turnovers and holding the Bulldogs to 28-of-61 from the field, scoring 17 points below their season average.
The game opened with a pair of runs, one by each side. Fresno State got in the scoring column first, making its first two shots of the game, to take a quick and brief 6-0 lead. Arkansas responded on the defensive end, forcing four turnovers on the Bulldogs' next five possessions to fuel a 9-0 run and take a lead that it would never relinquish.
Arkansas would manufacture a 31-11 run, following Fresno State's initial spurt, to build a lead as large as 16 in the first half. At the half, senior Jaylen Barford led all scorers with 12 points, while Gafford scored 11 of his own. Gafford has scored in double-figures each of his first three games as a Razorback, averaging 16.7 points.
The tale of the first half was Arkansas' ability to score off of turnovers. The Razorbacks forced 10 Bulldog turnovers, outscoring Fresno State 14-3 in points off turnovers.
Through three games, Arkansas is outscoring its opponent by 64 points in the first half, an average of 21.3 points per game.
The Bulldogs would score four quick ones in to open the second half, cutting the Arkansas lead to 10. Arkansas would open it back up to as many as 19 in the second half, thanks in large part to Gafford.
The second half was the "Daniel Gafford Show," highlighted by an electrifying alley-opp slam from Anton Beard to bring Bud Walton Arena alive. The big man scored 14 of his game-high 25 points over the final 20 minutes.
In a game where both teams like to run, fouls kept the flow from doing so. Fresno State recorded 29 total fouls to Arkansas' 21. Arkansas was able to take advantage however, going 25-of-38 from the charity stripe to hold off the Bulldogs, who would make a late run, getting as close as seven with one minute to play.
Ticket Packages
Season tickets, mini plans, mobile passes and single-game tickets for the 2017-18 season are available now at the Razorback Ticket Center by calling at 1-800-982-HOGS (4647) and online by clicking here.