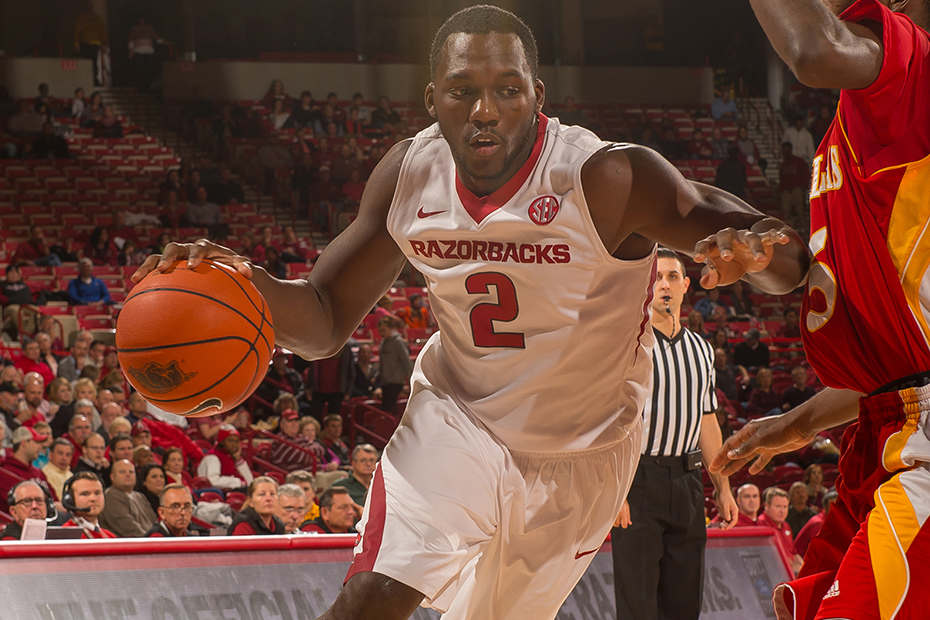 Gameday At BWA Q&A: Alandise Harris
GAMEDAY AT BWA Q&A – Senior Alandise Harris (@AlandiseHarris)
After sitting out his junior year due to NCAA four-year transfer rules, Alandise Harris made his presence felt at Arkansas in a big way in 2013-14. During the 2013-14 season, Harris provided a scoring punch and physical presence off the bench over 33 games played. The Houston transfer's intensity has carried over to this season as well. In Arkansas' season opener against Alabama State, Harris reached double figures with 13 points and led the way on the boards with six. One of only two seniors, Harris has embraced his role as a leader on the team.
This season is your last shot at making it to the NCAA Tournament, what does that mean to you?
Alandise: "Making the tournament this year means everything to me. If we don't make the tournament, I'll be very disappointed. The talent is there to get the job done. Now we need to take what coach Anderson teaches and apply it to his style of play and things should fall into place."
You are just 38 points shy of 1,000 for your collegiate career. Is that record on your list of priorities? 
Alandise: "No, it's not on my list of priorities, but I know it's going to happen eventually. I look at it from time to time just to see, but it's never been a priority. Right now I'm just focusing on the season and what we have to get done."
What would you say is the biggest change/improvement you've made during the offseason and how is that beneficial to the team as a whole?
Alandise: "I would say being poised on offense, making the extra pass and not doing too much. Because with me making the extra pass and not doing too much, it can free somebody else up and also free myself back up once I release the ball from my hands."
What is the biggest improvement the team has made from last year to this?
Alandise: "Team bonding is the biggest improvement, both on and off the court. I feel like we're always doing something together and everybody knows one another in and out. We have great chemistry."
You scored 13 points against Alabama State on Sunday. How do you feel the team did in that game?
Alandise: "I think we did alright. On the defensive end, we let them score too many points. We were just playing offense in the first half. The second half was the team we need to be for 40 minutes. We need to be tenacious."
Playing ACC foe Wake Forest in the second game of the year will be a big test. How do you feel playing Wake Forest so early in the year? 
Alandise: "I feel good about playing Wake Forest. Every team isn't their best at the beginning of the season. No matter if you're playing a lower competition team or a higher competition team, everybody is going to struggle at the beginning. So we just need to go out there and pull out a win and get over the fact there's going to be things we need to improve on going into the following game."
In your final season as a Razorback, how do you want to be remembered?
Alandise: "I want to be part of history. However we can make history this year, that's what I'm looking to do. And if we make history, I make history because my name will be a part of it."
You've taken on more of a leadership role this year. What have you done to step into this role?
Alandise: "I try to lead by example both on and off the court. I always try to do what's right and people will follow. I've found that people always follow people that do right."
What are some personal and team goals you have for the season? 
Alandise: "My team goal is to make it to the NCAA tournament, play in the tournament and make it as far as we possibly can. After that, as far as individual goals go, everything else will take care of itself."