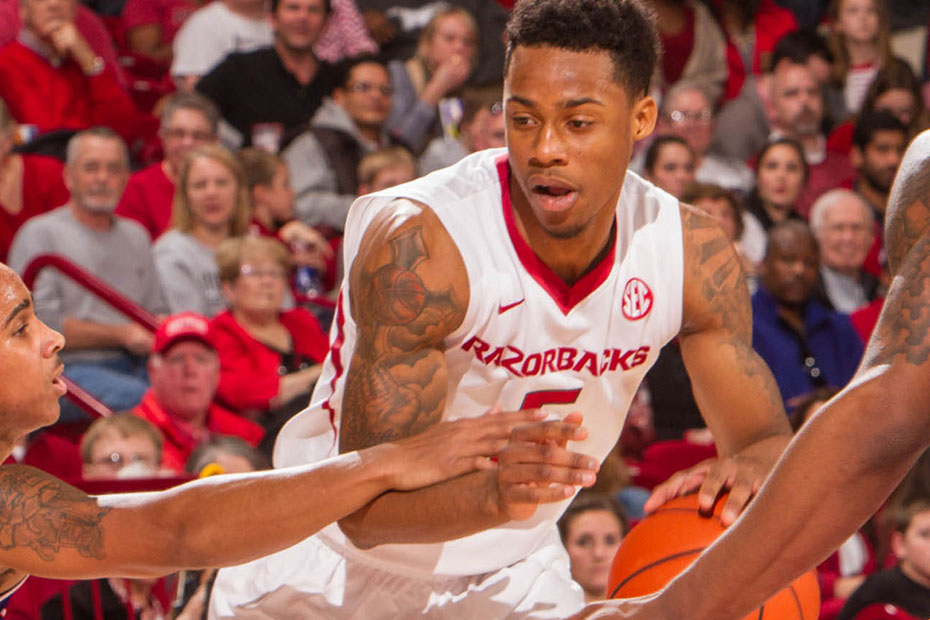 Gameday At BWA Q&A: Anthlon Bell
GAMEDAY AT BWA Q&A – Anthlon Bell (@_AntHill)
After two and a half years as a Razorback, Junior Anthlon Bell is well accustomed to the Arkansas style of basketball. The Memphis, Tennessee native has done well to grow into his role as a key contributor both offensively and defensively. Currently fourth on the team in scoring, Bell has confidence in himself and his teammates to go forward and do great things this season.
You're in your third season with the Razorbacks. How have you improved most from your first two seasons to now?
"Just confidence wise. That's all it really is in the transition from high school to college. Whoever can get their confidence up the quickest, that's who plays the best."
The team is now three games into conference play. How is the feel of SEC games different from non-conference?
"SEC games are way more physical. The refs let you play more. Then there's the tempo. Most teams we play against in non-conference want to play the zone, but in conference, there's more up and down play."
Arkansas made an impressive rally in the last few minutes of the game in Tennessee on Tuesday. Talk about the mood change that happened to enable that.
"We just knew we had to come out and fight. If we hadn't fought, we knew we didn't have a chance to come back. So we knew what we had to do with defense and just push the ball. We knew we had to get the ball moving like we weren't doing in the first half. We just needed to play our brand of basketball- Arkansas basketball."
After facing a tough loss on the road, what does the team need to do to get momentum back on its side for the game versus Ole Miss at home on Saturday?
"We just need to come out and do what we do. We need to push the basketball and get multiple stops in a row. Because our defense leads to offense and then once our defense is clicking, we can make multiple runs throughout the game."
As an upperclassman, what have you done to step into a leadership role on the team?
"I pull guys to the side and talk to them about certain things that they need to understand. I'll let them know how things go in games, for example, how the crowd is is a big factor on the road."
You're fourth on the team in scoring. What has enabled you to be so successful on this front?
"Ball movement. This is one of the most unselfish teams I've played for. My teammates look out for each other."
The team is clearly very cohesive this year. Why do you think this is the case?
"We get along on and off the court so well. Off the court, we do a lot of stuff together. We've been bowling, to lazertag, gokarting, a lot of stuff off the floor. We know we've got each other's backs, we're just brothers off the court. On the court that continues. We move the ball well, we know each other's tendencies, we're one with the ball and all that."
What are some goals you have both individually and for the team going forward this season?
"Individually, I just want to get better as the season progresses. Game-by-game, I just want to get better. For the team, I just feel like the sky's the limit for us. We hold our own destiny."