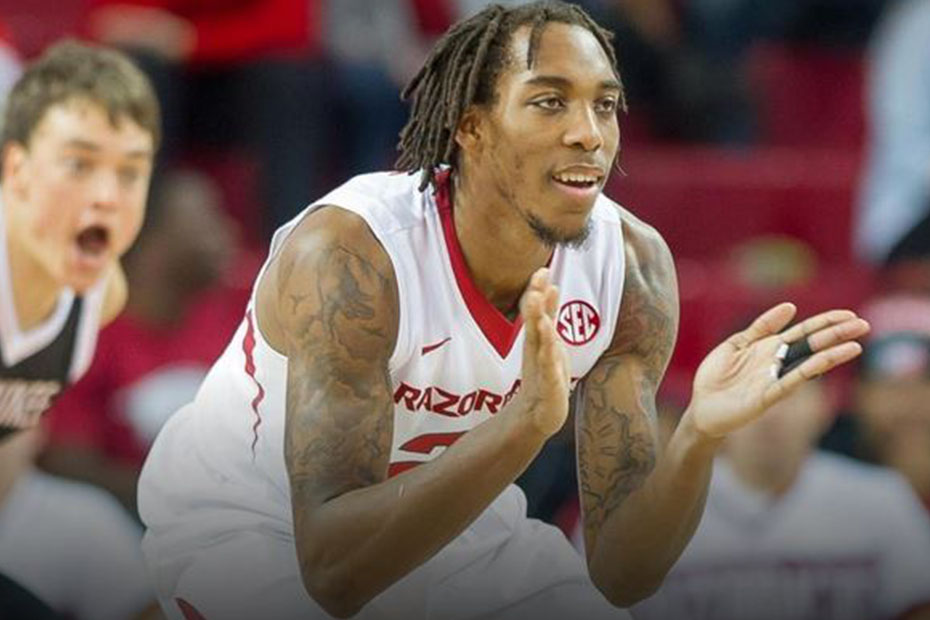 Gameday At BWA Q&A: Michael Qualls
GAMEDAY AT BWA Q&A – Michael Qualls (Mr_WALKONAIR)
Almost halfway through his third season with the Razorbacks, junior Michael Qualls is known for his spectacular dunks that have landed him on the #SCtop10. But as the team's second-leading scorer (15.5 ppg) with five 20-point games under his belt already this season, the Shreveport, Louisiana native has proved that his game is more than just for show. Focused on team success, Qualls is ready to take on anything that SEC play might throw at his way.
SEC play started on Tuesday. How do conference games feel different than non-conference?
"The sense of urgency is stepped up to a whole different level. We play a lot of good competition. It's more physical, there are bigger guys and bigger lineups that we face any given night."
You played a big role in the Arkansas win at Georgia, sealing the game with a dunk and a pair of free throws in the final minutes. Talk about the game and how you guys came from behind to get the win.
"Presence of mind is what helped us. We knew we had to get the job done. Everybody stayed focused and didn't get rattled. We didn't get on ourselves when we fell behind. Then we dug ourselves into a small hole, but we fought our way out. All the guys played big roles in the win."
The team is now on a six-game winning streak. How can you take this momentum into your game against Vanderbilt on Saturday?
"Having the same mindset as at Georgia. We want to rebound more and be physical. Vanderbilt is a young team and they're going to have their emotions out. They're going to try and hit us hard. But we just need to take the hit and throws punches back and play our brand of basketball."
You're known for your high-flying dunks, but this season you have proven yourself to be a multifaceted player. What have you been focusing most on to improve your game?
"Understanding the mismatches. If a guy is really physical, I can separate and use skill just to go around him. If a guy is smaller or the same size as me, I just want to be physical with them and get to the basket. It's just being efficient in different spots."
You've had five 20-point games and you're second on the team in scoring this season. What do you think has enabled this?
"We have a lot of great players here. We've got Bobby who's playing at a high level, I'm playing at a high level and our teammates do a good job of finding us and getting us the ball. They believe in us to take those big shots."
You next face Vanderbilt who is 11-3 overall and 1-0 in the SEC. What will the team need to do to come away victorious in that matchup?
"Pretty much, we just need to do what we do. If we play the way that we can play, defend the way that we can defend, I'm pretty sure we can walk out of here with a win. But we can't overlook anybody. We need to be physical with them, go fast and have our bench provide vital minutes."
What are some goals you have both individually and for the team going forward this season?
"Right now I'm just focused on team success. Of course the better our team is, the more we win, the better every individual gets. Me and BP [Bobby Portis], we just want to focus on the team."