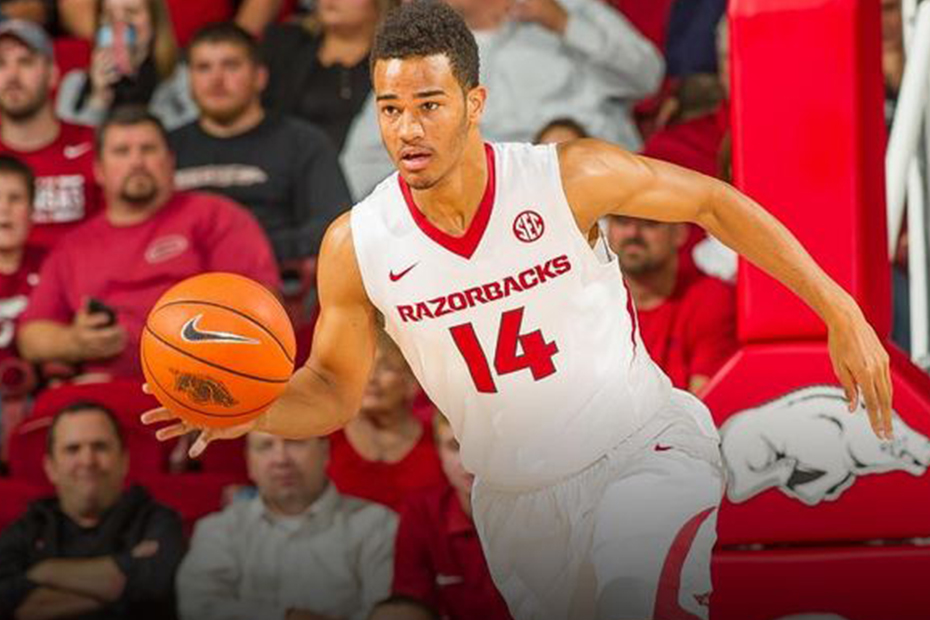 Gameday at BWA Q&A: Nick Babb
GAMEDAY AT BWA Q&A – Freshman Nick Babb (@YoungBabb14)
Rated the 17th-best player in the state of Texas by ESPN.com in the class of 2014, freshman Nick Babb came to Arkansas with high expectations. The Arlington, Texas native has not disappointed, getting play time in the last three Razorback games and making the most of his minutes. Against Delaware State on Nov. 21, Babb had five assists in eight minutes along with five points. Going forward with his inaugural season, Babb is focusing on helping his team be the best it can be.
Talk about your first few games as a college player. Coming from high school, what have been the biggest differences?
"It's been a big transition with a lot of differences, like style of play and the fast pace. It's been a hard transition so far, but I'm getting used to it."
The style of game at Arkansas is up-tempo and fast paced. How does it fit your game?
"I think it fits my style of play well. I like to push the ball, I like to get up and down the court and play fast."
What have you had to work on the most since coming to Arkansas?
"My biggest focus has been trying to make myself known, trying to better as a player and as a person. I've also really worked on fitting in well with the players and coaches. Then of course, making that transition from high school to college."
Your brother, Chris, played at Iowa State and played with the Boston Celtics last year in the NBA. What advice did he give you before and also now that you're at Arkansas?
"All he really told me was to keep my head up. He said that times may get rough, I may not play that much, I may not always get what I want, but that I need to do what's best for the team and at one point in time it will be my turn."
You have gotten to play the last three games and in some very important points in the game. When you come into the game, what's your mindset?
"I'm looking to help my team get better and it doesn't have to always be scoring. For example, I had five assists against Delaware State. It could be passing, scoring or playing defense. I just want to show coach that I have potential to do something and that I have potential to help the team as the year goes on."
How did it feel to step out in an Arkansas uniform in your first collegiate game?
"It felt really great just knowing that I'd gotten somewhere I wanted to be my whole life and not many people get a chance to say that they played at an SEC school. It's just a great feeling going out there. And the first basket I made was crazy. It felt really good."
You're still very early on in your college career, but are there things that you immediately knew you had to do better?
"In practice we're always getting down and dirty. But in games, there are things we know we have to cut back on. There's not as much fouling in games as in practice. We're always pushing each other, but not all teams play as fast or as hard as us. Even if other teams want to play slow though, we still have to play our style of basketball, and that's been hard to learn."
You have been on campus almost six months now. What's your favorite thing about the University of Arkansas so far? 
"My favorite thing about campus is that everybody knows everybody, no natter if they're athletes or not. Everybody on campus has a good connection, no matter who they are. That's been a good feeling so far."