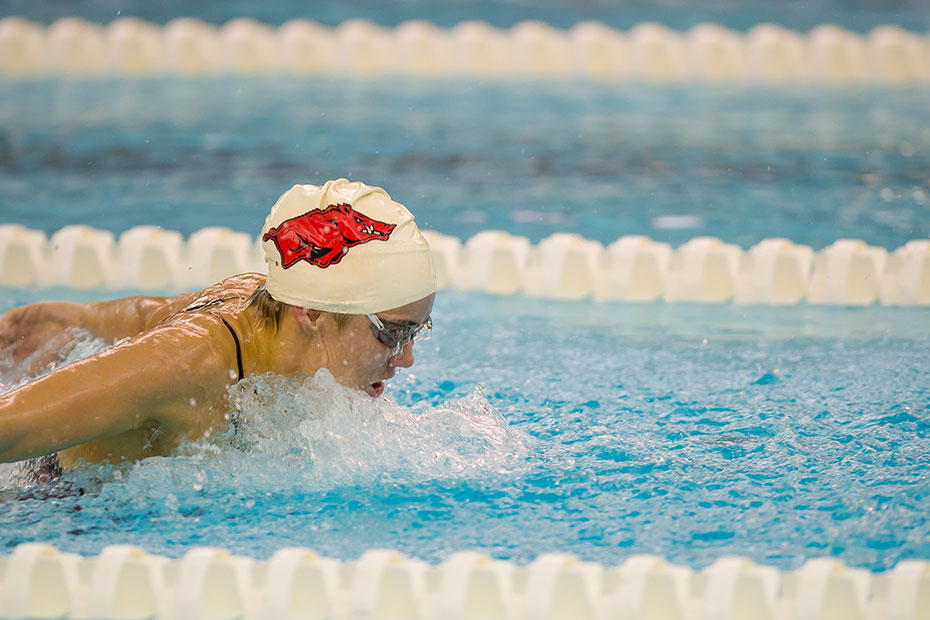 Garrison Punches Ticket To Olympic Trials
COLUMBIA, Mo. – Jessie Garrison left nothing to chance at the Columbia Swim Club Summer Invitational on June 17-19 at the Mizzou Aquatic Center.
The Arkansas junior posted Olympic Trials qualifying marks in the 200-meter butterfly as well as the 400- and 200-meter individual medley events during the three-day meet.
Garrison became the fourth Razorback to qualify for the 2016 U.S. Olympic Team Trials set for June 26-July 3 in Omaha, Nebraska. She will join teammate and sophomore Madison Strathman (100- and 200-meter breaststroke) and former Razorback Nikki Daniels (100-meter breaststroke) who also will be competing at the trials. Anna Mayfield, a spring 2016 graduate, qualified for the 400-meter freestyle but will not compete.
"I'm excited for Jessie and [assistant] coach [Melissa] Steele," head coach Neil Harper said. "They've been working hard for this during the past three months. They had the dream, created a plan and believed in each other. This is a huge boost for our program to have another swimmer qualified for Olympic Trials and committed to making herself better for next year."
The Trials serve as the only selection meet for the U.S. Olympic Swim Team competing at the 2016 Olympic Games in Rio de Janeiro.
A native of Little Rock, Arkansas, Garrison opened the Columbia Swim Club Summer Invitational with a record-breaking Friday night. She clocked a school record and lifetime-best time of 2 minutes, 13.76 seconds in the 200-meter butterfly. Her time was 2.23 seconds better than her previous best and 1.23 seconds faster than the Olympic Trials qualifying standard.
Riding Friday's momentum, Garrison turned in another dominant performance Saturday. In the 400-meter individual medley, she dropped 5.22 seconds off her lifetime best to go 4:53.90, more than a second under the Olympic Trials cut.
Closing out the meet in style, Garrison recorded her final qualifying mark Sunday, this time in the 200-meter individual medley. She finished in a lifetime-best 2:18.64, 2.31 seconds better than her previous best.
In other action, junior Olivia Weekley clocked lifetime bests in the 100-meter butterfly (1:01.77) and 50-meter freestyle (26.80). Junior Taylor Weiss produced season bests in the 200-meter butterfly (2:20.14), 100-meter freestyle (1:00.48) and 100-meter butterfly (1:03.30), while junior Chelsea Tatlow recorded season bests in the 400-meter individual medley (5:12.39) and 100-meter butterfly (1:03.90).
During the month of April, sophomore Kiera Michailoff-Russell (Canada), senior Aiden Lister (Australia), junior Nicole Gillis (South Africa), junior Chloe Hannam (England) and sophomore Caitlin Tootill (Scotland) competed for their country at their respective Olympic Trials.
For more information on Arkansas Swimming and Diving, follow @RazorbackSD on Twitter.