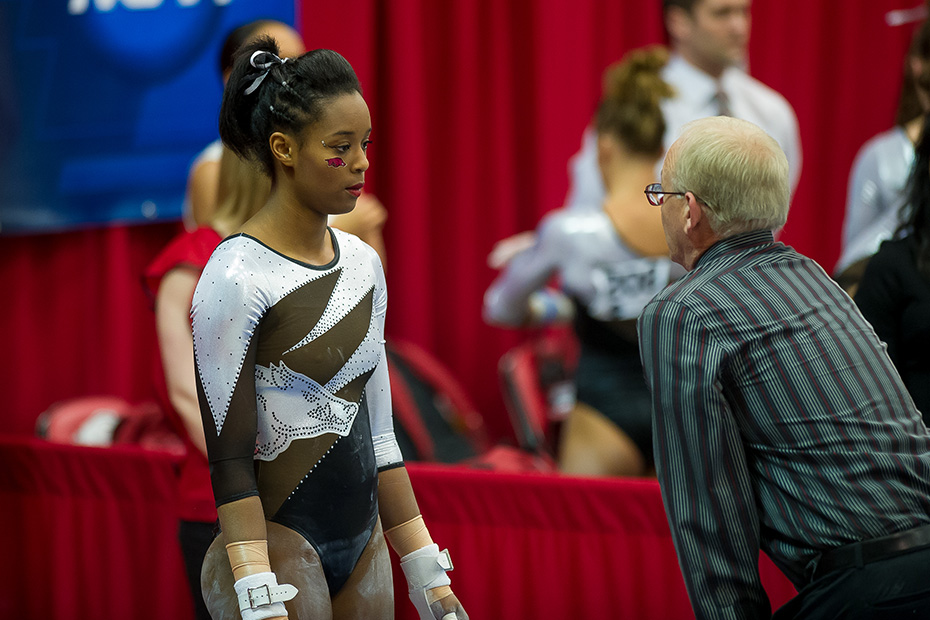 Glover Overcomes Open-Heart Surgery To Impact @RazorbackGym Program
FAYETTEVILLE, Ark. — A tragedy that cost one Arkansas athlete their life in the fall of 2011, ended up saving the life of Arkansas gymnast Keara Glover in the winter of 2012.
The Oklahoma City native was preparing to enroll at Arkansas in December of 2012, but before she could be cleared for competition, Glover had to take an electrocardiogram and an echo scan to make sure she had no undiagnosed problems with her heart.
This is a mandatory procedure every athlete at Arkansas must go through as a precaution after an undetected heart condition cost the life of Arkansas football player, Garrett Uekman, in the fall of 2011. For Glover, it was a fortunate procedure. The scanning spotted a problem in her heart that previously went unnoticed.
"The test picked up something that wasn't quite right," Glover recalled. "They couldn't figure out what it was, so I had to wear a heart monitor for a few days. After wearing that, they were still unsure of what I had, but it wasn't considered too serious. We decided to wait it out and have further test done at the conclusion of the season."
Glover was cleared for activity and competed in every gymnastics meet in 2013. She reached rarified air in her first season by becoming just the third Razorback gymnast to be named to the All-SEC freshman team. She helped Arkansas qualify for the NCAA National Championships and she posted a season-best score of 9.80 on the bars at the championship meet.
Once the year came to an end, Glover followed through on her plan to resume testing on her heart and went to Tulsa, Okla., for further test.
"I had to take several test and the doctors still didn't know," said Glover. "They thought at one point it could be a hole in my heart. Then they said it could be a tumor, which was a scary thought. After several days of testing, they finally discovered that I had two aneurysms in my heart and one had already burst."
It was a shocking discovery for Glover and her family, and she was considered lucky to be alive.
"It was scary to hear that, but I was blessed. They couldn't tell for sure when it popped, but it was probably sometime during the season. I kept having chest pains throughout the year and just I thought it was a symptom of my asthma."
Glover remembers everything moving very quickly. Once she received the news she was immediately prepped for open-heart surgery.
"It was a painful procedure," Glover recalls. "They had to literally crack open my ribs to get to my heart. They went in and removed as much of the aneurysm as they could. They couldn't remove all of it, so I still have it and do yearly checkups to monitor it."
The surgery was successful and she spent the entire summer of 2013 recovering from the procedure. It was a difficult time for Glover, as she had to stay indoors and not partake in any gymnastics activity during the recovery process.
"The summer was hard because I literally could not do anything. My teammates really helped me get through some of the tough times. They would send me gift baskets or call me to check-in on me."
During the recovery, Glover remembers wondering if she would be able to compete in gymnastics again.
"Not competing was one of the most terrifying thoughts I had. I kept wondering how I would come back from this, because a lot of people who have open-heart surgery never truly come back 100%. With this sport, a lot of physical fitness is required and I wondered if I would be able to get back to the level I was at."
Remarkably, Glover was able to recover from her procedure and despite limitations, she was able to return to competition in less than a year. She resumed competing on the bars in the final five meets of the 2014 season. The highlight of her return came on Mar. 1, as she posted a career-best score of 9.85 on the bars at Georgia.
She has continued to further recover from her open-heart surgery, as she has had no setbacks since returning to action in 2014. She opened the 2015 season on the bars and beam at second-ranked, and home state team, Oklahoma. Glover posted a 9.775 on the bars and a 9.800 on the beam in front of the home crowd that night, and she currently is ranked 43rd nationally on the beam and 70th on the bars.
Glover is extremely happy that she has overcome her open-heart surgery and is back competing for the Arkansas. She hopes that her performances encourage people in the stands and helps motivate them in their life.
"I just go out there and want to do the best I can. I want to be an inspiration for people who might be struggling with different aspects of their life. If they see that I am able to overcome open-heart surgery and be back on the bars in less than a year, then hopefully they can find the strength within them to overcome their battles."
Glover and her teammates return to action this Friday, Jan. 16, as they host No. 6 Alabama for their 2015 season opener. The meet will be featured on the SEC Network's inaugural live gymnastics broadcast, as it will be the nightcap of a doubleheader. Start time is slated for 7:45 p.m.
For more information on Arkansas gymnastics, follow @RazorbackGym on Twitter.