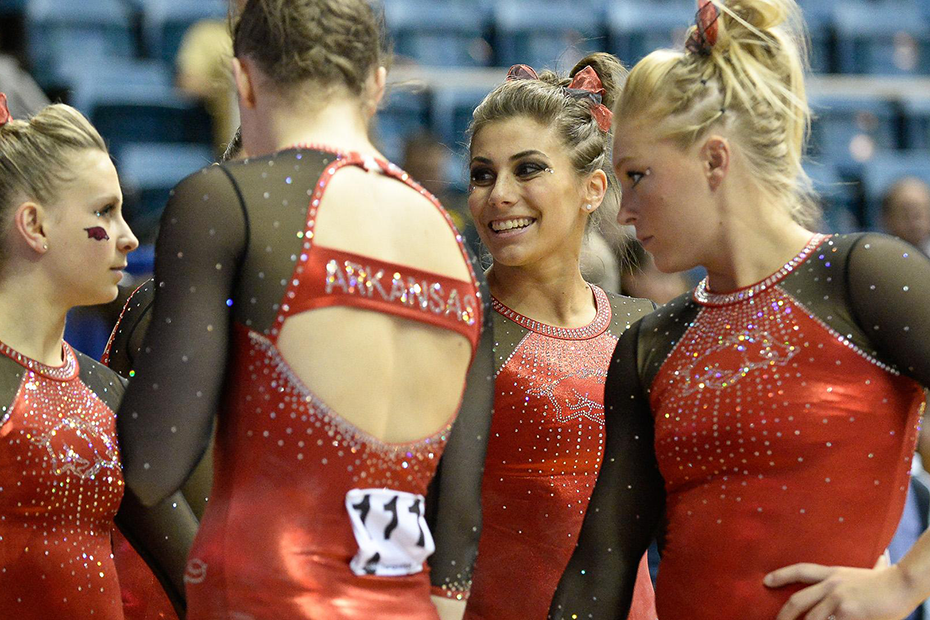 Gym Moves to No. 14 in GymInfo Rankings
FAYETTEVILLE, Ark. – On Monday, Gyminfo Rankings released its set of National Qualifying Scores and the University of Arkansas women's gymnastics team moved up five spots from its previous RQS ranking to No. 14 after scoring a 196.500 at the NCAA Morgantown Regional.
The National Qualifying Score (NQS) is a combination of a team's NCAA Regional score and the final Regional Qualifying Score. The Razorbacks posted a 392.785 to place 14th nationally. Arkansas combined its final RQS score of 196.285 with its 196.500 score at last Saturday's NCAA Morgantown Regional to get the 392.785.
The No. 14 ranking is the highest spot the Razorbacks have occupied since holding the exact same spot during the week six Gyminfo Ranking. This week's ranking marks the 14th-straight week that the Razorbacks have been featured in the top-25 of the Gyminfo Rankings.
In event rankings, Arkansas maintained its place inside the top-20 in three events for the 11th-straight week. The Razorbacks ranked 14th in both the vault (49.280) and floor exercise (49.260) and came in at No. 20 in the uneven bars with a 49.095 RQS. The balance beam rotation, which is coming off a season-best performance with a 49.150, is ranked 38th in the event with a 48.755.
All-American sophomore Amanda Wellick, is currently ranked inside the top-25 of the RQS in three events. The Wheaton, Illinois, native is tied for 14th on the vault with 9.920 average score, 18th in the all-around with a 39.400 and tied for 23rd on the floor exercise by averaging 9.900.
The No. 14-ranked Razorbacks season came to an end last Saturday, as they scored a 196.500 at the NCAA Morgantown Regional. The score was the third-highest score for Arkansas this season. The Razorbacks collected the program's highest score on the vault at the NCAA Regional with a 49.375, led by Wellick's 9.925, and scored a season-best 49.150 on the balance beam.
For more information on the Arkansas women's gymnastics team, follow @RazorbackGym on Twitter.