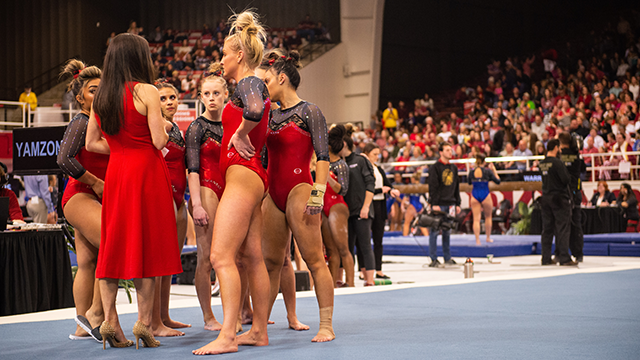 Gymbacks Celebrate Hard Work at Virtual Banquet
Last week, the Arkansas Razorback gymnastics team took some time to reconnect and reminisce about the 2020 season and honor the unsung heroes of the Gymback squad with their virtual end of the year banquet and team awards.
Hardest Worker Award
Presented by Sydney Laird
Awarded to Jessica Yamzon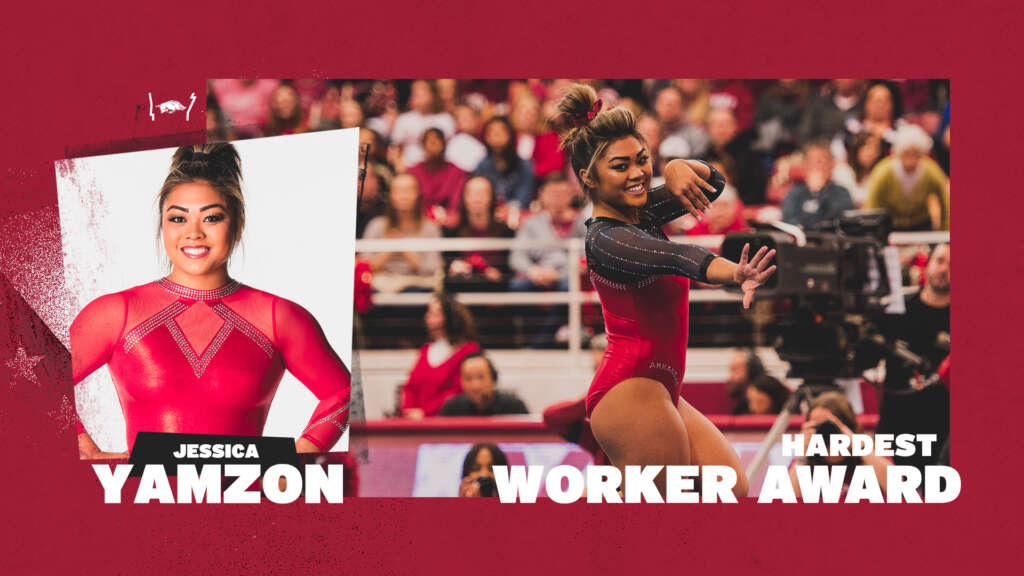 I am honored to be receiving this award. It means a lot to know my hard work has been recognized and acknowledged. Putting in the work everyday isn't always fun or easy but I have learned that it is necessary. I hope to be an example or inspiration to someone by encouraging them to work hard for what they want to achieve. Thank you to everyone who has instilled this work ethic in me throughout my life and career.
Most Improved [RISE] Award
Presented by Jessica Yamzon
Awarded to Kiara Gianfagna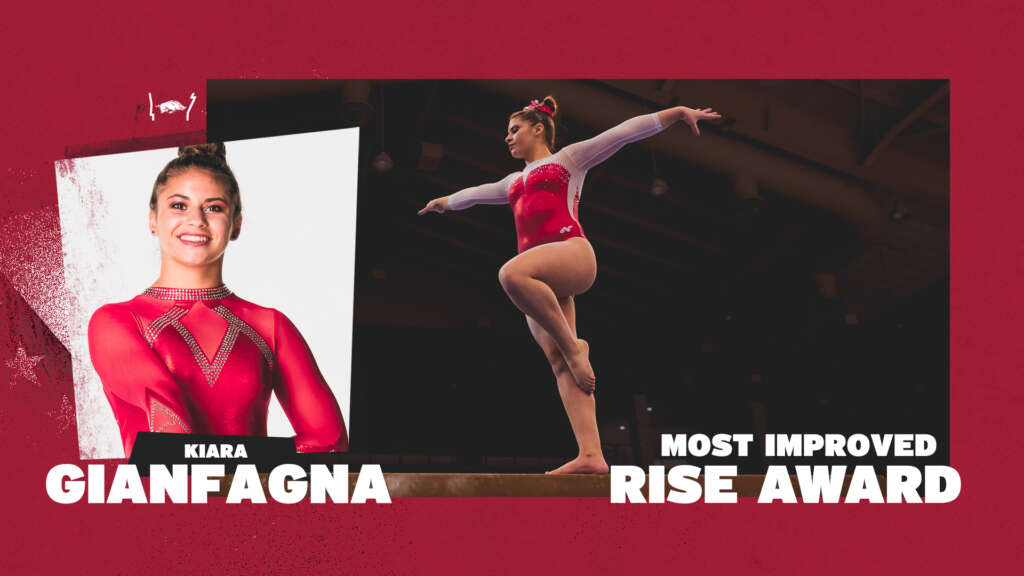 I am beyond honored to be receiving this award. It means a lot to know and be rewarded on how much improvement I have made in such a short amount of time. I am always striving to be better and will continue to improve in all areas of my life. I hope to carry on with this trait over the next three years and beyond.
Gymback Spirit Award
Presented by Kennedy Hambrick
Awarded to Sarah Shaffer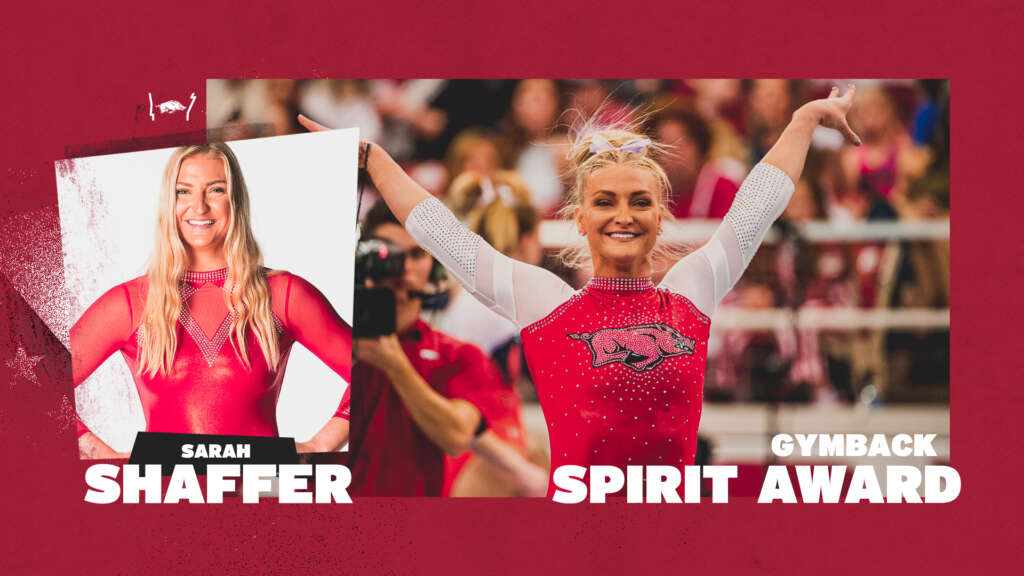 I feel so honored to receive the Gymback Spirit award. I've tried my hardest throughout my career to put my team first and to do what I can to help others. With the support from the University, my teammates and my coaches, I'm reminded daily how special the opportunity to be a Gymback is. I'm looking forward to carrying this same mentality into next year and becoming an even stronger leader inside and outside of the gym.
Razorback Resilience Award
Presented by Sophia Carter
Awarded to Bailey Lovett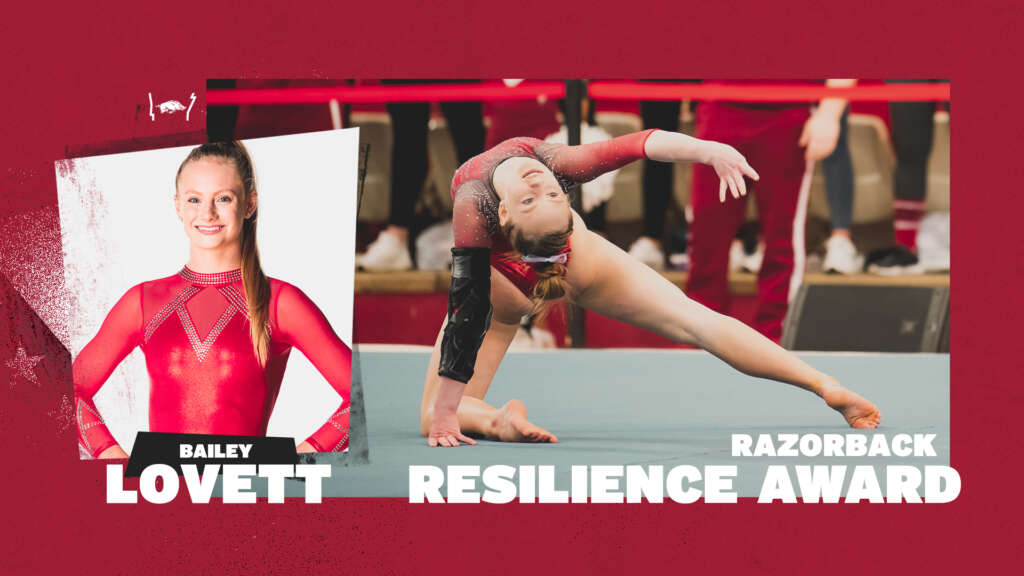 I want to thank each of my teammates, coaches, and Kim for all their encouragement and help everyday in the gym. This award is very encouraging for me personally and is such a big reminder that with a team like this on your side and determination everyday you can get through anything.
Clutch Performer Award
Presented by Kiara Gianfagna
Awarded to Amanda Elswick and Sophia Carter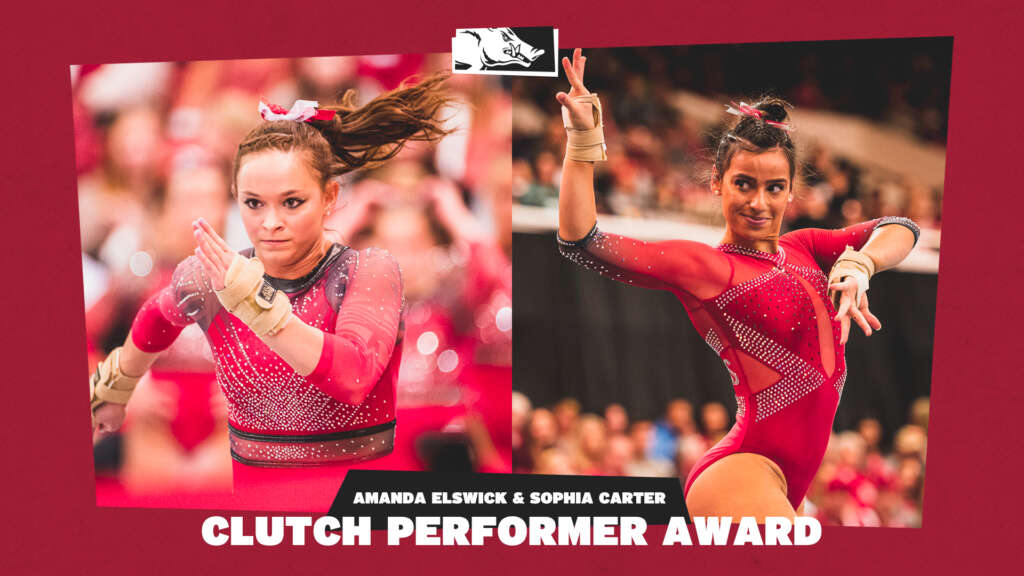 I'm honored to be one of two clutch performers on this team this last year. None of it would be possible without the incredible routines from my teammates that go before me and the support and help I get from them as well. Coming back from an injury this year I just couldn't wait to get back on the competition floor and I'm so thankful my hard work paid off. I have the honor of sharing this award with Sophia Carter who has shown me what a true clutch performer is all about. I can't wait for the future of this program and many more clutch performances to come! Amanda Elswick

I feel so blessed and proud to be chosen as the "clutch" athlete. It has been a long journey over my gymnastics career to build my consistency, so I feel so honored to know that my teammates and coaches can always count on me to preform my best. They are the ones that inspire me to push myself daily, in order to preform to the best of my ability on Friday nights. I wouldn't be the gymnast I am today without them! Sophia Carter
Scholar Athlete Award
Presented by Savannah Hill, Assistant Director of Academics
Awarded to Bailey Lovett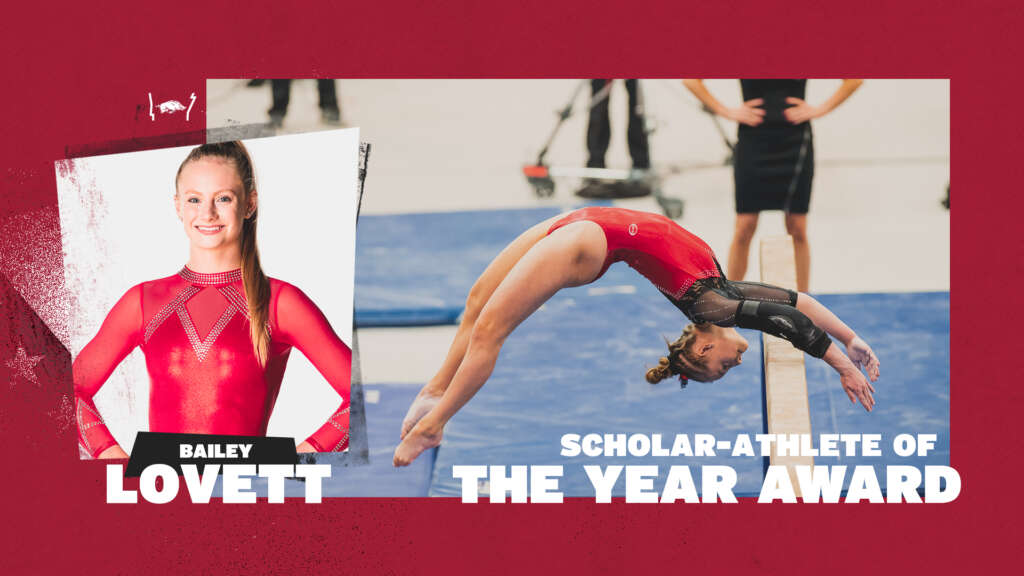 I want to thank Savannah and Megan for always working to get whatever we need to be successful and always staying on top of our academics. Without them I cannot imagine being able to manage everything. This award is special to me because when I came to school I wanted to prove that I could be just as strong in the classroom as I can be in the gym.
Visit ArkansasRazorbacks.com for the latest information on all things Arkansas Gymnastics. You can also find the Hogs on social media by liking us on Facebook (Arkansas Razorback Gymnastics) and following us on Twitter and Instagram (@RazorbackGym).